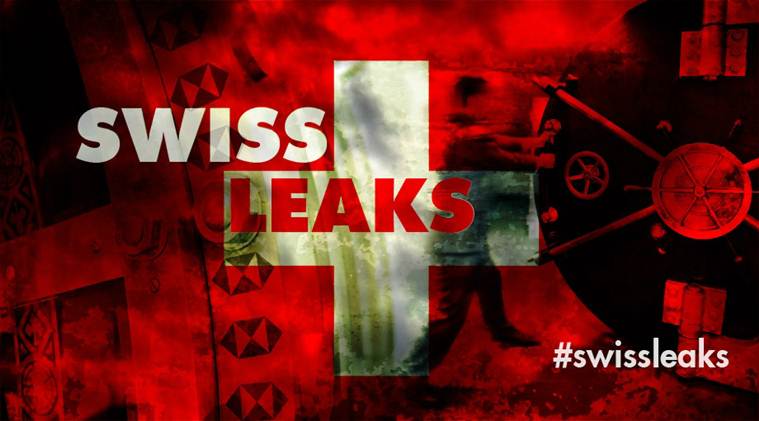 An Indian Express Investigation in collaboration with Le Monde and International Consortium of Investigative Journalists
It is called Swiss Leaks — a trove of secret documents from HSBC's Swiss private banking arm that reveals names of account holders and their balances for the year 2006-07. They come from over 200 countries, the total balance over $100 billion. But nowhere has the HSBC Swiss list touched off a more raging political debate than in India.

[related-post]
That's why to obtain and investigate the Indian names, The Indian Express partnered in a three-month-long global project with the Washington-based International Consortium of Investigative Journalists (ICIJ) and the Paris-based Le Monde newspaper.
READ: The List: Who's Who & How Much
The investigation revealed 1,195 Indian HSBC clients, roughly double the 628 names that French authorities gave to the Government in 2011. The new revelation— published today as part of a global agreement — is expected to significantly widen the scale and scope of the ongoing probe by the Special Investigation Team (SIT) appointed by the Supreme Court.
Prominent people on the HSBC list include:
BusinessmenSeveral top businessmen are HSBC account-holders. They include Mukesh Ambani, Anil Ambani, Anand Chand Burman, Rajan Nanda, Yashovardhan Birla, Chandru Lachhmandas Raheja, Dattaraj Salgaocar, Bhadrashyam Kothari and Shravan Gupta.
READ: Top 100 HSBC account holders with Indian addresses
Diamond TradersTop diamond traders of the country, several of whom are now settled abroad, figure on the list, with mostly Mumbai addresses given. Among them, Rusell Mehta, Anoop Mehta, Saunak Parikh, Chetan Mehta, Govindbhai Kakadia and Kunal Shah.
READ: Explained: What's new, why it's important
PoliticiansThere are a few account holders with political connections, most of whom deny having accounts. There is former UPA minister Preneet Kaur, former Congress MP Annu Tandon and family members of former Maharashtra chief minister Narayan Rane — his wife Neelam Narayan Rane and son Nilesh Rane — as well as family members of the late Congress minister Vasant Sathe. Bal Thackeray's daughter-in-law Smita Thackeray is also listed as an account holder.
READ: HSBC sheltered murky cash linked to dictators, arms dealers
NRIs/PIOsSeveral prominent names include Swraj Paul, members of Manu Chhabria's family, Rajendra Ruia/Vimal Ruia and Naresh Kumar Goyal.
HSBC, headquartered in London, when informed about the global investigation, first insisted that the ICIJ destroy its data. Told about the full extent of the reporting team's findings (106,458 "clients" and data on major politicians, diamond traders, arms dealers and members of drug cartels), HSBC said: "We acknowledge that the compliance culture and standards of due diligence in HSBC's Swiss private bank, as well as the industry in general, were significantly lower than they are today."
The bank added that it had refocused this part of its business. "As a result of this repositioning, HSBC's Swiss private bank has reduced its client base by almost 70% since 2007."
READ: Files point to $182mn Halliburton bribery scandal in Nigeria
Probing the names
The hunt for HSBC clients took The Indian Express from Golf Links to Vasant Kunj and Gautam Nagar, all in the capital. In Mumbai, the account holders spread across Napean Sea Road to Ghatkopar, while some have listed addresses in smaller cities such as Phagwara, Kottayam, Srinagar, Ludhiana and Shimla.
READ: New law, new loophole, new business for giant global bank
Fascinating details are revealed in the list that includes hundreds of NRIs — for instance, 84-year-old stenographer Annie Meneaud, born in Kannur, Kerala, whose account was opened in Dubai and had a balance of $100,020.
Then there are some mysterious HSBC account-opening statements, such as one named "H.G.P" for a Kolkata-born UK citizen who has given a Carlton House Terrace address and, as the statement shows, instructed that all transactions be kept in the bank's safe deposit box. This 74-year old client's balance: $133.52 million.
A scrutiny shows there are 276 account holders with at least $1 million in their balance of whom 85 are residing in the country.
Topping the list of account-holders with an India connection is prominent London-based PIO Swraj Paul with a balance of $386 million. The lowest balance is for Gujarat-born UK citizen Naman Sarwar Malik, who has $669 in his account.
READ: Bank's services for arms dealers in conflict with its own policy
The Indian Express was the first to report, on August 7, 2011, that French authorities had handed over details of around 700 HSBC account holders and, as was the case in several countries, a frantic tax chase began.
In November 2012, India Against Corruption, led by Arvind Kejriwal, had released names of some account holders. These new papers now reveal that while he got some names right, his claim regarding the balance in those accounts was way off the mark.
Govt's action so far
Top officials of the Central Board of Direct Taxes (CBDT) said that undisclosed income to the tune of Rs 3,150 crore ($508 million) has been brought to tax from among HSBC account-holders but pointed out that there were some significant gaps in the data — some 200 accounts with the Government had no balance and 211 of them were of NRIs.
"We are contacting everyone and not leaving this as a presumption. We are putting the onus of proving NRI status during the relevant period on the account-holder," a senior CBDT official told The Indian Express.
Such updated data is being regularly provided by the CBDT and the SIT to the Supreme Court, and officials said that tax collections, penalties and prosecutions are being chased on war footing.
One issue that has, however, befuddled the CBDT is whether HSBC and its officials too should be brought under scrutiny.
A confidential note dated October 27, 2014, shows that following a video conference on the subject of HSBC collections, the prosecution of HSBC officials was being contemplated.
The note reads, "It has been explained that involvement of HSBC/its officials in opening and operation of the accounts also needs to be identified and reported to the Board… such facts would be extremely important while considering prosecution of HSBC/ its officials as abettors to Indian assessees."
Several HSBC account-holders contacted by The Indian Express said that they objected to what some described as the "high-handedness'' of the Income Tax Department.
Kuldip Singh Dhingra, chairman of Berger Paints, for instance, said that he had routed all money in the account through legal channels and despite that he was subjected to a search (around 150 such search operations have been conducted). He has filed a petition in the Delhi High Court as an action of protest. "The IT Department should do its homework before they move in and conduct raids. We strongly object to such treatment.''
Another industrialist, Jitendra Virwani, chairman of the Embassy Group, said that all his bank accounts had been declared to I-T authorities, but that despite clarifications, the department had told him tax was due for the HSBC account. "I have only paid up to avoid the harassment of prosecution."
There are many account holders, led by Delh-based industrialist Sanjiv Lamba, who approached the Settlement Commission and obtained immunity from prosecution. Suresh Nanda, himself an NRI, said his brother Paul Nanda and his son Sanjeev Nanda had also approached the Settlement Commission and paid up taxes there.
Until last month, CBDT officials said, 27 HSBC account-holders had paid up penalties and 15 were facing prosecution proceedings for concealment of income in the accounts. The SIT has reportedly been informed that the target number for HSBC account-holders to be prosecuted is 300. But that was based on the list of over 600. Now that the list has doubled, sources said, the scope of the investigation just widened.
ALSO READ: Previous Indian Express-ICIJ investigations
Indian Express-ICIJ probe: Vijay Mallya,Ravikant Ruia in tax havens
Most Read 1Chandrayaan-3 mission: Dawn breaks on Moon, all eyes on lander, rover to wake up 2As Indo-Canadian relations sour, anxiety grips Indian students, residents who wish to settle in Canada 3Karan Johar says Sanjay Leela Bhansali did not call him after Rocky Aur Rani: 'He's never called me but…' 4Gadar 2 box office collection day 40: Hit by Shah Rukh Khan's Jawan onslaught, Sunny Deol movie ends BO run with Rs 45 lakh earning 5Shubh's tour in India cancelled: Why is the Canada-based singer facing the music?
New trail in tax haven probe leads to cash, property in UK, UAE
Govt gets data on investments by Indians in tax havens
Also Read17-year-old raped in Noida,rapists shoot MMS video clipMMS on porn site, Orissa girl ends life#swissleaks: Top 100 HSBC account holders with Indian addressesWoman teacher lures student for 'sex'
Tax havens abroad: Where can Indian investigative agencies step in?
Global media investigation finds 612 Indian firms in tax havens
http://www.publicintegrity.org/node/16702/syndication/tracking