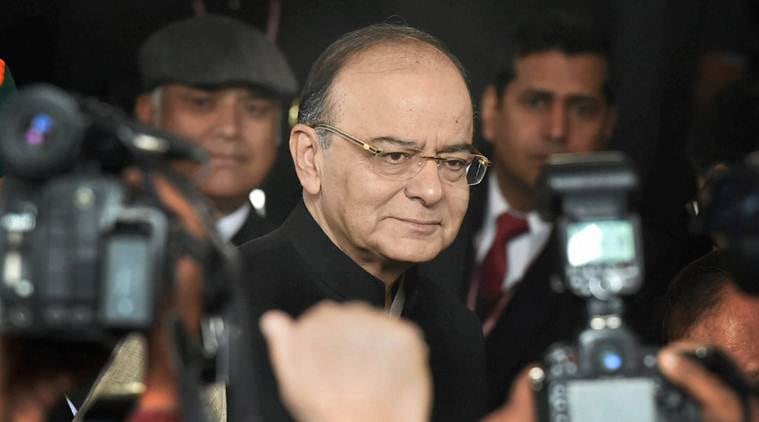 FM Arun Jaitley on his way to the parliament to present the union budget.
Apex public sector body SCOPE on Thursday said the Budget has "reposed confidence" in the country's PSU enterprises. The Union Budget 2017-18 seeks to spur economic growth through broad-basing economic expansion via Transform, Energise and Clean India (TEC India) approach, UD Choubey, Director General, SCOPE, said.
Watch What Else is Making News

He said the Budget has reposed confidence in the public sector and has sought greater role in infrastructure development in rural areas, roads, ports, railways etc, adding that good response to ETF of CPSEs shows greater confidence of public in PSE shares and it would continue to be the preferred disinvestment mode.
The Cotton Textile Export Promotion Council (TEXPROCIL) Chairman Ujwal Lahoti welcomed the 5 per cent reduction in corporate income tax for medium and small enterprises with 50 crore turnover.
He, however, stated that the export sector which was at the moment languishing on account of low overseas demand and rising protectionism had not found a mention in the budget.

In this connection, he appealed to the government to restore some of the incentives relating to interest subvention for merchant exporters and cotton yarn and MEIS benefit for cotton yarns.
"The Budget proposals for 2017-18 are steps in the right direction and the linked policy actions augur well for the economic governance, All India Management Association (AIMA) President Sunil Kant Munjal said.
The containment of fiscal deficit at 3.2 per cent despite an increase of 25 per cent in capital expenditure and tax concessions to the middle class and the SMEs is a great balancing act.
The steps to encourage Indians-owned startups by extending the period of carrying forward losses and expansion of the period of deduction on profits to 3 out of 7 years instead of only 5 years are quite helpful, Munjal said.
Unveiling the Budget 2017-18 proposals in Parliament, Finance Minister Arun Jaitley yesterday announced reduction of income tax rate to 25 per cent (from the existing 30 per cent) for smaller companies having turnover upto Rs 50 crore.
"This 5 per cent tax respite will make a huge difference inthe revenue chains of the MSMEs and we will also witness a significant shift from proprietorship registrations to private limited/ LLP registered firms creating a more favorable working environment for MSME players," Power2SME CEO R Narayan said.
Most Read 1Leo box office collection Day 3 early reports: Vijay's film bounces back, records 10% spike in earnings 2AR Rahman 'totally changed' after embracing new faith, changing name from Dilip Kumar: Sivamani 3Raj Kundra pens note about next phase of his journey: 'It's time to separate now' 410 yrs on, a letter Captain Amarinder Singh wrote to Sonia Gandhi comes back to haunt Pratap Singh Bajwa in House 5Rajesh Khanna flew to set in an air ambulance for his last project, had drips in his arm but still wanted to rehearse: R Balki
Other measure targeted towards MSMEs focus on the businesses with turnover up to Rs 2 crore and for them, a reduction has been announced in the existing rate of deemed profit of 8 per cent under section 44AD of the Income Tax Act to 6 per cent in respect of the amount of total turnover or gross receipts received through banking channel / digital means.
Additionally, the government's decision to double the lending target of banks under MUDRA Yojna to Rs 2.44 lakh crore will further boost the financial morale of the MSME sector, Narayan said.
Also ReadUnion Budget 2017: Highlights of Arun Jaitley's budgetUnion Budget 2023 income tax slabs: New tax regime is default, rebate inc…Union Budget 2017: Full text of Arun Jaitley speechWealth tax abolished, 2% surcharge on super rich
By altering the taxation policies and improving lending facilities, the government aims to provide a level playing field to MSME players and will also give the much needed boost to the MSME sector, he added.