When South African and Namibian experts raised "serious concerns" over the way the cheetah project is being managed, in two letters in mid-July when the cheetah death count hit eight, they underlined that some of these deaths could have been avoided. But a combination of secrecy, lack of expertise, and mismanagement got in the way.
These complaints resonate on the ground in Kuno.

From inept monitoring that led to radio-collar infections going undetected to regular feeding of cheetahs released in the wild — against protocol — and a rapid fall in the prey base in Kuno, serious lapses put question marks on the Cheetah project, an investigation by The Indian Express has found.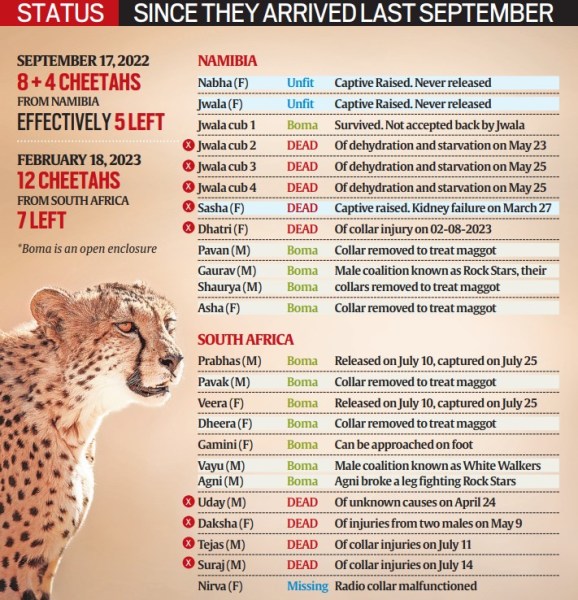 Several site visits and interviews with Kuno forest staff, cheetah project biologists and vets, technical and support staff hired for the project and local villagers revealed telling details.
Feeding in the wild
This is the protocol: once they land in India, cheetahs are shifted to expansive hunting bomas (enclosures) after spending a few weeks in quarantine. After a cheetah starts hunting regularly, it is released in the wild.
Explained | 9 dead, 2 unfit, 1 missing under a year: Cheetah project falls short of its own benchmark
Sources in Kuno told The Indian Express that the project team kept feeding cheetahs even after releasing them in the wild.
"We buy at least one-and-a-half quintal (150 kg) of mixed meat — chickens, goats and calves — every fourth day. The meat is chopped up in portions of around 5 kg each for individual cheetahs and project vehicles deliver the feed to the bomas, across the park and also outside," said a project team member involved in the process.
In one instance, a female cheetah made a rare calf kill close to the park boundary. "She started eating but then the vehicle arrived with her feed (meat) and she left the kill," recalled two eyewitnesses.
Experts say feeding cheetahs in hunting bomas for long "demotivates" the animals from hunting and feeding them after release into the wild may indefinitely prolong the re-wilding process.
"Hunting bomas are meant for acclimatising the cheetahs to the local environment and prey species before they are released to range free as the objective is to establish a free-ranging wild population. Once released, unless absolutely necessary, there should be no supplemental feeding which could potentially habituate the cheetahs and negatively impact its behaviour," said wildlife biologist Dr Ravi Chellam.
Dr Rajesh Gopal, head of the cheetah steering committee, said: "Feeding animals in the wild is not an accepted practice. The committee will check with the field team about it."
Madhya Pradesh Chief Wildlife Warden Aseem Shrivastava declined to comment.
In Premium | What causes cheetah deaths, and why confining them may not help
Vanishing prey, active poachers
One justification trotted out by officials for feeding cheetahs even when they were in the wild is that their natural prey base has dwindled. This frames a new challenge.
Indeed, records show that cheetahs were brought to Kuno based on the assessment of a healthy prey base — 38.48 cheetals (spotted deer) per sq km — as per the 2022 Action Plan.
This, itself, was a significant fall from 69 cheetals per sq km assessed in 2013. The density of cheetals has further fallen to below 20 per sq km this year.
This despite the fact that as many as 700 cheetals have been released in Kuno from other forests of the state since last year.
Rock Stars vs White Walkers | Violent encounter between Cheetah coalitions at Kuno National park
According to members of multiple cheetah monitoring teams, only a handful of cheetahs are making regular kills of sizable prey such as cheetals, sambars and Nilgai calves. In that scenario, what has been causing the incremental "shortage" of prey base in Kuno, they say, is a spurt in poaching.
Sources associated with the Special Task Force of Madhya Pradesh have told The Indian Express about many poaching networks active in and around Kuno where camera traps are routinely taken away by trespassers who do not want to leave any evidence.
"Kuno has been a traditional hub for poachers. They are caught on our camera traps and we also lose camera traps to them. With too many guns, traps and snares available in virtually every village, hunting for meat is common in Kuno. But the commercial deals for pelt etc are controlled by a few specialised networks," said a forest staff who took part in two raids.
In fact, The Indian Express learnt about "ready availability" of leopard skins and other illegal wildlife parts in villages close to Kuno. A local resident even showed a photo of what he claimed was "fresh stock."
Asked what explains the falling numbers of cheetals, a steering committee member attributed it to the rising leopard density, before hinting at a potential over-assessment of the prey base in the past. "A fresh assessment of the prey base and leopard abundance is going on in Kuno," he said.
Chief Wildlife Warden Shrivastava declined to comment.
Lax field monitoring
Two experts associated with the project claimed that the Kuno staff, including the top management, have little scientific training and most of the monitoring staff and vets are too inexperienced, resulting in lax field monitoring.
"They sit in their jeeps and are satisfied with receiving active radio signals. But when a cheetah has such severe wounds, active signals would be continuously active and that should have made them approach and check the animals closely or, if necessary, physically. Similarly, they missed the conditions of the cubs until too late," said one of them.
Veteran wildlife biologist Dr Raghu Chundawat concurred that the collar wounds in question would have taken weeks to fester. "The signs would include shaking head, restlessness, inability to sleep or rest and other complications developing from this stress. That should have alerted the monitoring teams," he said.
Most Read 1Chandrayaan-3 mission: Dawn breaks on Moon, all eyes on lander, rover to wake up 2As Indo-Canadian relations sour, anxiety grips Indian students, residents who wish to settle in Canada 3Karan Johar says Sanjay Leela Bhansali did not call him after Rocky Aur Rani: 'He's never called me but…' 4Gadar 2 box office collection day 40: Hit by Shah Rukh Khan's Jawan onslaught, Sunny Deol movie ends BO run with Rs 45 lakh earning 5Shubh's tour in India cancelled: Why is the Canada-based singer facing the music?Don't Miss | India's cheetah plan recipe for conflict, warn Namibian experts
In their submission to the SC, the South African and Namibian experts also complained about the project's field team lacking in training and experience required to handle a project of this scale.
The Kuno team couldn't diagnose the death from the wound, alleged the letter, and didn't share information in time with the experts which, they said, could have avoided some of the deaths.
Also ReadIE100: The list of most powerful Indians in 2021FinCEN Files — On US radar: Dawood Ibrahim's financier, his laundering, f…Drug menace bigger threat than militancy, we're going Punjab way: J&K DGP…After 'downgrade' last year, MEA sent Speaker's office talk points on dem…
Dr Gopal said that there is no dearth of expertise as Indian researchers have been monitoring collared carnivores for decades. "But one has to strike a balance between the benefits of close observation and the risks of approaching an animal too often," he said.
© The Indian Express (P) Ltd