Political parties shifting blame and child rights bodies that can't see eye to eye – these are key factors in the way of a solution to West Bengal's crude bomb menace, apart from lack of comprehensive data on the number of children killed or maimed.
According to officials, police keep a track of individual cases reported in their respective districts, and in some cases, the Child Rights Commission takes cognizance.

"We take suo motu cognizance of every incident and ask police to take action. We also follow up and write to the DGP and the state government, if required. If the incident is major, we send a team to investigate and prepare a report," said Chairperson of the West Bengal Commission for Protection of Child Rights, Sudeshna Roy.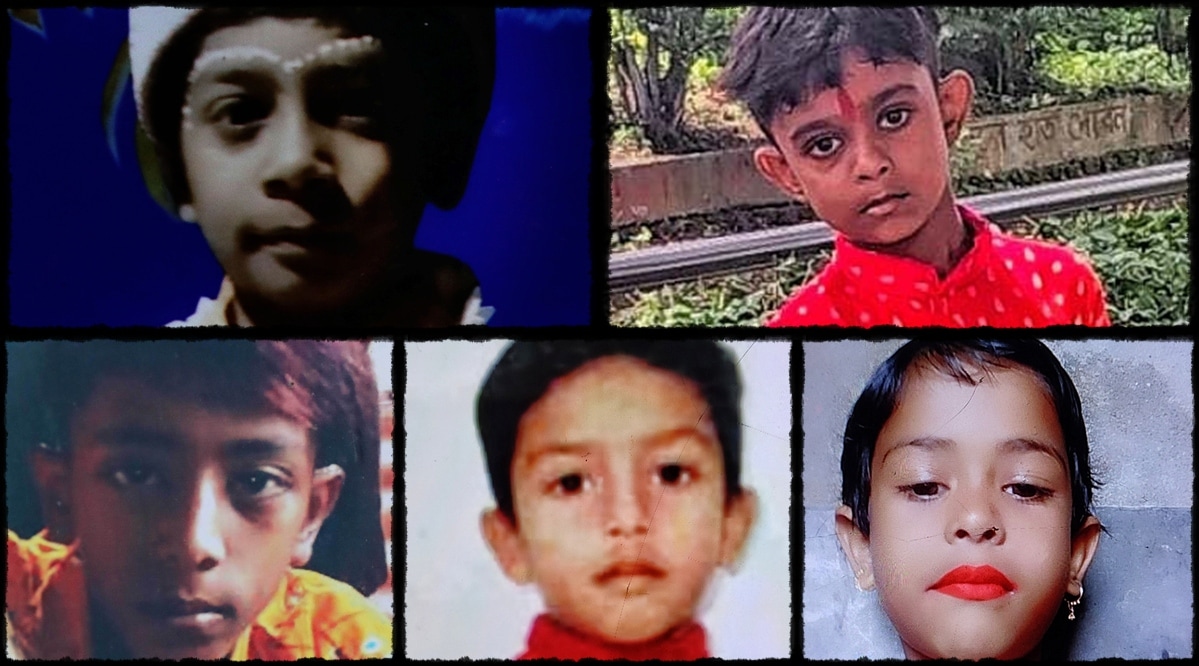 (Top, from left) Sheikh Abroz (7); Nikhil Paswan (8); Sheikh Nasirul (11); Imran Sheikh (6); and Najma (6) died in separate incidents when they mistook crude bombs for playthings.
However, the body did not share data on the exact number of children killed or injured.
Often, cases fall in the cracks between the state and national child rights bodies.
The National Commission for Protection of Child Rights (NCPCR) said it, too, takes cognizance of individual cases, but there are many incidents where children have died or been disabled, yet their families did not receive compensation.
Read | All these kids were killed by bombs: meet the casualties of Bengal's crime cottage industry
"The commission can recommend compensation under section 15 of the CPCR Act. But the hurdle is that in many cases, the state commission informs us they have taken cognizance. In such a situation, it becomes their responsibility to talk to the state government and ensure compensation. It is for the state government to then pay," NCPCR chairperson Priyank Kanoongo said.
The family members of Sheikh Nasirul (11) hold up a photo of him, in Birbhum's Khatipur village. The boy died on May 27, 2021, when he was walking along a canal and found a shiny metal box. (Express photo by Partha Paul)
"The state should maintain proper records and compile data. The response of the state towards such incidents has been very irresponsible — they are unapproachable and try to manipulate facts."
Also Read | Neither hair nor there: Export curbs a blow to Bengal's cottage industry
Speaking to The Indian Express, Sashi Panja, state minister for women and child welfare, said: "There is no doubt that any kind of bomb explosion is unwanted and unfortunate. Our Chief Minister is so candid and frank that she has personally asked the police to conduct raids and seize all bombs and weapons hidden anywhere in the state. Who, why and for what purpose such bombs are stockpiled is to be investigated."
However, she added that in the state's deeply contested politics with the BJP ruling at the Centre, "even an ant bite or bursting firecrackers makes Central teams make a beeline." This hurts the image of the state, she said.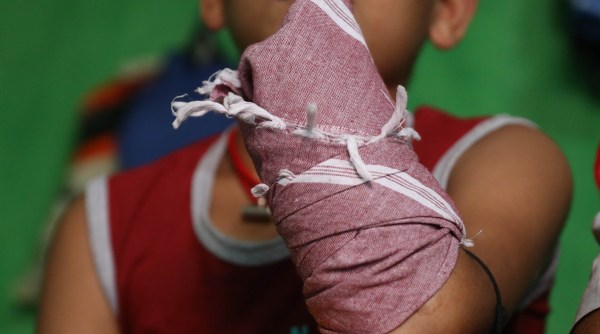 In October last year, 11-year-old Mahesh Shaw lost his hand when he opened a toy box that contained crude bombs, in West Bengal's North 24 Parganas. (Express photo by Partha Paul)
When told about the children's deaths and injuries, TMC spokesperson Jayprakash Majumder called such incidents "an act of heinous and morbid conspiracy so that Bengal's image can be tarnished".
"The state has a long history of making bombs but these types of incidents (children as casualties) never happened. Now, BJP with the help of the CPI(M) is making bombs neither for political purposes nor for trading. They are making bombs and dumping them near playgrounds in villages of Bengal. Children think these are balls and pick them up," he alleged.
Most Read 1Chandrayaan-3 mission: Dawn breaks on Moon, all eyes on lander, rover to wake up 2As Indo-Canadian relations sour, anxiety grips Indian students, residents who wish to settle in Canada 3Karan Johar says Sanjay Leela Bhansali did not call him after Rocky Aur Rani: 'He's never called me but…' 4Gadar 2 box office collection day 40: Hit by Shah Rukh Khan's Jawan onslaught, Sunny Deol movie ends BO run with Rs 45 lakh earning 5Shubh's tour in India cancelled: Why is the Canada-based singer facing the music?
National vice-president of the BJP, Dilip Ghosh, however said, "Bombs are being stockpiled here and there and children are being killed or injured while playing. What's more unfortunate is that the administration has no qualms about it. Earlier, arms were coming to West Bengal from Bihar's Munger, but now they are being manufactured here itself."
CPI(M)'s Sujan Chakraborty said that the TMC is "giving a free hand to criminals so they can grab political power and loot people's money. In this situation, it is obvious such a thing is happening".
Also ReadIE100: The list of most powerful Indians in 2021FinCEN Files — On US radar: Dawood Ibrahim's financier, his laundering, f…Drug menace bigger threat than militancy, we're going Punjab way: J&K DGP…After 'downgrade' last year, MEA sent Speaker's office talk points on dem…
Last month, BJP leader Suvendu Adhikari moved the Calcutta High Court seeking an NIA probe into communal clashes on Ram Navami in the state. To underline his argument about breakdown of law and order, Adhikari had argued that bombs were used during the clashes. The court, agreeing to hand over the probe to the NIA, noted the state police's failure in invoking the Explosive Substances Act.
© The Indian Express (P) Ltd