It's been more than six months but for 11-year-old Mahesh Shaw, sitting on an iron cot in his one-room rented house in Kankinara, North 24 Parganas, time has hardly been the healer.
The handkerchief wrapped around his left wrist is a constant reminder of that October 2022 morning when he and his friend, eight-year-old Nikhil Paswan, playing near the railway tracks, picked up what they thought was a toy box. It was a bomb — Nikhil was killed in its explosion, Mahesh's left palm was blown away, he needed an amputation.

Mahesh and Nikhil are two of several children across West Bengal who have been maimed or killed by crude bombs they mistook to be playthings — the youngest casualties of rival crime networks and a violent turf war between the entrenched Trinamool Congress and its political rivals.
The BJP claims 224 of their supporters have been killed in clashes since 2018, the CPM claims 15 of theirs over the last two years, and the TMC dismisses this as propaganda.
Few talk about these children.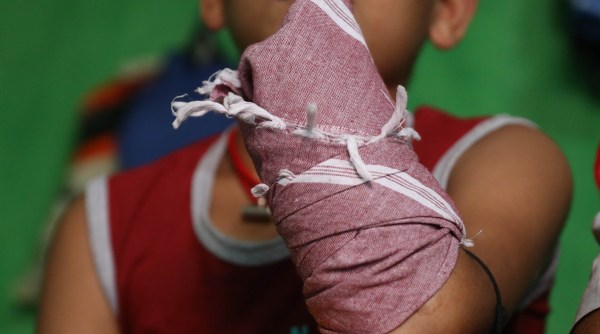 11-year-old Mahesh Shaw (Express photo by Partha Paul)
For, making bombs is now a veritable cottage industry (Part 2 of this series), with makeshift workshops dotting the state with clients that cut across the political spectrum — and go beyond politics, too.
This is at the centre of a renewed political firestorm, after the state unit of the BJP earlier this week sought a probe by the National Investigation Agency into a blast at a firecracker factory that killed nine. The party said crude bombs were being manufactured there even as Chief Minister Mamata Banerjee hit back saying she has no problems with the Central agency probing the incident.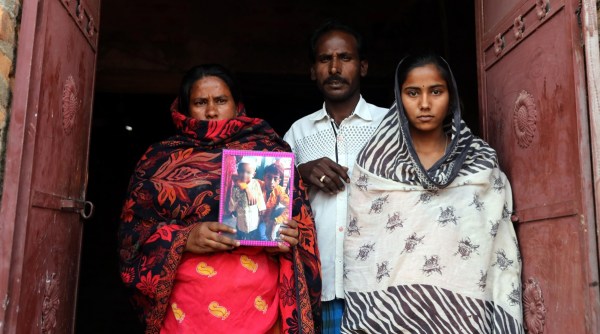 The family members of Sheikh Nasirul (11) hold up a photo of him, in Birbhum's Khatipur village. The boy died on May 27, 2021, when he was walking along a canal and found a shiny metal box. (Express photo by Partha Paul)
Investigating police records, interviewing families of survivors and local officials, The Indian Express tracked down 24 families of six children who lost their lives and 18 who were critically injured across five districts between 2021 and 2022: Burdwan, Birbhum, Malda, North and South 24 Parganas.
North 24 Parganas
'How will we lock our kids the whole day?'
"Sometimes it hurts a lot. I can't go to school or even take a bath on my own," said Mahesh Shaw sitting with his family in Kankinara.
"It was a day after Diwali. Nikhil and I went to play in the field near the railway tracks. We found two small metal boxes, both taped, with a cross on top. Nikhil handed one to me. As I tried to open it, there was a blast. My hand was shattered and before I ran, I saw Nikhil fall to the ground." After the incident, police recovered 60 crude bombs from the area.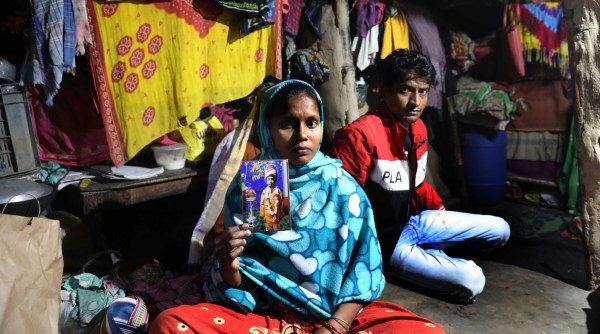 he parents of 7-year-old Sheikh Abroz, who died when he picked up a jute-wrapped round object in the neighbourhood garden thinking it was a ball. (Express photo by Partha Paul)
"We saw Mahesh rushing home with his hand almost blown off," recalls his father Arun Kumar Shaw, who earns a living ferrying knick-knacks locally. His wife works at a hosiery factory. "My son's life is destroyed. Local TMC leaders paid the hospital bill, but we need compensation to secure his future."
Don't miss | Behind death of nine at Bengal unit, factory owner with clout and his notorious past
Barely 10 minutes away, Nikhil's mother Kusum Paswan (35), who is now under the care of her brother, refuses to return home. "We don't want to be reminded of that horror," said Kusum. "You tell me, how will we lock our children at home all day? It is a single room with no space to play."
Status of case: Four persons were arrested and later released on bail. A senior police officer said this is a common challenge. "Those arrested get bail and are out in days…Every bomb incident does not necessarily have a political connection, but it is true that many accused enjoy political patronage. Sometimes, when police are conducting special drives against bombs, miscreants dump them in the open trying to evade arrest," the officer said.
Also Read | 4 held for Malda blast, police suspect 'gang fight'
About 3 km away from Mahesh's home, in Karbalay area, parents don't let their children venture out to play ever since a blast left two injured on December 7, 2022.
Read | Bengal's crude bomb casualties: Ruling party to opposition, they all pass the buck
"It was cold and we lit a small fire. From a garbage dump, we found a round object and threw it in the flames. There was an explosion. I got hurt in my legs, my friend (Muhammed Afroz, 8) also got hurt badly," said Muhammed Wasif (15).
Near the field where the crude bomb exploded is Gandhi Vidyalaya, a school which has 113 students from pre-primary to class five. Following the incident, authorities held special classes to spread awareness.
"Afroz is a student here. Ever since the incident, we haven't allowed students to play outside. We can't risk their lives," said Nandita Sharma, the head teacher.
Status of case: Five people were arrested and later released on bail.
In the same district, the third victim, Sohana Khatun alias Jhuma (10), lived in Bakchora village. She was killed and her friend Rahima Parvin (10) injured on November 16 last year while they picked up a round object they found at the terrace of Sohana's uncle's house.
Rahima's mother Najma said, "My husband and I were in Tamil Nadu where we work as labourers. My daughter was with her grandparents."
Also Read | Neither hair nor there: Export curbs a blow to Bengal's cottage industry
Status of case: Police arrested Abu Hossain Gayen, Najma's uncle, who locals claim is a Trinamool Congress worker. Local panchayat up-pradhan Abdul Hamid told The Indian Express: "It was a very unfortunate incident. Some of our party workers are engaged in such anti-social things. Our party does not support this. We already briefed our leadership about what happened in our area."
Also Read | Discovering the cultural wealth of rural West Bengal
Burdwan
'Is Rs 2 lakh the price for my son's life'
On March 22, 2021, seven-year-old Sheikh Abroz was killed when, according to the police and his parents, he picked up a jute-wrapped object in the neighbourhood garden thinking it was a ball. The blast injured his friend, Sheikh Ibrahim (8).
"I asked my son to get some soil from the garden to use in our mud house. He went out and I heard a loud noise. A part of his face and his hands were blown away. He was declared dead at Burdwan hospital," said Sania Bibi, Abroz's mother, sitting in a small mud house with a plastic sheet as roof in Rasikpur.
"It was election time then and some miscreants had hidden a crude bomb there," said Sheikh Bablu, Abroz's father and a driver by profession. "My son will never return. They (the state government) gave me Rs 2 lakh. Is that the price for my son's life?," said Sania.
Status of case: FIR filed but no arrests yet.
South 24 Parganas
'We do not allow our children to play outside'
A pall of fear drapes Atghora village in Narendrapur, where five children, all under 14, were injured after two men, still unidentified, lobbed crude bombs on October 28 last year.
"We were playing in a field five minutes from our home. Two uncles were loitering around and they asked us to leave but we said no. Suddenly, we heard two loud explosions. Some things hit me and my friends on the leg and back. We started to bleed," said Laltu Adhya (12), a student of Adarsha Sishu Niketan, showing splinter injuries on his leg.
"It was his birthday that day. My son and four other children ran home, bleeding. For two weeks, he missed school. Now we do not allow children to play outside," said Laltu's mother Sanchita Adhya.
Status of case: FIR filed, no arrests.
Also Read | The forgotten story of Calcutta's once thriving Japanese community
Birbhum
'Police took our statement but no arrests'
Walking with his grandfather Sheikh Jamir along a canal on the evening of May 27, 2021, Sheikh Nasirul, (11), found a shiny metal box.
"Before I could run and stop him, he had picked it up. There was an explosion and he died on the spot. I wish it was me who picked that up," said Jamir, sitting at their home in Khatipur village.
The family did not lodge a complaint fearing harassment by local police.
"Police came and took our statement but there were no arrests, no compensation, just Rs 2,000 from the Samabyathi scheme (meant for performing the last rights of the poor)," said Sheikh Ausar, the victim's father, a daily wager.
Status of case: FIR filed, no arrests.
In Rampurhat, in the same district, six-year-old Najma died on February 22 last year after she picked up a round object she found behind her home. The explosion also left four of her friends injured.
Status of case: Police arrested Najma's father Sheikh Monir, who spent three months in jail. "They alleged that I had stockpiled the bombs. It is a false allegation," he claimed, standing in front of his house.
The third incident from the district took place in  Ekdala village, on December 23 last year. Imran Sheikh (6) was playing with his friend Rabiul Alam (7) at his grandfather's home when they found round objects. The explosion killed Imran on the spot.  Imran's mother Jamira Bibi said she does not want to discuss the incident.
Status of case: Police arrest Imran's grandfather, Jamirul Islam.
Malda
'Accused roam freely in the village'
In Gopalnagar, a crude bomb blast on November 25 last year left Shuvajit Saha (9), Mithun Saha (11), Polu Saha (6), Bikram Saha (11) and Raihan Sheikh (10) with splinter injuries.
The worst hit was Shuvajit. His mother Mukti Saha (30) said, "Thousands of rupees were spent on his treatment but no one gave us a single penny."
The family said police arrested seven persons, identified as local miscreants, who were later released on bail and now "roam freely in the village". The BJP alleged they were TMC workers – a claim the party denied.
Most Read 1Chandrayaan-3 mission: Dawn breaks on Moon, all eyes on lander, rover to wake up 2As Indo-Canadian relations sour, anxiety grips Indian students, residents who wish to settle in Canada 3Karan Johar says Sanjay Leela Bhansali did not call him after Rocky Aur Rani: 'He's never called me but…' 4Gadar 2 box office collection day 40: Hit by Shah Rukh Khan's Jawan onslaught, Sunny Deol movie ends BO run with Rs 45 lakh earning 5Shubh's tour in India cancelled: Why is the Canada-based singer facing the music?
A team from the National Child Right Commission went to Gopalnagar and investigated the incident. A senior officer said, "The commission sought a report from us, which we supplied. We have already filed a chargesheet in that incident."
Status of case: Seven arrested and later released on bail.
Also ReadIE100: The list of most powerful Indians in 2021FinCEN Files — On US radar: Dawood Ibrahim's financier, his laundering, f…Drug menace bigger threat than militancy, we're going Punjab way: J&K DGP…After 'downgrade' last year, MEA sent Speaker's office talk points on dem…
The Indian Express spoke to Alok Rajoria, Commissioner of Barrackpore Police Commissionerate, earlier this year, he acknowledged the crisis and spelt out steps being taken to tackle it. "We have been conducting seizures and recoveries regularly, but now we are not just looking at this from the perspective of law and police. We have started campaigns in schools and public places to alert parents and children. We are training them not to lift anything from the road or from garbage. We have our own limitations."
© The Indian Express (P) Ltd