As many as 261 flats in a Noida apartment complex developed by real estate firm Logix Infratech Private Ltd were allotted to the brother of Bahujan Samaj Party (BSP) supremo and former Uttar Pradesh Chief Minister Mayawati and his wife in a manner that was "fraudulent" and involved "deception" and "undervaluation," official records investigated by The Indian Express have revealed.
Over 12 years, the sequence of events, right from the incorporation of the company to its bankruptcy proceedings and a subsequent forensics audit of May 2023, paints a telling pattern of alleged irregularities.

Homeowners in Noida project react | 'Don't see a way out'
Consider this sequence, according to official records and reports investigated by The Indian Express:
May 2010: Logix Infratech Private Ltd was incorporated; Mayawati was the Chief Minister having won and taken charge in May 2007.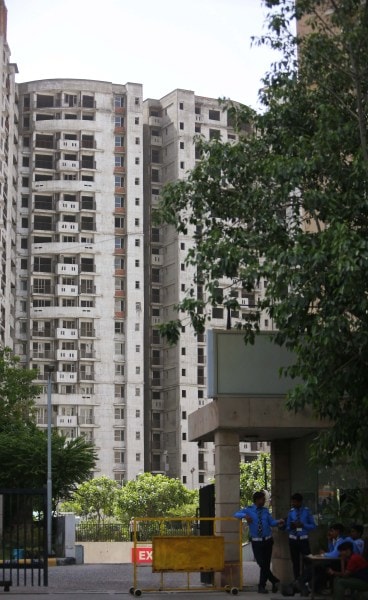 Blossom Greens society in Noida. Express photo by Gajendra Yadav
July 2010: In less than two months, Logix signs agreements with her brother Anand Kumar  and his wife Vichiter Lata to sell about 2 lakh sq feet space each in Blossom Greens, its Noida project, at Rs 2,300 per square foot and Rs 2,350 per square foot, respectively. So, the total purchase price for Anand Kumar was Rs 46.02 crore and for Vichiter Lata Rs 46.93 crore.
September 2010: Within three months of these agreements, the Noida Authority, under the UP Government, leased 1,00,112.19 sq meters or 24.74 acres to Logix Infratech to develop 22 towers in Blossom Greens.
Express Investigation | Since 2017 when Yogi Adityanath took charge, over one killed every fortnight in UP police encounters
September 2010 to 2022-23: Over these years, Logix sold 2,329 units of the total 2,538 residential units in Blossom Greens. So far, the company has offered possession of eight towers comprising 944 flats, of which 848 buyers have taken possession. Although the civil structure of the remaining 14 towers is complete, the towers are not yet ready for possession.
Blossom Greens society in Noida. Express photo by Gajendra Yadav
April 4, 2016: Anand Kumar was allotted 135 apartments and Vichiter Lata the balance 126 apartments after they paid an "advance" of Rs 28.24 crore and Rs 28.19 crore, respectively.
February 15, 2020: Logix Infratech received the first notice demanding unpaid dues of Rs 7.72 crore from construction company Ahluwalia Contracts (India) Ltd to whom it had awarded civil and structural works for Blossom Greens worth Rs 259.80 crore.
October 2020: Logix responded citing Covid-19, a ban on construction in NCR towards 2019-end, and non-availability of skilled labour as the key reasons for its inability to pay the dues to Ahluwalia Contracts.
September 29, 2022: NCLT ordered bankruptcy proceedings against Logix setting in motion the Corporate Insolvency Resolution Process (CIRP), the recovery mechanism for all to whom Logix Infratech owes money.
As per the insolvency norms, NCLT appointed an Interim Resolution Professional who ordered an audit of Logix's books. According to the latest draft of this Transaction Audit Report submitted to the IRP in May 2023 and reviewed by The Indian Express, the units sold to both Anand Kumar and Vichiter Lata were "undervalued" and the transactions "fraudulent".
Recording that the two have made claims amounting to Rs 96.64 crore under the bankruptcy proceedings, the audit flags a series of alleged irregularities.
For one, Anand Kumar was billed at Rs 2,300 per square foot when the average net rate at which units were transferred to other home buyers in the FY 2016-17 is Rs 4,350.85. "Hence the transactions are undervalued under Section 45 of the Insolvency and Bankruptcy Act 2016," stated the audit report.
Also, as many as 36 units allotted to him were already in the possession of other parties. This, according to the audit report suggested "there has been some misrepresentation or deception involved in the allotment process".
What raises further questions about the transaction, the audit report said, is the fact that vouchers showing Anand Kumar's payments of Rs 28.24 crore are shown under the head "Advance from Customers" rather than as an investment. "Though there are bank receipts and bank statements showing the receipt of the amount (Rs 27.60 crore), in our analysis, we found that the funds received were transferred to the related parties," the report said.
Almost similar allegations of irregularities were flagged for Anand Kumar's wife Vichiter Lata: from undervalued price; 24 of her 125 units being allotted to others, and Rs 28.85 crore of her payment being transferred by Logix to related parties with "no explanation." "Hence, we are classifying the above transaction of Rs. 28.85 crore as fraudulent," it said.
Most Read 1Chandrayaan-3 mission: Dawn breaks on Moon, all eyes on lander, rover to wake up 2As Indo-Canadian relations sour, anxiety grips Indian students, residents who wish to settle in Canada 3Karan Johar says Sanjay Leela Bhansali did not call him after Rocky Aur Rani: 'He's never called me but…' 4Gadar 2 box office collection day 40: Hit by Shah Rukh Khan's Jawan onslaught, Sunny Deol movie ends BO run with Rs 45 lakh earning 5Shubh's tour in India cancelled: Why is the Canada-based singer facing the music?
The Indian Express mailed a list of questions to both Anand Kumar and Vichiter Lata, and also handed a list of questions to an aide at his residence. He was not available for comment.
When contacted, Vikram Nath, Director of Logix Infratech, who remained at the helm till mid-2016, said he could not speak since he was "outside". A detailed list of questions texted to him did not elicit a response.
Also ReadIE100: The list of most powerful Indians in 2021FinCEN Files — On US radar: Dawood Ibrahim's financier, his laundering, f…Drug menace bigger threat than militancy, we're going Punjab way: J&K DGP…After 'downgrade' last year, MEA sent Speaker's office talk points on dem…
Floated in 1997, the Logix Group has several companies under its fold, and claims to have established 4 million square feet of IT spaces. A 2021 CAG report revealed that during 2005-18, Noida Authority allotted 22 per cent of all commercial plots to Logix Group, and the Group's outstanding dues to the authority as on March 31, 2020, was Rs 5,839.96 crore.
© The Indian Express (P) Ltd