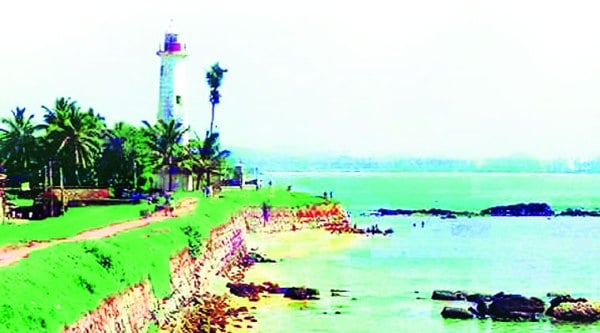 In 1921, both the Indian and Sri Lankan territories of Britain claimed Katchatheevu in order to determine fishing boundaries.
The AIADMK raised Katchatheevu in Parliament this week, demanding its return to Tamil Nadu from Sri Lanka.
Arun Janardhanan recalls the history of the disputed island.

Where is Katchatheevu island?A 285-acre uninhabited speck in the Palk Strait northeast of Rameswaram, 33 km from the Indian coast, but within the maritime boundaries of Sri Lanka. About 4,000 devotees from Rameswaram visit the 110-year-old St Anthony's Church on the island every year on average.
What is the island's history?The island is the product of a 14-century volcanic eruption. It was controlled by the Ramnad zamindari centred in Ramanathapuram, and became part of the Madras Presidency during the Raj. In 1921, both the Indian and Sri Lankan territories of Britain claimed Katchatheevu in order to determine fishing boundaries. A survey marked Katchatheevu in Sri Lanka, but a British delegation from India challenged this, citing ownership of the island by the Ramnad kingdom. The dispute was never settled.
Is there an official agreement now?In 1974, an agreement was signed in two parts — on June 26 in Colombo and June 28 in New Delhi. The island was ceded to Sri Lanka, but Indian fishermen were allowed access to Katchatheevu "hitherto". The agreement did not specify fishing rights, and Sri Lanka interpreted it as the right of Indians to access the island "for rest, drying nets and for visit to the Catholic shrine without visa".
What happened after that?After Emergency was imposed in 1975 and the Tamil Nadu government dismissed in 1976, a series of letters were exchanged between the foreign secretaries of India and Sri Lanka. Both Parliament and the state Assembly were non-functional and, without consulting either, another agreement was drafted that said, "The fishing vessels and fishermen of India shall not engage in fishing in the Exclusive Economic Zone of Sri Lanka." While the 1974 agreement was to settle the maritime boundary in the Palk Bay, the 1976 pact was to determine the boundary in the Gulf of Mannar and Bay of Bengal.
When did matters flare up again?In 1991, the Tamil Nadu Assembly again sought retrieval of Katchatheevu and restoration of fishing rights of Tamil fishermen. As long as Sri Lanka remained preoccupied with its war against the Tamil Tigers, things remained calm. The northern province and maritime boundaries were not guarded tightly, and Indian trawlers routinely entered Sri Lankan waters. In 2003, Sri Lanka announced that it could consider allowing licensed fishing by Indian boats, but neither Tamil Nadu nor the Centre submitted a proposal. In 2009, the war with the LTTE ended, and things changed. Colombo beefed up its maritime defences, and when Indian fishermen — facing a depletion of marine resources on their side —  entered Sri Lankan waters, arrests followed, only to trigger fresh demands in Tamil Nadu for restoration of Katchatheevu to it.
Most Read 1Chandrayaan-3 mission: Dawn breaks on Moon, all eyes on lander, rover to wake up 2As Indo-Canadian relations sour, anxiety grips Indian students, residents who wish to settle in Canada 3Karan Johar says Sanjay Leela Bhansali did not call him after Rocky Aur Rani: 'He's never called me but…' 4Gadar 2 box office collection day 40: Hit by Shah Rukh Khan's Jawan onslaught, Sunny Deol movie ends BO run with Rs 45 lakh earning 5Shubh's tour in India cancelled: Why is the Canada-based singer facing the music?
How did things reach the Supreme Court?In 2008, ADMK leader J Jayalalithaa filed a petition saying Katchatheevu could not be ceded to another country without a constitutional amendment. The petition argued the 1974 agreement had affected traditional fishing rights and livelihoods of Indian fishermen. After becoming chief minister in 2011, she moved a resolution in the Assembly and, in 2012, went back to the Supreme Court asking her petition be expedited in the wake of increasing arrests of Indian fishermen by Sri Lanka.
Where do other parties stand?The Congress has always been defensive about the role of Indira Gandhi's government in handing Katchatheevu to Sri Lanka. Before the Lok Sabha polls, the BJP endorsed the demand of Tamil parties to restore the island to the state. BJP leaders promised to take measures to revisit the agreement with Colombo.
Also Read17-year-old raped in Noida,rapists shoot MMS video clipMMS on porn site, Orissa girl ends life#swissleaks: Top 100 HSBC account holders with Indian addressesWoman teacher lures student for 'sex'
Will the Centre keep that promise?In August 2014, Attorney General Mukul Rohatgi told the Supreme Court that the matter was closed, and it would require "war" to get the island back. "Katchatheevu went to Sri Lanka by an agreement in 1974. It was ceded and now acts as a boundary. How can it be taken back today? If you want Katchatheevu back, you will have to go to war to get it back," he said.