Graduates from which university have qualified for the Civil Services Exam of the Union Public Service Commission (UPSC) in the highest numbers?
Read |
UPSC Civil Services Exam Result 2022 Live: Final result declared, Ishita Kishore tops
A figure updated to the current year is not available, but the numbers available for forty years from 1975 to 2014 show that students who graduated from Delhi University performed much better than their counterparts from other universities.

In fact, the number from Delhi University — as per the annual reports (1975-2014)* released by the UPSC — is so ahead of the second one in the list, that it is unlikely the position would have changed in the eight years since 2014.
Must Read | Why do engineers have a better success rate at UPSC Civil Services exam?
The reports from 1975 to 2014 showed that 4,128 Delhi University graduates became civil servants in various parts of the country. The university also topped in the number of candidates who appeared in the exam.
The reply to an RTI query filed by indianexpress.com showed that university-wise figures of qualifiers were not compiled since 2014.

A graduation degree in any discipline is one of the prerequisites for applying to the Civil Services Exam. To provide a fair chance to all candidates, no minimum percentage criteria in graduation subjects are applicable.
Second, on the list was the Jawaharlal Nehru University (JNU), with 1,325 of its graduates qualifying for civil services. The gap with DU is surprising since JNU is commonly perceived to have produced more civil servants.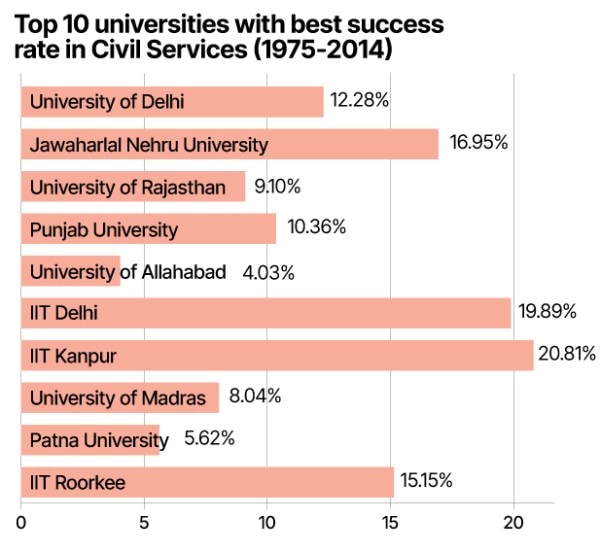 Interestingly, among the top 10 positions were five state universities with a significant number of their students appearing in the exam. Punjab University emerged the best-performing state university in the civil services exams, with a success rate of 10.36 per cent.
UPSC CSE | Why has women's success rate dropped despite 7-fold increase in participation rate in two decades?
Apart from these, three IITs also made it to the top 10 list. Students of IIT Kanpur showed the best results in the prestigious exams, with 20.81 per cent of those who appeared to manage to secure a place in the merit list.
IITs exhibit better success rate
Even though it is often argued that science students encounter more hurdles given the nature and syllabus of UPSC CSE, the figures showed that IITians had a higher success rate compared to other students. From among the top six oldest IITs of the country, more students from IIT Delhi took the exam as compared to their counterparts. However, the highest success rate was held by graduates from IIT Kanpur.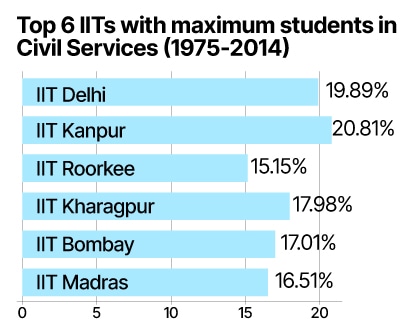 In the years leading up to 2014, more and more engineering students qualified in this coveted exam. Even though the numbers who took the test were less compared to those from other streams, their success rate was higher. Experts say this could be because, being used to highly competitive engineering entrance exams like JEE and GATE, they were primed for the UPSC competition
Among the top 10 rank holders in the decade leading to 2014, 26 out of the 100 candidates were from IITs. Out of these, nine were from IIT Bombay and six from IIT Kanpur.
New trends in the last decade
While central universities like DU and JNU continued to perform well through the four decades, 2005-2014 saw some new universities emerging with better results.
Most Read 1Bengaluru: Traffic congestion witnesses a dip at KR Puram Junction after commencement of full operations on Metro Purple Line 2Sonakshi Sinha says Salman Khan started laughing when he heard her first salary was Rs 3000: 'He said buy me a gift' 3Shahid Kapoor reveals his son was shocked after watching Jab We Met: 'He said that's how you look without a…' 4Israel-Hamas War News Live Updates: 'Preparing for ground incursion into Gaza, but leadership yet to decide', says Israeli military 5High drama as BJP MLA stages protest, falls to Karnataka Dy CM D K Shivakumar's feet
Established in 1998, Maharashtra University of Health Sciences at Nashik was one of the top performing universities, where out of 681 of its graduates who appeared in the Civil Services exam between 2005 and 2014, a total of 109 qualified giving it a success rate of 62.38 per cent.
Similarly, Tamil Nadu's Dr. MGR Medical University, which came into existence in 1987, showed a success rate of 22.65 per cent between 1994 and 2014. A total of 415 medical graduates from the university appeared in the civil services exams, out of which 94 made it to the merit list.
Also ReadSSC CGL Tier 2 exam 2017: Exam to be re-conducted for paper 1 on March 9BPSC TRE 2023 Result: Deadline extended to download OMR sheet of teacher …Looking for government jobs? Here are a few for people aged between 30-35…Half of the disabled population in India employable: Report
Another addition to the list was Dr APJ Abdul Kalam Technical University, Lucknow, formerly known as Uttar Pradesh Technical University. As many as 914 graduates of the university appeared in the CSE between 2005 and 2014, out of which 106 qualified.
© IE Online Media Services Pvt Ltd