It is that time of the year when we want to eat something tantalising yet nourishing to keep ourselves healthy and satiated. As such, if you are bored of your regular khichdi, try this recipe from chef Sanjeev Kapoor that we thought would add the much-needed variety this monsoon season.
Take a look at the Bardoli Khichdi recipe from Kapoor.

"Experience the authentic taste of Bardoli Khichdi, a wholesome blend of rice, lentils, and Indian spices. A true delight for your taste buds!" Kapoor captioned the post on his Instagram.
'Bardoli khichdi' has its roots in a town of Gujarat – Bardoli. "Bardoli is known for a spicier food palate than normal Gujarati cuisine. This nutrient-dense dish is a combination of rice, lentils, and spices. The uniqueness of this recipe, which separates it from the traditional khichdi is the addition of raw mango for imparting a slight tanginess to the khichdi and balancing out the spices added to it. The wholesomeness of this dish comes from the addition of vegetables to it such as carrots, peas, potato, brinjal etc," said registered dietitian Garima Goyal.
Here's the full recipe from Kapoor.
Ingredients
3/4 cup kolam rice, soaked for 1 hour and drained1/4 cup split skinless green gram, soaked for 1 hour and drained1/4 cup split green gram, soaked for 1 hour and drained1/4 cup pigeon peas, soaked for 1 hour and drained3-4 tbsps ghee + for drizzling3-4 cloves3-4 green cardamom1 cinnamon stick1 bay leaf1/2tsp cumin seeds8-10 curry leaves1tbsp crushed ginger and green chillies2tbsps raw peanuts1/4tsp asafoetida (hing)2tbsps grated fresh coconut + for garnish1 large potato, cut into 1-inch cubes3/4tsp turmeric powder1/2tsp red chilli powder1 1/2tsps coriander powder1/2tsp cumin powderSalt to taste3-4 small brinjals, quartered200 grams bottle gourd (doodhi), cut into 1-inch cubes1 small carrot, cut into 1-inch pieces1/4 cup shelled green peas2 medium tomatoes, chopped2-3 tsp sugar3-4 tbsps chopped fresh coriander leaves
Also Read | Gluten intolerance: Everything you need to know
To serve
Gujarati Kadhi to servePickle to serveRoasted papads to serve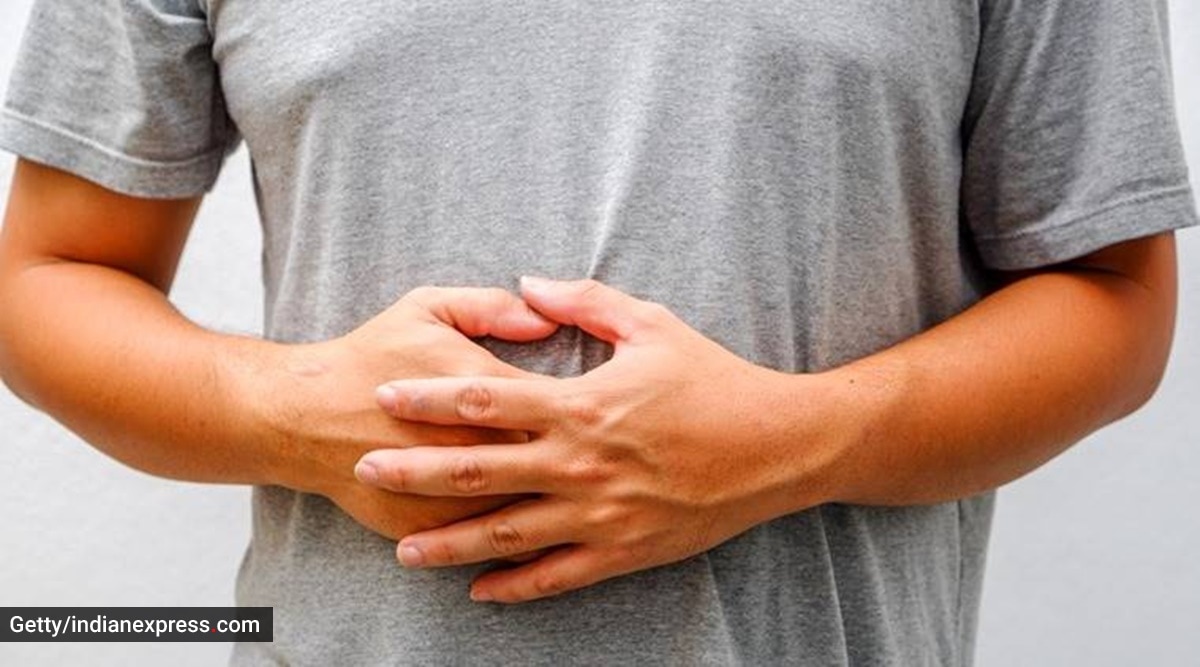 The humid weather during the rainy season makes the entire digestive system sluggish. (Source: Getty Images/Thinkstock)
Method
*Mix together rice, split skinless green gram, split green gram, and split pigeon peas in a large bowl.*Heat ghee in a pressure cooker. Add cloves, green cardamom cinnamon stick, and bay leaf and sauté till fragrant. Add cumin seeds and let them change colour. Add curry leaves, crushed ginger and green chillies, and raw peanuts and sauté for 2-3 minutes.*Add asafoetida and coconut and mix well.*Add potato and sauté for 1-2 minutes. Add turmeric powder, red chilli powder, coriander powder, cumin powder, and salt and mix well. Cook for 1-2 minutes.*Add brinjal, bottle gourd, carrot, green peas, and tomatoes and mix. Cook for 2-3 minutes.*Add the rice-gram mixture and mix well. Add 5 cups water, adjust salt, add sugar, and mix. Cook on high heat till the mixture comes to a boil. Reduce the heat to low, cover the cooker, and cook under pressure till 3-4 whistles are released.*Open the cooker once the pressure has reduced completely. Add coriander leaves and mix.*Transfer the khichdi into a serving bowl. Drizzle ghee, garnish with coconut and coriander sprig. Serve hot with Gujarati kadhi, pickle, and roasted papads.
Also Read | Khichdi: Say hello to this meal for all seasons
Why have the khichdi this rainy season?
Goyal listed the following reasons
Source of complete protein – When a cereal is combined with a lentil, as in Bardoli khichdi by mixing rice with toor dal, it becomes a source of complete protein. This term implies that it contains all the essential amino acids that our body needs but cannot synthesise on its own.
Great aid in weight loss – The best use of khichdi is for fitness enthusiasts as the presence of quality protein in it helps to shed weight gradually. Additionally, the fibre content coming from vegetables added in it provides high satiety value and lowers hunger pangs which helps prevent the consumption of extra calories.
Most Read 1Chandrayaan-3 mission: Dawn breaks on Moon, all eyes on lander, rover to wake up 2As Indo-Canadian relations sour, anxiety grips Indian students, residents who wish to settle in Canada 3Karan Johar says Sanjay Leela Bhansali did not call him after Rocky Aur Rani: 'He's never called me but…' 4Gadar 2 box office collection day 40: Hit by Shah Rukh Khan's Jawan onslaught, Sunny Deol movie ends BO run with Rs 45 lakh earning 5Shubh's tour in India cancelled: Why is the Canada-based singer facing the music?
Easy to digest – Those who are sick can be given Bardoli khichdi as it is very easily digestible and doesn't disturb the gut. Even those with gastrointestinal issues such as bloating, gas, loose stools etc. can be benefitted from the consumption of khichdi because of its gut-friendliness.
Great for those with gluten sensitivities – Celiac disease and gluten sensitivity are on the rise these days wherein those individuals suffering from it have an allergic and inflammatory response to the consumption of gluten, a protein found in cereal grains such as wheat, rye, and barley. Khichdi is a great aid for such individuals as all its ingredients are gluten-free and safe to consume, said Goyal.
Also ReadHow to clean broccoli properly before use?How to store avocados properly to ensure longer shelf life?Six iconic Indian spots named among 'most legendary dessert places in the…Ganesh Chaturthi 2023: Try these modak recipes to enhance the festivities
📣 For more lifestyle news, follow us on Instagram | Twitter | Facebook and don't miss out on the latest updates!
© IE Online Media Services Pvt Ltd