Meet 42-year-old Pragyan Chakma. A painter-turned-horticulture enthusiast and entrepreneur, Pragyan has successfully grown the world's costliest mango, the Miyazaki mango, in Tripura. His success with the crop for the second consecutive year has now caught the authorities' attention. And, understandably so. Miyazaki mangoes, characterised by the flaming red colour they take on when ripe, are sold at around Rs 2.75 lakh per kg in the international market.
"I started growing mangoes five years ago and it has been two years now that I have been selling Miyazaki mangoes," Pragyan told indianexpress.com. Pragyan runs a 4-acre fruit orchard with a mixed bag of fruits, including rambutan, dragon fruit and apple ber, and a variety of mangoes like Miyazaki, Khatimon, American Palmer, Rangui, Amrapali etc.

As his Miyazaki mangoes have not been tested by the horticulture department and do not have a Geographical Indication (GI) tag, Pragyan has been selling them at Rs 1,500 per kg at the local market in Gandacherra. He says he sold roughly 20 kg of Miyazaki mangoes in his locality last year. With only a few Miyazaki trees in his orchard, Pragyan is now hoping to reap a harvest of roughly 40 kg of this exotic variety.
"It seems there is a good potential for Miyazaki mangoes. It might take some time since they only have a handful of Miyazaki plants now. But we have extended our support by building a canal for them, we have also given them technical know-how," Dhalai district Superintendent of Agriculture C K Reang said.
A special consignment of mangoes sent from Bangladesh being unloaded at Agartala in the presence of Bangladesh Assistant High Commission officials. (Express Photo by Debraj Deb)
Pragyan's journey from an artist to a farmer was not an easy one. Based out of Pancharatan, a small village in the jurisdiction of the Tripura Tribal Areas Autonomous District Council (TTAADC) in Dhalai district, some 82 km away from Agartala, Pragyan used to be a painter and painting teacher and ran an art school – Chunilal Lalitkala Academy – at his village till the Covid-19 pandemic.

It was on a visit to a friend's place in Bengal that he came across a few "baaromashi (all-year fruit-bearing)" mango trees. He was hooked. "I keep on doing some painting assignments. I get some money from my art school and I also do some odd jobs. I remember investing all I got into my orchard. At times, we had no idea how to get food the next day. But my wife supported me through all this," Pragyan said.
Without any backing from the government, he says he depended a lot on YouTube, and the internet in general, to learn about Miyazaki mangoes and get the know-how on growing a plant that nobody had heard of in his area. "I did not apply for help from the government, neither did they assist. But now that it is getting a bit of attention, I hope to get some help," Pragyan said, adding that he ordered a few plants online.
When he first started his Miyazaki crop, he used to get water from the local Thakuracherra stream with a pump. A year after his first crop sold, however, the local agriculture and horticulture department sat up and took notice. The officials have now dug a canal for his orchard.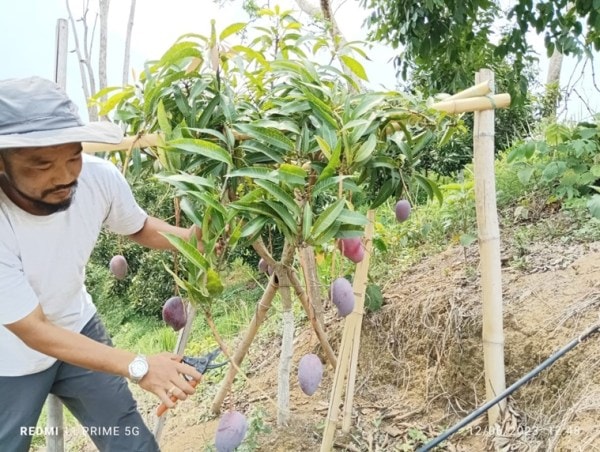 Pragyan Chakma in his Miyazaki orchard in Dhalai district. (Express Photo by Debraj Deb)
Harvested between April and August each year, Pragyan's Miyazaki mangoes have just hit the stands this year. Even though the Miyazaki plantation at Dhalai is still in its nascent stage, Reang says Tripura's soil conditions and climate are well suited for the 'Egg of the Sun'. Though not from Tripura, the fruit was even showcased in the seventh edition of a three-day mango festival at Siliguri this year.
Called the 'Egg of the Sun' for their bright colours and perfect egg-like shape, Miyazaki mangoes originated from Japan's Miyazaki city in the country's Kyushu province. Its history started in the 1980s when a group of local farmers and researchers started working on an idea to grow the perfect mango plant.
New technology was fused with old-fashioned breeding techniques to create a mango which could grow well in the climate and soil of Miyazaki, eventually leading to the delicious fruit that has a longer shelf life and is less likely to be eaten by pests.
Pragyan's success with the Miyazaki mangoes has prompted several other horticulturists in the state to follow suit but almost none of them have brought forth a produce like his, Reang said. Reang is now planning to float a plan for the targeted development of Miyazaki mangoes in Tripura. "I will soon table a full-fledged proposal before the government," he said.
A senior horticulturist said that proper technical training sessions and proper marketing support through Tripura Markfed (marketing federation) are the need of the hour.
Fruit diplomacy?
Most Read 1When ex-ISRO chief was told to 'get lost' by ISRO satellite centre 2Israel-Hamas War News Live Updates: Israel says drone killed militants who tried to infiltrate from Lebanon 3When Amitabh Bachchan shared what changed after Aishwarya Rai joined the Bachchan family: 'One daughter left…' 4Amitabh Bachchan calls Jaya Bachchan his worst critic: 'She walks out of my movie trial and then we have domestic problem at home' 5'Rajesh Khanna's dates were impossible to get': Sharmila Tagore says she could've been 'sued' for compromising 'Sapno Ki Rani' shoot
Mangoes have always been at the centre of diplomacy and politics between India and Bangladesh. On Wednesday, Bangladesh Prime Minister Sheikh Hasina Wazed sent 500 kg of mangoes as a gift to Tripura Chief Minister Manik Saha. The Bangladesh premier also sent similar mango consignments as a goodwill gesture to West Bengal Chief Minister Mamata Banerjee, Assam Chief Minister Himanta Biswa Sarma and Nagaland Chief Minister Neiphiu Rio, among others.
This is not the first time that mangoes have crossed the borders in this part of the region. Earlier in July last year, Tripura sent around 750 kg of pineapples in around 100 cartons to Sheikh Hasina after she sent 300 kg of 'Haaribhanga' mangoes, a special variety of the fruit grown there, to the then Tripura chief minister Biplab Kumar Deb as part of its 'fruit diplomacy' with Tripura, a state with which it shares an 856-km international border.
Also ReadTripura sets target to generate 500 MW solar power by 2030, lays focus on…Tripura: Special subsidised Durga Puja 'gift hamper' for all ration card …Tripura man who beat wife to death while drunk gets life sentenceTripura CM Manik Saha launches special pre-Puja PDS 'gift hamper', says g…
When in power, Deb had started a massive push for popularising products indigenously grown in the state and promoted experimental exotic fruit cropping. Queen Pineapple, which is traditionally grown in Tripura, was awarded a GI tag and was declared 'state fruit'. Several entrepreneurs were seen growing exotic fruits like apple ber, dragon fruit, grapes etc. Deb had also pushed for cultivating Miyazaki mangoes. CM Saha, who hosted a G20 meet in Agartala, signing several agreements with investors interested to export agricultural and horticultural products, has continued the initiative.
© The Indian Express Pvt Ltd