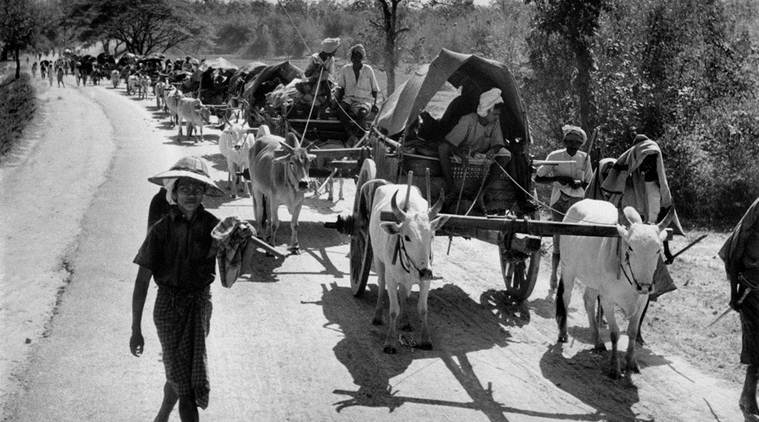 BURMA. WWII. Indian refugees flee Burma before advancing Japanese army. (Source: MagnumPhotos.com)
Director Vishal Bharadwaj has dug out a much less talked about period of Indian history in his latest film, Rangoon. Behind a shroud of the more prominent national movement in India and the British rule it was targeting was the country's own face off with World War II. When the Japanese knocked on the doorsteps of Burma and then later North East India, nationalists knew that British rule was no longer the only threat they had to get rid off.
Before the Japanese could step on British India, it was Burma that they first infiltrated in December 1942. Rangoon at this point in time was a predominantly Indian city. With Burma under British rule, Indians migrating there for better work prospects was very common in the 19th century.

Even though the Japanese encroachment upon Burma was really an offensive aimed at the British, it caused a massive fear among the Indian population nestled there. Perhaps they were concerned about their well being in the absence of the British. The air raids by the Japanese started in December 1941 and soon after the British started evacuating their personnel. While evacuation routes were opened up by air and sea, they were largely restricted to European use. Very few Indians managed to make use of these. A large majority, however, were forced to take walk as the only remaining option.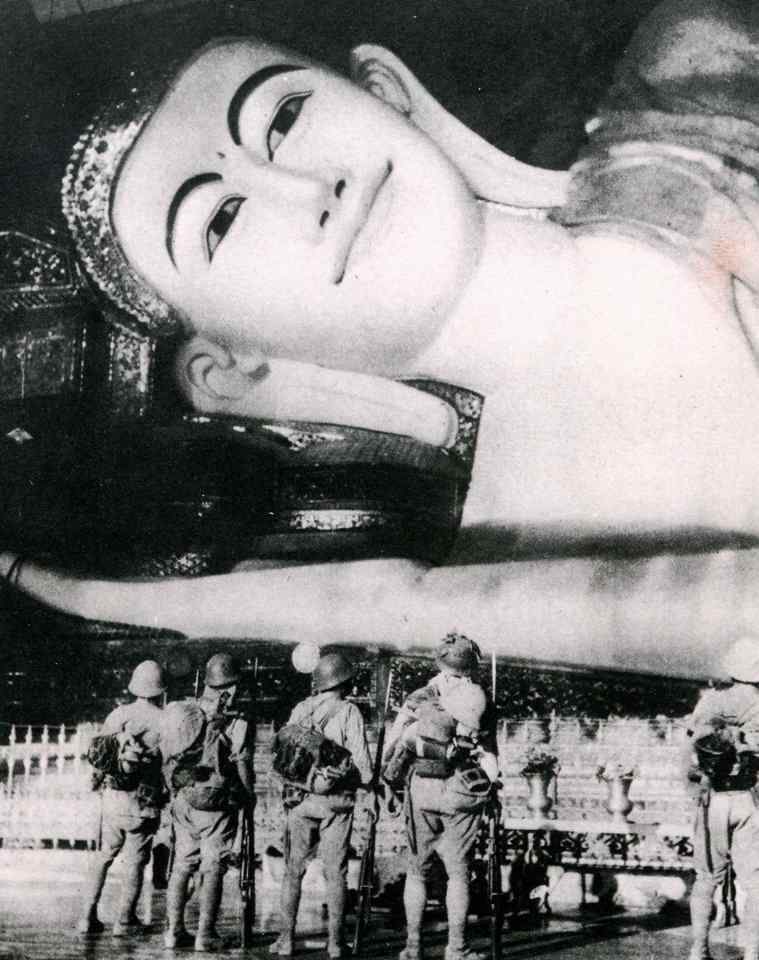 Japanese army at Shwethalyaung Buddha. (Source: Wikimedia Commons)
Without any official supervision, thousands of Indians negotiated miles of treacherous terrain, battling away wild animals, insects and poisonous elements. As per records, the trek by land must have been undertaken by at least 400,000 refugees, if not more. In the aftermath the travails of these patient trekkers was largely forgotten. Apart from selected personal accounts lying around, no organised archive can be found that has collected the memories of the thousands who left their well settled lives in Burma and toiled across a hazardous journey to reach India.
As Vishal Bharadwaj releases the first feature film commemorating, India's involvement in World War II in Burma, IndianExpress.com dug into archives and spoke to a few such people who made the arduous journey from Burma during the period.
Mitali Choudhury
A mother of three now settled in London, Mitali Choudhury was born and raised in a south Kolkata locality before she got married. An essential part of her family identity though is the link she has with Burma, where her great grandfather Joy Chandra Dutta made a fortune in the timber business. It is believed that Amitav Ghosh's famous novel set in Burma, "The Glass Palace" is inspired from his life. His grandson from his daughter's side and father of Mitali Choudhury, Satish Chandra Ray, was the last in the generation who lived in Burma. Ray passed away in 2007. However, he left behind with his daughter a large number of recollections of the times of fear and apprehension that gripped his family as they rushed out of Rangoon.
"The Second World War broke out just months before my father was to sit for his college exams. He was around 20 years old then and was the last able bodied person in his family who could get onto a steamer along with the women and children. Everyone older than him had to walk down," says Choudhury. Her father, being the only man among the evacuees, had to take all the responsibility. His elder brother handed over a bag with some money right when he was about to board the steamer and asked him to take care of the family with it till they could arrive by land.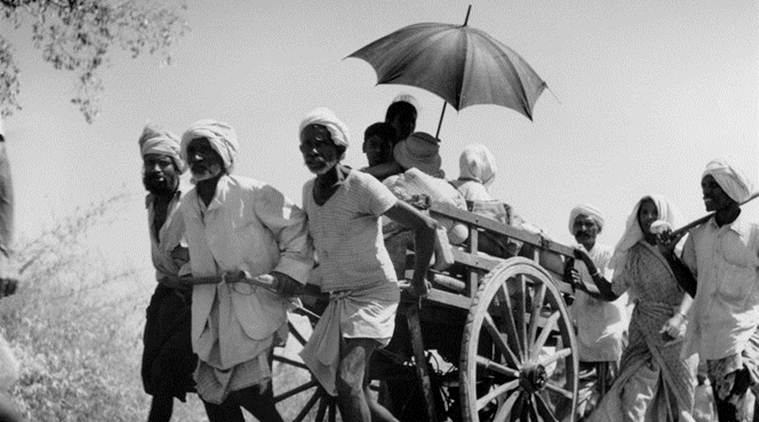 BURMA. WWII. Indian refugees leaving Burma as Japanese invaders took over. April, 1942. ( Source: MagnumPhotos.com)
"There was so much of apprehension in the air. He did not know how long it would take for his elder brothers to reach Dhaka by land," says Choudhury. She went on to explain that once the elder brothers did arrive at Dhaka, they were heavily bearded and covered in filth from the months of trekking through forested landscape. "One of my aunts who accompanied her husband by foot was struck by typhoid soon after she arrived and passed away. Most families had some form of tragedy," says Choudhury.
Choudhury also recollects her aunts speaking about the life of prosperity they lived in Rangoon. "My mother has been passed on jewellery as part of heirloom that had once belonged to King Thebaw of Burma," says Choudhury as she goes of to narrate tales told by her aunts of jade bangles and Burmese rubies being sold on the streets of Rangoon. "I personally feel after all these years that the upheaval in the early years of their lives had an impact on my aunts' personalities. They could never come to terms with the fact that they had to leave such an elaborate household and live an ordinary middle class life in Kolkata," says Choudhury.
Watch video
M. Madhavan
A retired sports journalist, M. Madhavan has been living in New Delhi since 1956. His father had moved to Burma to work in the railways there. Madhavan was born in Rangoon where he lived till the age of 3-4 when he had to evacuate the city as the fear of Japanese attack seized his family. He fondly recollects his early years in the Burmese city. "We used to stay in a large double storeyed house at Louise Street. I remember going vegetable shopping with my dad near the Irawaddy," says Madhavan.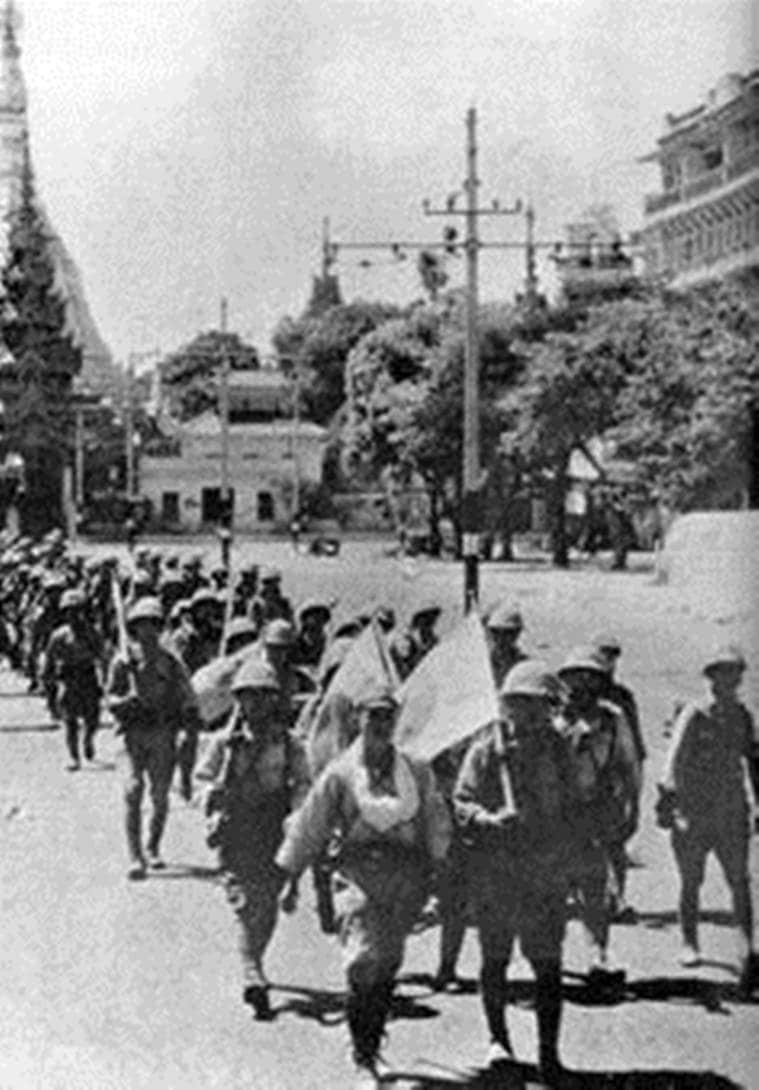 Japanese army arriving at Burma (Source: Pinterest/pedrodt5f)
They left Rangoon in 1938 of years before the war actually started. "There was a lot of fear and panic all around about the Japanese attack. So my father decided to leave," he says. He and his family were fortunate to get a steamer to Chennai. "A number of South Indians lived in Rangoon at that time, so we all came together," says Madhavan as he went on to explain that several other relatives of his took the land route.
Madhavan has been working as a journalist in Delhi since 1953. He visited Rangoon couple of years back and was surprised to see how things have changed. " I could not recognise anything. The Burma Railways where my father used to work, has been made into a museum now."
Rashmi Shah
Rashmi Shah, 74, has been working as a Chartered Accountant in Mumbai since 1963. Till about a year before he was born his parents led quite a prosperous life in Rangoon. His grandfather, C.Ratanshree Shah, had moved to Rangoon from Bhuj in Gujarat as a young boy with the motive of building an enterprise. Over the years he built a fortune in the rice business. His father Kushal Shah was born and raised in Rangoon. Talking about what he had heard about his father's growing years, Shah says that "life was good in Burma. People were good. Education was free. People led a very good life."
The destruction of Rangoon in the aftermath of WWII (Source: Wikimedia Commons)
In 1942, however, his parents had to rush out of Rangoon leaving behind all their property. "When the Japanese bombed the city, my parents were in the market. By the time they reached home everything had been destroyed. They just left everything and took the last steamer for India. My grandfather left behind 14 rice mills," says Shah. "There were several others who had to walk down through Assam. Many died on the way. During these days of war, no kind of protection was provided to those walking."
Shah, who was born a year after his family reached India, says that once the streamer reached Kolkata the boarders were simply left to fend for themselves. Fortunately, they had relatives in the city to take care of them.
Dr. Gurumurthy
Most Read 1Aamir Khan charged Rs 25 lakh for a commercial, Shah Rukh Khan was ready to do it for Rs 6 lakh as he wanted to buy Mannat: Prahlad Kakkar 2Australia vs Afghanistan Highlights, World Cup 2023: Glenn Maxwell bangs 201* to inspire a three wicket heist in Mumbai 3Vaibhavi Merchant says Amitabh was 'encouraging' while shooting Kajra Re with Aishwarya, Abhishek; asking Gulzar to simplify lyrics 4Order on firecrackers applies to all states, not only NCR: Supreme Court 5England vs Netherlands, World Cup 2023 Highlights: Moeen Ali, Adil Rashid take 3 wickets apiece as ENG trounce NED by 160 runs
Author Amitav Ghosh in his personal blog has recorded the personal account of a war evacuee from Burma, Dr. Gurumurthy. Like many other Indians in Burma, Gurumurthy's father had migrated there to make a better living. His father was born in Burma in 1902 and he was born in 1933. Gurumurthy was 9 when the war started.
When the Japanese attacked, his father rushed his family to board a steamer from Rangoon. However, the British at this point in time, denied entry of all non-Europeans in the steamers. With their house destroyed by the Japanese raids, the only option available to them was travel by land. The trek covered 50 miles of dense forests. "We were told that this particular route was hazardous because of wild animals. There were warning signboards in some places that one had to walk non-stop to escape death by inhaling poisonous air. One may wonder as to how we could go through these forests safely," writes Gurumurthy. They were 5000 evacuees walking together. Many among them carried weapons to scare away wild animals. "Many unfortunate evacuees perished on the way side. There was no one who cared to remove the corpses of the dead."
Also ReadSwachh Bharat: How Mahatma Gandhi became torchbearer for cleanliness800 years before Pope Francis, St Francis met the Sultan of EgyptA brief and crackling history of fireworks in IndiaHow Sardar Vallabhbhai Patel, V P Menon and Mountbatten unified India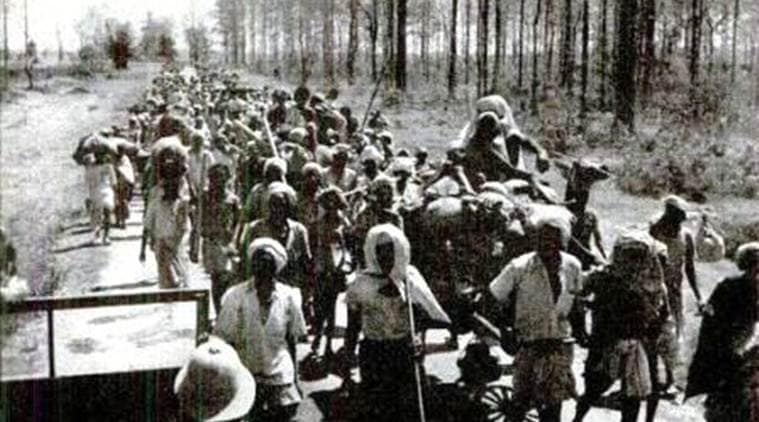 Indians fleeing from Burma (Source: cbi-theatre.com)
Gurumurthy recalls how his mother and grandmother were in a state of mental collapse by the time they reached Imphal and then Kolkata. From Kolkata, they took another train to reach Chennai where his grandmother died soon after.
© IE Online Media Services Pvt Ltd