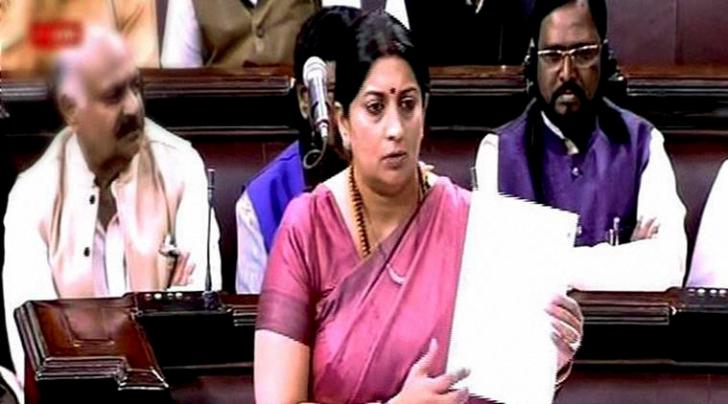 Smriti Irani speaks in the Rajya Sabha in New Delhi on Thursday. (PTI Photo)
Opposition parties today sought an apology from HRD minister Smriti Irani for reading out in Rajya Sabha "objectionable" comments made outside against a god, as she defended herself saying she was asked for proof of her statements against JNU students.
BJP members also hit back at the Congress saying the opposition party was raising the issue due to the criticism of its Vice President Rahul Gandhi over his visit to JNU.

READ | Parliament LIVE: You have pushed Rohith Vemula to commit suicide, says Yechury to BJP leaders
As the House met for the day, Deputy Leader of Congress in Rajya Sabha Anand Sharma raised a point of order saying the Constitution and rules do not permit anything to be raised in the House which is blasphemous and can hurt religious sentiments.
WATCH | Budget Session Kicks Off On A Dramatic, Stormy Note: An Analysis

Irani, he said, had read out "insulting" comments made against Goddess Durga "verbatim" in the House hurting sentiments and sought a ruling from the Chair as to whether such comments made outside Parliament against any religious figure or a deity can be read out inside the House.
READ | Uproar in Rajya Sabha after Smriti Irani brings in goddess, demon
Members of other opposition parties also agreed with K C Tyagi of JD(U) demanding that Irani should unconditionally apologise for the comments read out by her.
READ | Scindia's speech vs Irani's speech: RSS, O P Sharma, Godse deleted in House records, JNU students stay
Irani, however, remained unfazed by the criticism and asserted that she herself was a "practising Hindu and a Durga worshipper".
The HRD minister also insisted that she had read out the comments from authenticated documents from JNU as she was repeatedly being asked to explain what was the evidence against students accused of anti-national acts, which some parties were giving respectability to.
Leader of Opposition Ghulam Nabi Azad then said it is a "very serious issue" and the "minister should apologise for what she said yesterday."
READ | Smriti Irani again defends JNU action, but in milder tone
Azad said there were campaigns against many religious figures but all this cannot be raised in the House.
Coming to his colleague's defence, Minister of State for Parliamentary Affairs Mukhtar Abbas Naqvi attacked Congress and other opposition parties saying it had become a pattern for them to seek a Short Duration Discussion, a couple of Calling Attention Motions and an apology in every sessionwhile showing no interest in legislative business.
READ | Budget session: I spoke to Rohith Vemula's mother, says Smriti Irani in Rajya Sabha
Most Read 1India vs Bangladesh Highlights, World Cup 2023: Virat Kohli finishes with a six and a century as IND win fourth game in a row 2Leo box office collection Day 1 early reports: Vijay's film to record biggest Tamil film opening of 2023, brings in Rs 145 crore worldwide 3Amitabh Bachchan refused to wear topor at Bengali wedding with Jaya Bachchan, told her parents, 'I will marry your daughter but…' 4Conviction does not bring our daughter back to us: Soumya Vishwanathan's parents recall 15-year-long legal ordeal 5Leo movie review and release Live Updates: Vijay film books biggest worldwide opening day record in Kollywood
He also said that Congress was raising the issue as its Vice President was criticised for supporting those indulging in activities against the nation.
As the two sides indulged in heated exchanges, Deputy Chairman P J Kurien said there has been a tradition that nothing blasphemous or anything against any community will be raised in the House.
Also ReadUnion Budget 2023 income tax slabs: New tax regime is default, rebate inc…FM radio industry has flourished, 388 private stations in 2022 June quart…Union Budget 2023: Rs 990 crore allocated for G20 presidencyUnion Budget Highlights: Capex hiked by 33%; Infra and jobs push before 2024
He assured members that he would go through the records and expunge anything blasphemous.