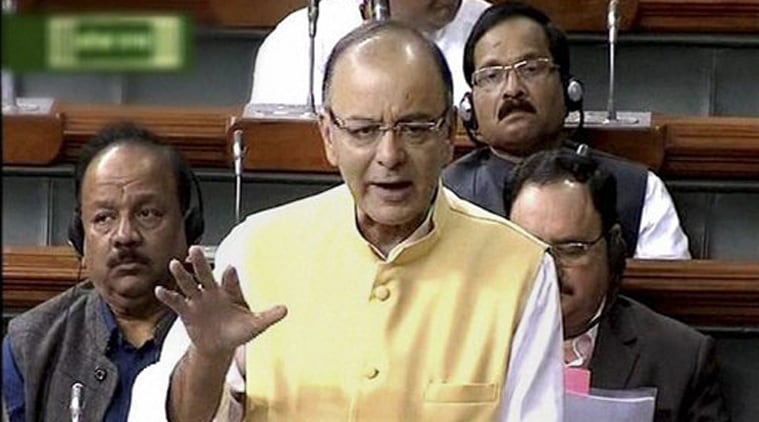 Subsidies are "regressive" in nature and "do not seem" to have transformed the living standards of the poor: Jaitley. (Source: PTI)
Subsidies benefit the rich more than the poor and the government should link the JAM trinity — Jan Dhan Yojana, Aadhaar number and Mobile numbers — for its effective transfer to the intended beneficiaries, the Economic Survey has suggested.
Pointing out that the price subsidies are "regressive" in nature and "do not seem" to have transformed the living standards of the poor, the Survey, tabled by Finance Minister Arun Jaitley in the Lok Sabha on Friday, recommended that leakages in subsidies should be eliminated by cash transfers while the deployment of fiscal resources should be "based on data rather than popular perception".

"Price subsidies are often regressive in nature… a rich household benefits more from the subsidy than a poor household… Eliminating or phasing down subsidies is neither feasible nor desirable unless accompanied by other forms of support to cushion the poor and vulnerable and enable them to achieve their economic aspirations. The JAM number trinity allows the state to offer this support to poor households in a targeted and less distortive way," the Survey said.
[related-post]
According to the estimates, all subsidies including wheat, rice, pulses, railways, water, kerosene, LPG, electricity, sugar and fertilisers stood at Rs 3,78,000 crore, about 4.24 per cent of GDP.Claiming that India has "reached a sweet spot and… there is scope for Big Bang reforms now", the Survey projected a growth rate of 8.1-8.5 per cent in 2015-16 and stressed that the Centre would meet its fiscal deficit target of 4.1 per cent of the GDP in this fiscal and 3 per cent in the medium term to restore its credibility.
Improving macroeconomic situation, a clear political mandate for reforms and a benign external environment is now expected to propel India to double-digit growth trajectory, the Survey said, even as it made a case for better targeting of subsidies.

Detailing the manner in which the subsidies end up benefiting rich households more than a poor household, it said that in the case of electricity, for instance, while the bottom quintile of households consumed just 10 per cent of the total subsidy, the top quintile consumed 37 per cent of the total power subsidies of Rs 32,300 crore.
Similarly, the poorest 50 per cent households consume only 25 per cent of the LPG subsidy while 51 per cent of subsidised kerosene is consumed by non-poor households and almost 15 per cent of subsidised kerosene is actually consumed by the relatively well-off, i.e., the richest 40 per cent. The total LPG subsidy stood at Rs 23,746 crore, according to government estimates.
Most Read 1Sunny Deol says he doesn't like how Shah Rukh Khan has turned actors into a 'commodity', Salman has made them into 'bodybuilders' 2Aishwarya Rai cuts birthday cake at an event with daughter Aaradhya Bachchan, refuses to eat as she is observing Karva Chauth. Watch video 3Poonam Dhillon recalls how Amitabh Bachchan treated her 'like a prop' on her first day of shoot: 'I was so scared, nervous' 4'I want to have the same things these guys are having': Wasim Akram slams Hasan Raza's statement on Indian bowlers being given different balls to bowl 5World Cup doesn't start until there's controversy with Pakistan: Michael Vaughan takes dig at PAK before must-win game vs New Zealand
"Cash transfers can augment the effectiveness of existing anti-poverty programmes. By reducing the number of government departments involved in the distribution process, opportunities for leakage are curtailed. In addition to net fiscal savings, income transfers can compensate consumers and producers for exactly the welfare benefits they derive from price subsidies without distorting their incentives," the Survey argued.
Till December, over 720 million citizens had been allotted Aadhaar cards and the number is expected to exceed one billion by December 2015. Moreover, up to December last year, the government linked more than 100 million bank accounts with registered Aadhaar numbers and with the introduction of Jan Dhan Yojana, the number of bank accounts is expected to rise further.As such, cooking gas subsidies is already being transferred directly via direct benefit transfer into the bank accounts of 9.75 crore recipients.
Also ReadUnion Budget 2023 income tax slabs: New tax regime is default, rebate inc…Budget 2023: Smoking to be costlier, custom duty on cigarettes increasedBudget 2016: Rs 2.58 lakh crore allocated for defence, here are ten thing…FM radio industry has flourished, 388 private stations in 2022 June quart…
The Survey also suggested that with increasing cellphone users — more than 900 million cellphone users and close to 600 million unique users — mobile money offers a viable alternative to meet the challenge of last mile connectivity along with the post offices.