IN A move which will attract overseas inflows, the Union Budget 2023-24 exempted income distributed on offshore derivative instruments (ODIs), also known as participatory notes (P-note), entered into with an offshore banking unit of International Financial Services Centre (IFSC), GIFT City in Gandhinagar.
P-note is an instrument issued by a registered foreign portfolio investor to an overseas investor who wishes to invest in Indian securities without registering with SEBI.

Also Read | A bit of fiscal room: What the latest data on government finances reveals
Under the ODI contract, the IFSC Banking Unit (IBU) makes the investments in permissible Indian securities. Income earned by the IBU on such investments is taxed as capital gains, interest, dividend under Section 115AD of the Act.
The current tax levied is 10 per cent on long term capital gains and  15 per cent for short-term.
After the payment of tax, the IBU passes such income to the ODI holders.
Currently, the exemption is provided only on the transfer of ODIs and not on the distribution of income to the non-resident ODI holders.
Hence, this distributed income is taxed twice in India – first, when received by the IBU, and second, when the same income is distributed to non-resident  ODI holders.
"In order to remove the double taxation, it is proposed to amend clause (4E) of Section 10 of the Act, to also provide exemption to any income distributed on the offshore derivative instruments, entered into with an offshore banking unit of an IFSC," as per the Budget.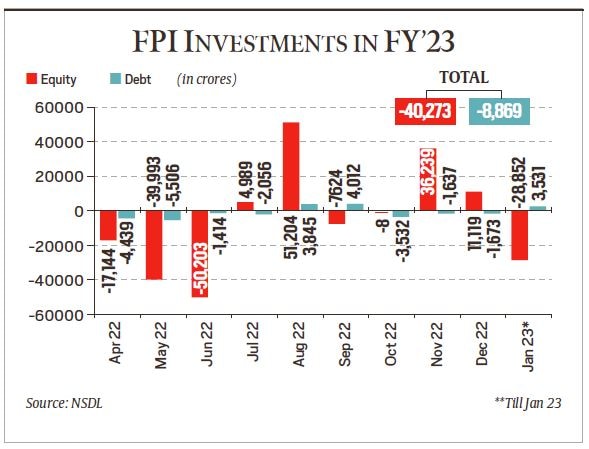 Such exempted income will include only that amount which has been charged to tax in the hands of the IBU.
The CEO of a leading financial services firm said, "The decision is set to result in strong inflows through the ODI route into Indian equities over the coming few months."
Also Read | Remittances high, low tax payment: Govt tighens net with TCS hike
According to Veena Sivaramakrishnan, Partner, Shardul Amarchand Mangaldas and Co: "The Budget also promises a legal backing to offshore derivative contracts in IFSC. While the letter of law will determine the extent of this change, it would certainly be of    interest to see what exactly gets contemplated under the wide gamut of such contracts."
Explained
Clarity for FPIs
While double taxation has been an area of concern for the foreign portfolio investors, the proposed shift in stance is likely to boost their confidence. The value of P-note investments in Indian markets stood at Rs 96,292 crore in December-end as compared to Rs 99,315 crore in November-end.
The recent SEBI data showed that the value of P-note investments in Indian markets — equity, debt, and hybrid securities — stood at Rs 96,292 crore in December-end, as compared to Rs 99,315 crore in November-end.
The investment level through the route was at Rs 97,784 crore in October-end, Rs 88,813 crore in September-end, Rs 84,810 crore in August-end, Rs 75,725 crore in July-end, and Rs 80,092 crore in June-end.
Most Read 1Angelo Mathews timed out; why was Sourav Ganguly not timed out even when he came out to bat once after 6 minutes? 2Karisma Kapoor recalls Aamir Khan's perfectionism during Andaz Apna Apna shoot: 'He was placing the salt and pepper and fixing the plate' 3'Emotional' Amitabh Bachchan recalls Dhirubhai Ambani offering monetary help during bankruptcy: 'Iska bura waqt hai…' Watch throwback video 4Leo box office collection day 18: Third Sunday of Vijay starrer less than Jailer, but film ahead of Rajinikanth's blockbuster so far 5Alia Bhatt, Ranbir Kapoor post pictures with daughter Raha on her birthday, pen emotional note: 'Our joy, our life'
Investment via P-notes normally moves in line with FPI investment.
When there is a global risk to the environment, investment through P-notes increases and vice-versa.
Also ReadRenewed thrust on capex: Outlay hiked 33% to Rs 10 lakh croreUnion Budget 2023 income tax slabs: New tax regime is default, rebate inc…Urban infra boost for Tier 2, 3 cities: Rs 10,000 crore per yearPre-Budget 2023 Highlights: Expectations high as stakeholders look for ta…
Of the total Rs 96,292 crore invested through this route till December 2022, Rs 86,351 crore was invested in equities, Rs 9,855 crore in debt, and Rs 86 crore in hybrid securities.
—With inputs from PTI
© The Indian Express Pvt Ltd