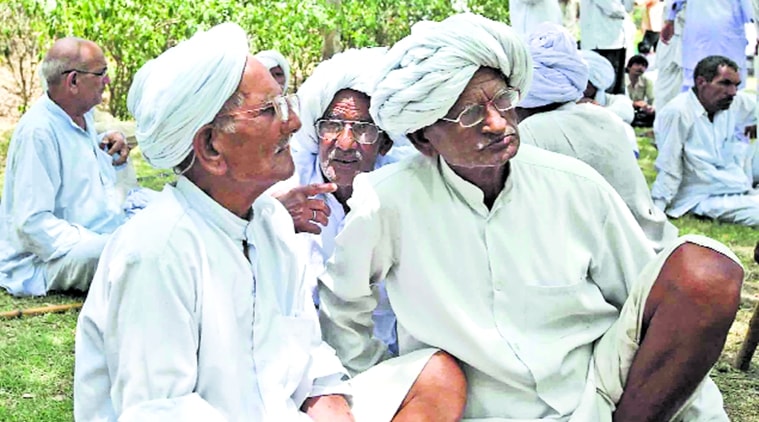 People attend a panchayat meeting in a Haryana village. Jasbir Express photo by Malhi Kaithal
We know of temples being built in villages by mobilising the community's own financial resources. If villagers can voluntarily contribute to construction of places of worship, what stops them from undertaking similar community-level developmental works of a "secular" nature?
Well, they can, provided they have the freedom and are enabled to do so. We can cite many instances — especially in the past — of village roads, chaupals (public spaces), schools and cremation/burial grounds coming without any external assistance. They have been created and maintained entirely through individual voluntary contributions of labour (shramdaan), land (bhoodaan) and financial resources (chanda) from within the community.

In the initial period after Independence, it was acknowledged that such people's participation was necessary for the development of rural areas. The Balwantrai G Mehta Committee, in its report submitted in 1957, recommended the establishment of a three-tier Panchayati Raj Institution (PRI) system at the village (gram), block (samiti) and district (zilla) levels. One of the significant thrusts of the committee's report was to entrust all local-level planning and developmental activities, alongside transfer of power and responsibility, to these democratically-elected bodies that were to serve as vehicles enabling people's participation. The underlying premise here was that no true community development was possible without the community itself identifying its problems and shouldering the responsibility for the same.
Subsequent developments, however, revealed that the state, instead of playing an enabling role in making the PRIs robust autonomous decision-making bodies, started questioning their capabilities. As political leaders and government officers increasingly imposed dos and don'ts from above, in the assumption that they knew better, the original spirit of self-participation that lay behind shramdaan, bhoodaan and chanda was undermined. The PRIs became transplanted bodies, rather than organic institutions rooted in the communities they were supposedly to serve. The lukewarm attitude of the political elite and bureaucracy, leading to the stagnation and eventual decline of PRIs, was noted by the Ashok Mehta Committee in its 1978 report.
Based on the wisdom gleaned from the reports of the two Mehtas and the experience of the actual functioning of PRIs on the ground, the realisation dawned that these bodies needed to be granted Constitutional status. The Constitutional (73rd Amendment) Act passed in 1992 sought to impart "certainty, continuity and strength" to them — by instituting the three-tier system of local self-government in every state, holding of regular elections every five years, and reserving one-third of seats for women representatives along with those for scheduled castes/scheduled tribes in proportion to their population share in the particular area. These mandatory provisions have been largely adhered to.
However, when it came to endowing the PRIs with powers and responsibilities — including the authority to levy, collect and appropriate taxes, duties, tolls or fees to enable them to function as effective institutions of self-government — that was left to the discretion of the respective State legislatures. In other words, while the Act guaranteed "certainty and continuity" to the PRIs, it couldn't ensure "strength".
That these institutions lack strength and vitality even more than two decades after the Act came into force is evident from the Union Ministry of Panchayati Raj's latest Devolution Report for 2015-16. The report has shown that not a single state has achieved 100 per cent devolution of powers and resources to PRIs, measured in terms of transfer of functions (the 29 subjects/areas covered under the Eleventh Schedule), functionaries (personnel available to discharge the tasks assigned) and finances (quantum of funds that can be autonomously spent). Only seven states — Kerala, Karnataka, Maharashtra, Tamil Nadu, Telangana, Sikkim and West Bengal — could manage to reach even 50 per cent of the desired standards.
It raises the question, then: What are the estimated 31.27 lakh elected representatives in the country's 2.54 lakh PRIs (2.47 lakh gram panchayats or GPs, 6,283 block panchayats and 595 district panchayats) doing? Do they exercise any powers really today?Clearly, funds alone aren't responsible for the situation, where an entrenched bureaucracy, instead of the panchayats and their elected representatives, is what's been strengthened over the past two decades or more. As far as money is concerned, the 14th Finance Commission has awarded Rs 2,00,292.20 crore as grants to GPs for the period from 2015-16 to 2019-20 towards provision of basic services such as sanitation, drinking water and maintenance of roads, footpaths, street lights, burial/cremation grounds, etc. In addition, the Ministry of Rural Development's allocation for just the current fiscal is Rs 1,07,758.24 crore, which includes Rs 48,000 crore towards MGNREGA. There might be similar allocations from other ministries under their panchayat-specific schemes, plus fund transfers from state governments based on their respective state finance commissions' recommendations.
Most Read 1Chandrayaan-3 mission: Dawn breaks on Moon, all eyes on lander, rover to wake up 2As Indo-Canadian relations sour, anxiety grips Indian students, residents who wish to settle in Canada 3Karan Johar says Sanjay Leela Bhansali did not call him after Rocky Aur Rani: 'He's never called me but…' 4Gadar 2 box office collection day 40: Hit by Shah Rukh Khan's Jawan onslaught, Sunny Deol movie ends BO run with Rs 45 lakh earning 5Shubh's tour in India cancelled: Why is the Canada-based singer facing the music?
What the PRIs today really lack is the infrastructure, trained personnel (both technical and non-technical), and effective financial powers along with accountability systems to ensure that the monies mobilised and allocated to them get spent on the ground. Proof of it is the fact that 81 per cent of GPs in Bihar and 33 per cent in Uttar Pradesh do not even have their own buildings. At the other end are the likes of Kerala, Karnataka, Tamil Nadu, West Bengal and Goa, where most GPs not only have buildings, but even telephones and computers with internet connection. Without basic office infrastructure, how can these institutions effectively function as institutions of self-government, as envisaged in the 73d Amendment?
Most GPs also have the potential to mobilise their own resources, in addition to the funds they receive from the Centre and states. One indicator of the sheer untapped potential is the growth in so-called census towns (CT). The number of these towns — technically GPs (as they are yet to acquire municipality/corporation status), but having more than 5,000 population and over three-fourths of the male workforce engaged in non-agricultural pursuits — has registered a near three-fold jump from 1,362 to 3,894 between 2001 and 2011. There's no reason why the CTs or even the bigger GPs cannot impose user charges for the street lighting, sanitation and other services provided by them. It could, for one, help improve the quality of such services delivered.
Also ReadElectric two-wheelers to account for 8-10% of new sales by 2025; three-wh…Unemployment India's biggest concern, direct selling at rescueCoal block allocation case: ED attaches `101-crore assets of Jayaswal NecoA timeline showcasing Vijay Mallya's bank-loan debacles and downfall of K…
If the PRIs are to play the role as was originally envisaged, what is required is reviving the old spirit of voluntary self-participation and inculcating a sense of ownership of community assets. That, in conjunction with devolving of powers and authority in line with the 73rd Amendment and provision of modern governance infrastructure and trained human resources, is what our villages of the 21st century truly deserve.