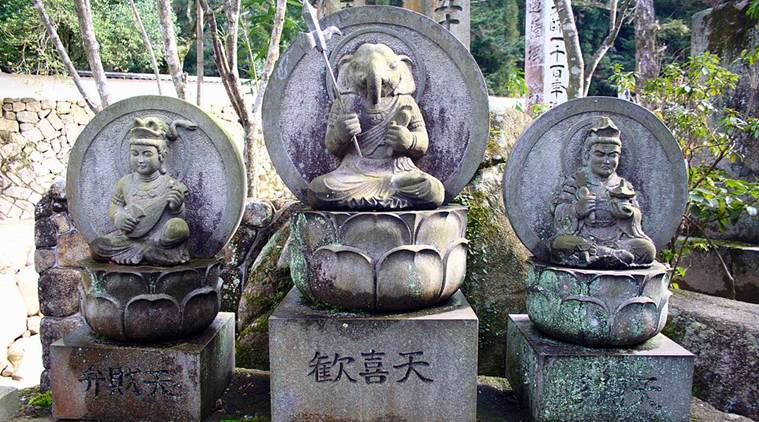 Ganesha in a Japanese temple. (Wikimedia Commons)
The season of revering Lord Ganesha was here once again and large parts of India had been celebrating the arrival of the elephant God in their homes in full swing. Ganesha is one of the most popular Gods among Hindus, and several mythologists are of the opinion that unlike many other Gods of the Hindu pantheon, Ganesha's uniqueness lies in the fact that reverence for him spreads across all castes. An interesting aspect of Ganpati's popularity, however, is that he is one of the few Hindu Gods whose strong presence can be felt outside India as well, particularly in the countries neighbouring India such as Tibet, China, Japan and many others in Southeast Asia.
Lord Ganesha is frequently associated with entrepreneurial spirit and the spread of his popularity outside of India is attributed to the commercial contact between the country with its neighbours which resulted in the spread of Hinduism, Buddhism and Jainism in other Asian cultures. Professor of Indian and Southeast Asian art, Robert L. Brown, in his work on Ganesha, says the earliest inscriptions and images of Ganesha in Southeast Asia date back to the 5th and 6th centuries. In Cambodia, in fact, Ganesha had temples to himself and was worshipped as a primary God from the 7th century on, even before the cult gained widespread popularity in India.

Further, we also see that while the worship of Ganesha spread across borders, it also took forms of its own in diverse ways. For instance in Cambodia, Ganesha is unusual in his form with a human head. In China, on the other hand, Ganesha is looked upon as a negative force, frequently being depicted as an obstacle. In Japan, a popular form of Ganesha is that of two Ganeshas embracing. This form of Ganesha was apparently introduced to Japan from China in the 8th century.
As we dwell in the benediction of the Lord of success this Ganesh Chaturthi, here is a look at how Ganapati is venerated across cultures outside India.
Japan
In Japan, Ganapati is referred to as Kangiten and is associated with Japanese Buddhism. While there are diverse depictions of Kangiten, the most popular one is that of the dual bodied Kangiten or what is often referred to as the 'Embracing Kangiten'. It is depicted as a male and a female elephant-headed bodies hugging each other in sexual union. There are other forms in which the Japanese Ganesha is depicted as well including the four-armed one holding a radish and a sweet.
Kangiten, late 18th- early 19th-century painting by Shorokuan Ekicho (Wikimedia Commons)
The first appearance of Kangiten in Japan can be dated to the 8th-9th centuries. It is believed that the Hindu form of Ganesha traveled to China and was incorporated into Buddhism. From there it further made its way to Japan. Believed to be endowed with a lot of power, Kangiten is generally worshipped by merchants, gamblers, actors and geishas.
Tibet
Ganesha in Tibetan Buddhism was introduced by the Indian Buddhist religious leaders Atisa Dipankara Srijna and Gayadhara in the 11th century AD. Atisa, who is regarded as the founder of the Ganapati cult in Tibet, is said to have translated several Indian texts on Ganesha written by Tantric masters in India. Gayadhara, on the other hand, was from Kashmir and he popularised the cult of Ganesha in Tibet through translating several Indian texts on him and by composing works detailing out the worship of Ganesha and the means of sacrifice for him.
The cult of Ganesha in Tibetan Buddhism was introduced by the Indian Buddhist religious leaders Atisa Dipankara Srijna and Gayadhara in the 11th century AD. (Wikimedia Commons)
The Tibetans further enhanced the mythology and cult of Ganesha. A 17th century myth associated with Ganesha gives a variant version of his birth theory. According to this theory, Shiva has two wives, Uma and Ganga. Ganga's new born son loses his head due to a curse given by Uma. Later, she is advised to use the head of a dead body to replace her son's decapitated head and that is how the elephant-headed Ganesha is born. The Tibetan legends on Ganesha, however, are essentially similar to those in the Puranas.
Most Read 1Chandrayaan-3 mission: Dawn breaks on Moon, all eyes on lander, rover to wake up 2As Indo-Canadian relations sour, anxiety grips Indian students, residents who wish to settle in Canada 3Karan Johar says Sanjay Leela Bhansali did not call him after Rocky Aur Rani: 'He's never called me but…' 4Gadar 2 box office collection day 40: Hit by Shah Rukh Khan's Jawan onslaught, Sunny Deol movie ends BO run with Rs 45 lakh earning 5Shubh's tour in India cancelled: Why is the Canada-based singer facing the music?
There is another legend in Tibetan mythology which attributes to Ganesha a role in establishing an institution of Lamaism. According to scholar of Buddhism, Y. Krishan, the theory of Ganesha and Lamaism goes that in the 11th or 12th century, Ganapati took hold of the brother of Sakya Pandita in his trunk and set him down on the peak of the Meru mountain and prophesied that one day all of the provinces of Tibet will be ruled by his descendants.
Thailand
Ganesha is referred to as Phira Phikanet in Thailand. He is worshipped as the deity of success and as the one who removes all obstacles. It is common for Thai Buddhists to worship the deity on occasion of the commencement of a new business or on occasion of a wedding. Associated with art and culture, Ganesha forms a part of the logo of Thailand's department of Fine Arts.
Also ReadThe many arguments for, and against, abortion rights Kashmir when India got independence: Neither here nor thereHow Thakurs have dominated UP politics since IndependenceHere is what happened in Kedarnath, and rest of Uttarakhand, in 2013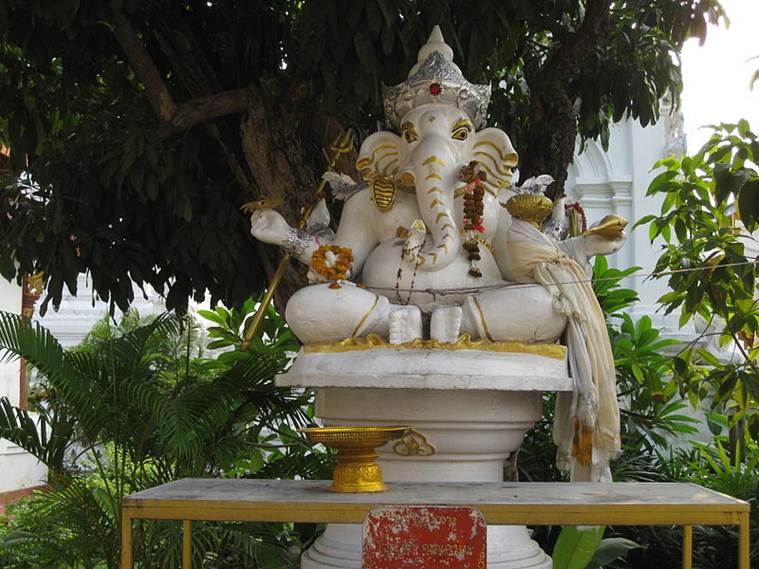 Ganesha outside a temple in Chiang Mai Thailand (Wikimedia Commons)
Statues and shrines attributed to Ganesha are present all across Thailand, the most famous one being that in Bangkok's Ratchaprasong shopping district. The Thai Buddhists celebrate the birth of Ganesha at the same time when Ganesh Chaturthi is celebrated in India.
© IE Online Media Services Pvt Ltd