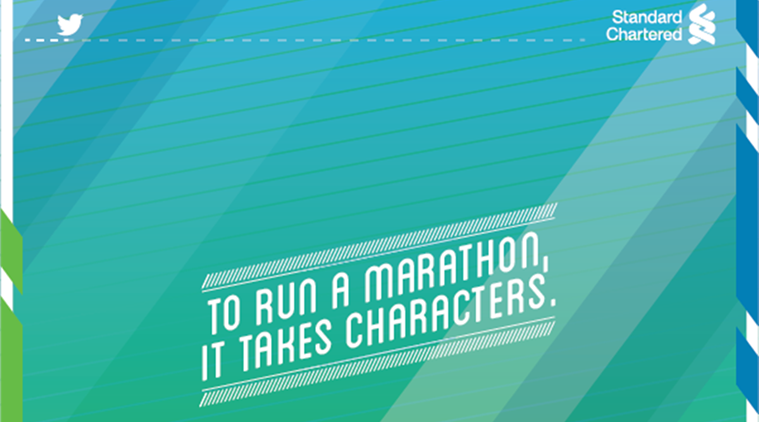 A first of its kind marathon category which challenged Twitter to cross the 42 km mark using nothing but their 140 characters.
Over 40,000 people step out onto the streets of Mumbai every year to run for a reason. They do so at the Standard Chartered Mumbai Marathon, Asia's largest mass participation sporting event.
This year however, title sponsors Standard Chartered wanted to ensure participation not just from runners, but also from people who have never really experienced a marathon before.

Thus began the 2016 Run For A Reason campaign, a 360 degree digital first effort that was aimed at helping the masses connect with the Standard Chartered Mumbai Marathon on a personal level.
Led by ibs, the campaign comprised of digital films, engaging social content, AMAs, radio spots, a virtual run and also the world's first Twitter Run.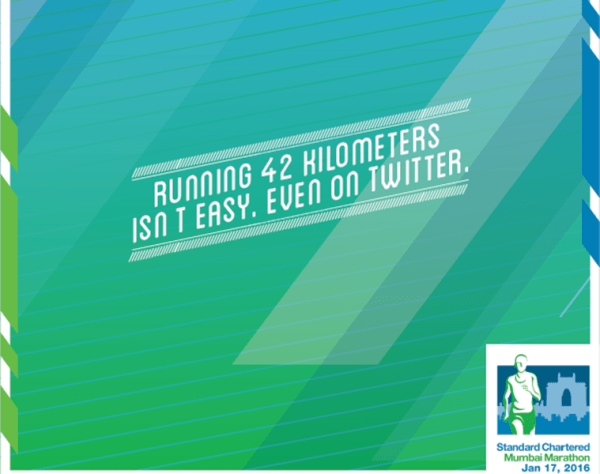 Abhishake Das, Executive Creative Director, ibs, said, "It was a pleasure working on such an iconic and culturally rich project. Especially with a forward thinking brand like Standard Chartered, who insisted on a digital first campaign this year. SCMM 2016 was conceived from the very beginning as an experience, rather than just a communication piece. Marathons are places where stories are born; stories of heroic efforts, and the triumph of the human spirit. So we celebrated it through engaging content & immersive tech experiences."
The campaign launched with a film titled, 'Why I Run' which depicted the maximum city in an all new light. The film amassed 1 million views online and was appreciated by runners and non-runners alike.
(Why I Run: https://www.facebook.com/StandardCharteredIN/videos/875558215898891/ )
What then followed was a wave of engaging social content – gifs, activities and even a Twitter 'Ask Me Anything' with fitness advocate, Gul Panag.
(AMA with Gul Panag: https://www.youtube.com/watch?v=xeepQb0_m8o)
The campaign took things offline with India's first SCMM Virtual Run. The run was made possible with the help of an immersive video embedded into an interactive virtual environment with the help of the Gear VR; a head mounted display designed by Oculus Rift.
In association with WASHE (Water, Sanitation, Hygiene Education), Standard Chartered enabled girls studying in municipality schools to experience the first marathon of their lives with the SCMM Virtual Run.(WASHE – Virtual Run: https://www.facebook.com/StandardCharteredIN/videos/881079438680102/ )
The Virtual Run setup made a second appearance at the 3-day SCMM Trade Expo, where it gave over 1000 people a glimpse of the marathon.
Most Read 1Chandrayaan-3 mission: Dawn breaks on Moon, all eyes on lander, rover to wake up 2As Indo-Canadian relations sour, anxiety grips Indian students, residents who wish to settle in Canada 3Karan Johar says Sanjay Leela Bhansali did not call him after Rocky Aur Rani: 'He's never called me but…' 4Gadar 2 box office collection day 40: Hit by Shah Rukh Khan's Jawan onslaught, Sunny Deol movie ends BO run with Rs 45 lakh earning 5Shubh's tour in India cancelled: Why is the Canada-based singer facing the music?
"This year as part of the Standard Chartered Mumbai Marathon, we wanted to do something beyond the usual, where we could give a taste of what it is like to be a part of the SCMM even if you aren't a part of the actual marathon itself. Using the new and upcoming 360 video technology to shoot some of actual locations of the marathon route, we created a first -of- its- kind immersive experience, aimed at bringing the Marathon to those who may not be able to physically participate on the race day." said Lakshmi Goyal, Head, Brand & Marketing, Standard Chartered India.
On race day, Standard Chartered debuted the world's first socially run marathon category, the SCMM Twitter Run.The SCMM Twitter Run let the Twitter universe run for 42 km on the social platform with the help of their tweet characters. Twitter successfully achieved this monumental feat with a timing of 7 hours, 22 minutes and 28 seconds, and every participant received a personalised certificate for his contribution.
Also ReadEn İyi Casino Siteleri ve Güvenilir Slot SiteleriNon UK Casinos – 10 Best Online Non UK Gambling SitesNon Gamstop Casino – List of Best Casinos not on Gamstop for UK Pla…8 Smart Ways to Reduce Your Home Loan EMI
"We reached out to the most avid runners, and the underprivileged with the same idea – make everyone a part of this magical run, through design, films, radio and VR experiences. And for those who weren't able to attend the marathon physically, there was the world's 1st Twitter Run, where users could run the whole of 42 km on Twitter. We received almost 29 million impressions on that run alone. The reception has truly been overwhelming. But nothing beats the look on a 9-year old's face when she is introduced to virtual reality. That makes everything worth it." added Abhishake Das.