SINCE MAY 23, 1987, when 68 Muslims were killed in Maliana village on the outskirts of Meerut, many families have moved out, while some have opted to stay back, fighting a slow court battle that ended in heartbreak last week.
Read | Inadmissible evidence, doubtful witnesses: the loopholes in Maliana case
For the survivors, the over three-decade-long wait for justice has been prolonged after a district court in Mathura acquitted all 41 men in the case. In a 26-page judgment passed on March 31, Additional District Judge Lakhvinder Singh Sood said that "sufficient evidence is not available to convict the accused" and "serious doubts arise" over the credibility of the evidence.

The survivors have resolved to file an appeal against the verdict in the High Court.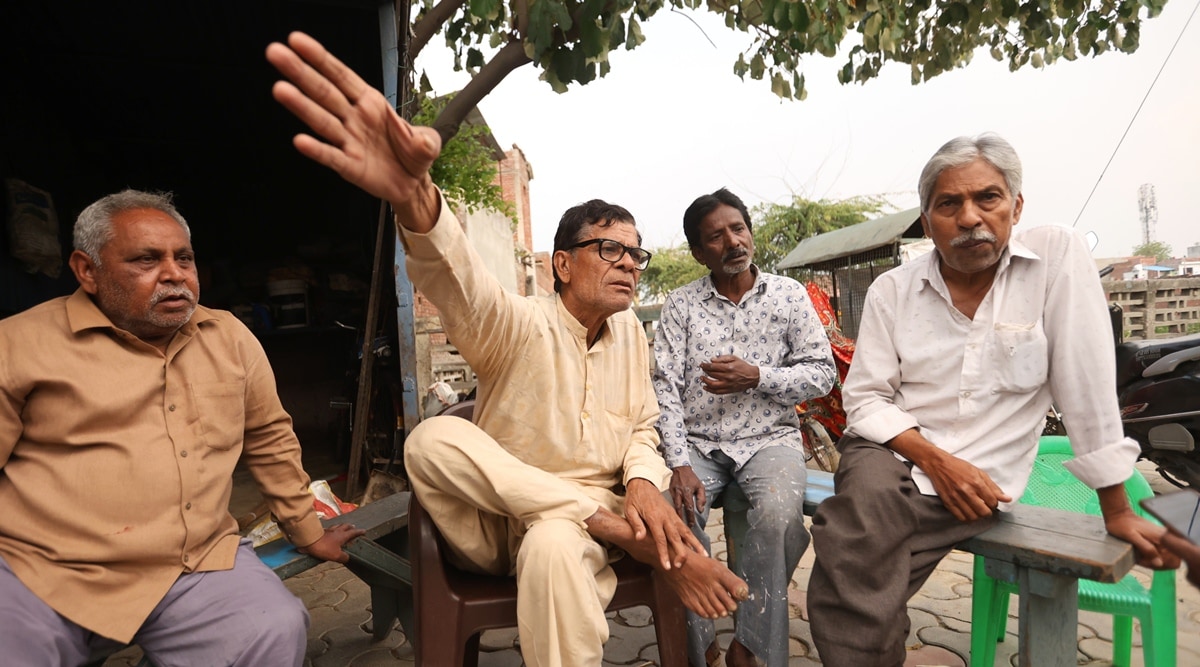 (From left) Nawabuddin, Yakoob Ali, Mehtab and Yameen, who were affected in the 1987 riots. (Express Photo)
According to reports, the violence broke out when a mob, allegedly accompanied by some personnel of the Uttar Pradesh Provincial Armed Constabulary, surrounded Maliana village and opened fire. An FIR was lodged on the basis of the statement of a resident, Yakub Ali.
Ali, 63, recalled how the sound of bullets rang through the air while he was attending namaaz at the local mosque. He ran through the streets trying to find his way home, as people around him were shot at and homes were set ablaze, he said.
Ali said he was also assaulted and sustained leg injuries. He said he was being taken by PAC personnel, when a local policeman intervened. "I was taken to the local police station, so I survived. My nephew died in the violence. He was shot in the neck… So, who killed us all? Who set our homes on fire? Why hear the case for 36 years if no one killed us," he said.
Vakeel Ahmed Siddiqui, 61, a tailor, said he was shot in the stomach and hand, and his shop was set on fire. It took him years to save enough money to build a new shop. "There wasn't a single person who was not scarred or left untouched. I remember seeing tears, blood, broken legs, mangled bodies. For years, I thought justice will be delivered. My heart and mind can't accept this judgment," he said.
Raheez Ahmed, 61, suffered a bullet injury on his face. His father, Mohd Yamin, went missing when the violence broke out. "We looked for him everywhere. He was returning from Kanpur and had reached Maliana when the violence broke out. Many of the accused died during trial; so many families of victims left the village. We remain. We will fight," he said.
Most Read 1Chandrayaan-3 mission: Dawn breaks on Moon, all eyes on lander, rover to wake up 2As Indo-Canadian relations sour, anxiety grips Indian students, residents who wish to settle in Canada 3Karan Johar says Sanjay Leela Bhansali did not call him after Rocky Aur Rani: 'He's never called me but…' 4Gadar 2 box office collection day 40: Hit by Shah Rukh Khan's Jawan onslaught, Sunny Deol movie ends BO run with Rs 45 lakh earning 5Shubh's tour in India cancelled: Why is the Canada-based singer facing the music?
Mehtab, 56, who paints houses for a living, said the memory of his father covered in blood still haunts him. "He was shot in the neck. He had come from namaaz and was standing on the terrace. I remember him appealing for peace… when he was shot. We took him to hospital as he was bleeding… I just walked two steps and he died. I will not back down. We will fight for justice," he said.
Nawabuddin, 55, lost both his parents in the violence. He identified their burnt bodies lying on the ground at the chowk outside his home. "I set up a masala store and managed to get both my sisters and my children married. What can I do about this judgment? What's the point," he said.
Also ReadStray dogs released after G20 'missing' in Delhi, rescuers join hands to …Wife refused to keep karwa chauth fast, didn't acknowledge husband: HC up…Atishi makes 'surprise inspection' of MCD school, orders action against t…How a letter from an organisation promoting Urdu culture led Delhi Police…
Yamin, 45, lost his father who chose to remain at home while the rest of the family took refuge with a Dalit household nearby. "I saw his body later, with his throat slit. Who killed him," he asked.
Get more updates on Delhi News Today. Also get Latest News Updates on G20 India Summit at The Indian Express.
© The Indian Express (P) Ltd