THE announcement by New York's Metropolitan Museum of Art that it will return 15 antiquities — linked to a smuggler who is in a Tamil Nadu jail — to India is "a welcome development", Union Culture Minister G Kishan Reddy said Saturday.
Appreciating "the great initiative of The Indian Express Group", Madhya Pradesh Chief Minister Shivraj Chouhan tweeted on Saturday evening, "The return of sculptures of such high historical value to India is  matter of pride for every Indian." Hailing the return, several heritage conservation experts welcomed the move and said it calls for sustained, follow-through work.

The Met's decision came after a search warrant was issued by the New York Supreme Court to seize "stolen property" from the museum. That came within a fortnight of an investigation by The Indian Express that the Met catalogue includes at least 77 items with links to Subhash Kapoor, who is serving a 10-year jail term in Tamil Nadu for smuggling antiquities.
The investigation was in collaboration with the International Consortium of Investigative Journalists and (ICIJ) and Finance Uncovered.
Responding to The Indian Express report, Union Culture Minister Reddy said: "Bringing Our Gods Home is one such initiative that is rooted in preserving, promoting and propagating our heritage and is in accordance with Prime Minister Narendra Modi's vision of Vikas bhi Virasat bhi."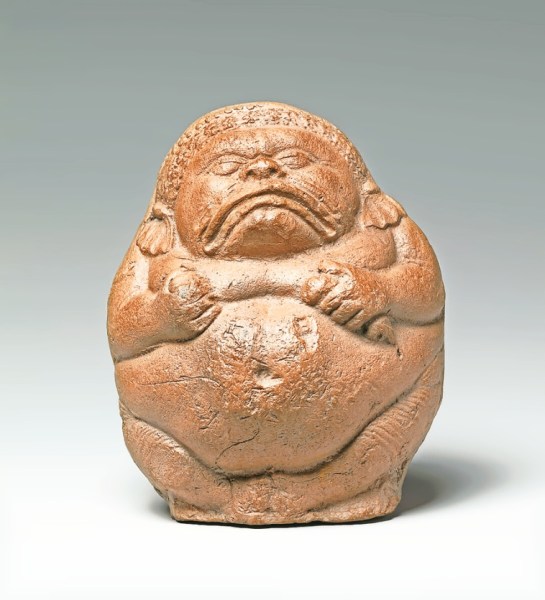 Rattle in form of Crouching Yaksha, terracotta, 1st century BCE, Bengal
He added that this initiative is being led by the PM and the numbers speak for themselves. "Of the total 244 invaluable antiquities of Indian origin brought back to India from abroad, 231 were brought back after 2014," he remarked.
Said Union Culture Secretary Govind Mohan: "We have taken note of The Indian Express report and are thankful for its investigation with the ICIJ. We are in touch with the Ministry of External Affairs and the Indian missions in the US for the return of these 15 artefacts from the Met Museum."
The Ministry will soon sign a Cultural Property Agreement with the US, Mohan said, for "smooth repatriation" of all such antiquities found to be smuggled out of the country. India is also looking to sign such an agreement with the United Kingdom as well, he said.
Mohan added the Government has also proposed "restitution of cultural heritage" as part of the G20 culture track agenda during India's presidency, and aims to reach an agreement.
Vasant Swarnkar, director of the Archaeological Survey of India (ASI), said that ASI has taken note of the development and "due processes" will be followed to ensure their safe return.
Must read | 486 ASI antiquities missing since 1947: why numbers don't capture the story
BJP leader and former MP Vinay Sahasrabuddhe, who heads the Indian Council for Cultural Relations under the aegis of the Ministry of External Affairs, said that the repatriations will "continue and enrich our culture." He added a note of caution: "While we get our lost treasures back, we should ensure and enforce that it (the smuggling) doesn't happen again."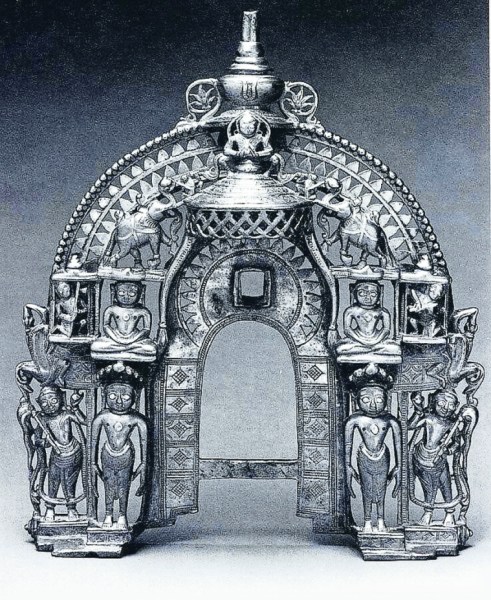 Parikara, brass inlaid with silver & copper, 1449 AD, Gujarat
Welcoming the Met's decision, Odisha-based sculptor Adwaita Gadanayak, former director-general of the National Gallery of Modern Art, said a lot needed to be done given the number of pieces still abroad. "We should also work to get our pre-Independence treasures back," he said.
Art curator Rajeev Sethi, founder-chairman of Asian Heritage Foundation, said that India's art pieces abroad serve as the nation's ambassadors. "Anything going out of the country through illicit means has to come back, and there are no two ways about it," he said. And that the task now is to "conserve, preserve and display" these priceless items on their return. "Right now, our museums are filled to the brim, even the storage spaces are full," he said.
Full List | Antiquities in the possession of New York's Metropolitan Museum of Art
Mumbai-based art historian and conservation architect Meera Dass said the return of the stolen goods from the "first world" is more a result of the strengthening voice of the "Third World" than a sudden change of heart of the keepers.
However, she said, this brings an added challenge. "We have fallen behind in our documentations, creation of inventories and proper showcases. There are huge gaps in our understanding of ourselves and our cultural heritage. I hope the repatriation brings about this change," she said.
Most Read 1Chandrayaan-3 mission: Dawn breaks on Moon, all eyes on lander, rover to wake up 2As Indo-Canadian relations sour, anxiety grips Indian students, residents who wish to settle in Canada 3Karan Johar says Sanjay Leela Bhansali did not call him after Rocky Aur Rani: 'He's never called me but…' 4Gadar 2 box office collection day 40: Hit by Shah Rukh Khan's Jawan onslaught, Sunny Deol movie ends BO run with Rs 45 lakh earning 5Shubh's tour in India cancelled: Why is the Canada-based singer facing the music?
Industrialist Harsh Goenka, chairman of the RPG Group, called the development "the first step before Kohinoor comes back to India". He said, "Unfortunately, organised plundering has been happening for long, especially by British colonists; hope they find all such objects and return them to India."
Harshavardhan Neotia, chairman of the Ambuja Neotia Group, called it a "welcome step" adding it would be great to see these objects back in India and Indian museums.
Also ReadIE100: The list of most powerful Indians in 2021FinCEN Files — On US radar: Dawood Ibrahim's financier, his laundering, f…Drug menace bigger threat than militancy, we're going Punjab way: J&K DGP…After 'downgrade' last year, MEA sent Speaker's office talk points on dem…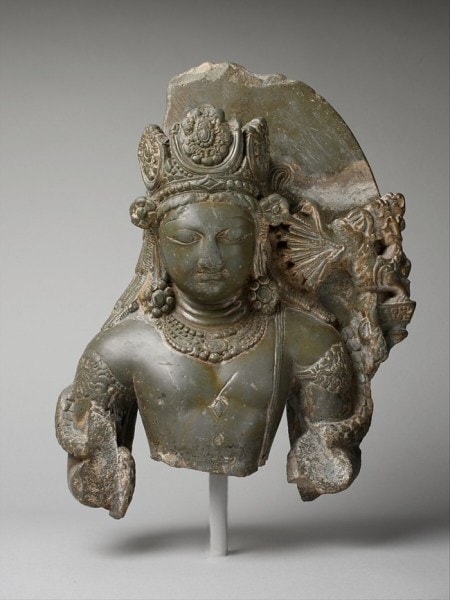 Kamadeva, the God of Love [Art of the Past, Inc. , New York, by 1993, sold to MMA]. Stone India (Jammu and Kashmir, ancient kingdom of Kashmir)/ Date: second half of the 8th century; "a rare survivor from early medieval Kashmir."Tasneem Mehta, honorary director and managing trustee at Mumbai's Dr Bhau Daji Lad Museum, said that the Met's move is a victory of a kind but calls for hard follow-through work. "This moment can be used to reflect on major issues plaguing the art world – that of smuggling (or underground art) and of fakes. I think we need an independent regulatory body to handle such issues," she said.
© The Indian Express (P) Ltd