At the National Gallery of Modern Art (NGMA) in Delhi, in a room with checkered floor, two massive legs carved in wood overarch an assemblage that spans centuries to bring together Mahatma Gandhi with BR Ambedkar, saints such as Sree Narayana Guru and Guru Nanak and sculpture of the dancing girl from the Indus Valley civilization to urge for a cleaner India, with artist Riyas Komu also emphasising on the need for each to be their own scavenger. Gandhi's metal glasses are enclosed in a glass vitrine in one corner, and another has a diya lit over an Ashoka pillar.
With its numerous elements, this installation titled A Art is one of the works that comprise "Jana Shakti: A Collective Power", an exhibition that celebrates 100 episodes of 'Mann Ki Baat', a monthly radio address by Prime Minister Narendra Modi. Organised by the Ministry of Culture with one of India's foremost art collectors Kiran Nadar as advisor, and curated by art historian Alka Pande, the showcase sees 13 of India's prominent artists respond to 12 specific themes from the radio show.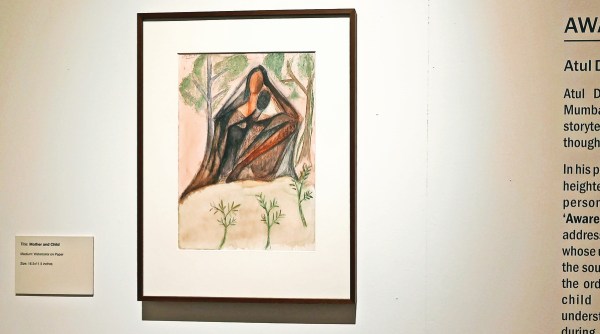 Art by Atul Dodiya (Covid). Praveen Khanna
Since the exhibition's inauguration on April 30, participants have been accused by a section of voices within art fraternity for allegedly fulfilling a "propagandist" state agenda. At the NGMA, however, visitors are introduced to its purpose at the entrance in a wall text by Pande, and another by the PM. "This exhibition attempts to translate the creative processes of Prime Minister Narendra Modi's program Mann Ki Baat —both in terms of the idea as well as content — into works of art through artistic interpretation," writes Pande in the catalogue.
Komu, one of India's most politically active voices in art, often seen critiquing state machinery, invokes 'Swachh Bharat', a campaign initiated by BJP government in 2014. "It was a direct platform to speak about plight of manual scavengers invoking Ambedkar juxtaposing with other saintly quotes and bringing their much-needed historic presence more in troublesome contemporary times," he tells The Indian Express.
If artist Ashim Purkayastha captures the essence of India's agrarian heritage through portraits of farmers, artist duo Jiten Thukral and Sumir Tagra, who work closely with farming community — also seen protesting with them against the farm laws in 2020-21 — do not present their cause in this exhibition. Instead, their metaphorical canvases comment on India's progress in science and technology, where a water tank attached to a balloon symbolises both migration and the country's success in space.
Also known for his politically conscious works, Atul Dodiya responds to the PM's plea during the pandemic to fight a united battle against Covid. He shares a solemn work depicting a mother embracing her child. The wall text elaborates how the image of a "mother shielding her child during adversity coincides with his understanding of India protecting her population during the widespread pandemic wrecking the nation and the world."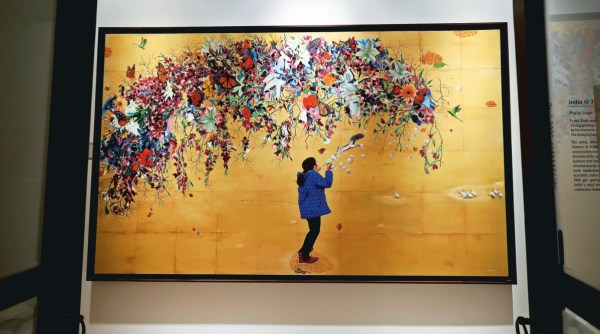 Pratul Dash (India@75 and Amrit Kaal). Praveen Khanna
The need to protect the environment and its diverse ecosystem guide GR Iranna and Pratul Dash. Describing himself as a "politician of aesthetics" the latter's The Girl with Flowers & Bubbles has a young girl blowing bubbles under an umbrella of India's rich fauna and flora to celebrate "India @75 and Amrit Kaal". Iranna chooses to protect his trees with a sacred red thread tied around peeling barks in the canvas titled Holy Thread.
Most Read 1Chandrayaan-3 mission: Dawn breaks on Moon, all eyes on lander, rover to wake up 2As Indo-Canadian relations sour, anxiety grips Indian students, residents who wish to settle in Canada 3Karan Johar says Sanjay Leela Bhansali did not call him after Rocky Aur Rani: 'He's never called me but…' 4Gadar 2 box office collection day 40: Hit by Shah Rukh Khan's Jawan onslaught, Sunny Deol movie ends BO run with Rs 45 lakh earning 5Shubh's tour in India cancelled: Why is the Canada-based singer facing the music?
Since the PM's visit on May 14, when he also interacted with artists, footfalls have increased amid criticism against the exhibition. As a collective group, these are some of India's most recognised artists but in the showcase they have been accused of echoing thoughts of the PM, with an interpretation of their work informed by a quote from Mann Ki Baat. On his Facebook page, graphic artist and designer Orijit Sen, writes: "These are our renowned 'progressive', 'radical', Ambedkar-and-Gandhi-quoting artists!…have no words to express my dismay." In another social media post, Santhosh Sadanand, art historian and faculty member at Ambedkar University, Delhi, expressed his concern over how "almost independent life of political/artistic styles, with which these renowned artists who claim to champion liberal values have been associated with…has so easily lent itself to be co-opted by a political propaganda."
Responding to the backlash, artist Paresh Maity — who has contributed to the exhibition with the canvas Tann Aur Mann — says, "Historically, there are always those who criticise… After a long time NGMA has put up an exhibition with contemporary artists, which is very encouraging and should be celebrated."
Also ReadStray dogs released after G20 'missing' in Delhi, rescuers join hands to …Wife refused to keep karwa chauth fast, didn't acknowledge husband: HC up…Atishi makes 'surprise inspection' of MCD school, orders action against t…How a letter from an organisation promoting Urdu culture led Delhi Police…
On Wednesday, one of the visitors was Mumbai businessman Rishabh Shah, 43, on a trip to Delhi. "Down the ages, artists have always spread the word about change and about what those in power want to say, so why can't they do that now," he said.
Get more updates on Delhi News Today. Also get Latest News Updates on G20 India Summit at The Indian Express.
© The Indian Express (P) Ltd