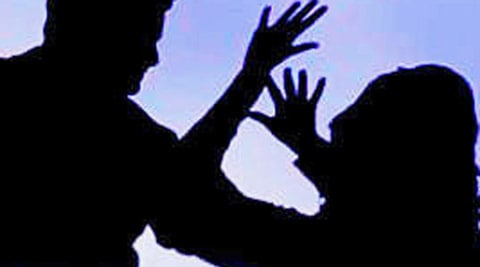 In fact, investigations by the All India Democratic Women's Association indicate that the girl is a tragic victim of what can be described as cross-party "case fixing" and even worse, "victim fixing". (Source: PTI)
By: Brinda Karat
The zero tolerance policy on sexual assault declared by the Narendra Modi government faced an early test when an additional district court in Jaipur issued a notice to a Central minister to appear before it in a rape case where he has been named as one of the accused.

The right thing would have been for the minister to step down till his name was cleared. But not only does he continue in office, he flaunts his proximity to top leaders in government at the Centre and in his state. It has been put out that they consider the charges to be a fabricated Congress conspiracy.
In fact, investigations by the All India Democratic Women's Association indicate that the girl is a tragic victim of what can be described as cross-party "case fixing" and even worse, "victim fixing". This happens in cases of sexual assault, when men of different political parties are seen to be involved in the same case or similar cases, and there is a conspiracy of silence among the parties concerned to suppress the case. In this particular case, apart from the BJP minister, important men linked to the Congress have also been named by the victim.
The girl is from Haryana, one among three daughters. She was married to a man from Ganganagar in Rajasthan. The marriage is said to have turned out to be a façade for exercising control over her and for pushing her into sex slavery. Within a few months, in 2011, the husband and his younger brother allegedly took the girl to Jaipur and offered her as a sexual bribe for favours from important people, a thank-you gift for benefits received. Banned from contact with her family, she was allegedly taken from one rented house to another, all subsequently identified by her to the police, sometimes drugged, more often beaten into submission, trafficked for the sexual gratification of those with power.
She escaped in October, fled to her home in Haryana, registered an FIR and a statement under Section 164. Contrary to the lies being spread that the whole thing is an "afterthought" since she had not reported it earlier, the FIR describes how she was "drugged and made into a call girl". The list of men she named include a businessman known to be close to a top Congress leader in Rajasthan, an office bearer of the Youth Congress and a leader of an important caste-based organisation. Also included was the name of the then MLA of Ganganagar and now minister of the Modi government.
Demands for the minister's resignation today by the Congress are hypocritical and self-serving. It was the Ashok Gehlot government that, seemingly to protect its own people, called the case fabricated and sabotaged the investigations. The case occurred around the same time that Rajasthan was rocked by the Bhanwari Devi case, in which a senior minister and leader of the Congress and others of the ruling party were accused and jailed for Bhanwari Devi's murder. It may have been felt that this case would have further damned the government. They seem to have been helped by the tacit support, for obvious reasons, of the BJP.
In any country which claims to be democratic, when there is the slightest evidence that men in power have been involved in a case such as this, the entire machinery should automatically spring into action to help the victim in her struggle for justice. But in this case, as in so many others in India, it would seem that punishment of the criminals depends almost entirely on the courage of the victim to stay the course, when she is not helped, but obstructed at every turn.
It took 18 years for the child victim in the Suryanelli case to get a semblance of justice. As she shuttled from court to court, she had to hear the worst abuse about herself. A high court judge held that she should have escaped and that she did not, which meant that whatever happened was with her consent. This was about a 15-year-old victim of sex trafficking, forced to have sex with 40 men, helpless, traumatised. What a shameful judgment. She fought to get it overturned and succeeded, but every party in the alliance in power at the time did what it could to sabotage the case.
Why? Because she had named an important leader of the ruling party. He never had to face an investigation, never had to face a court, yet he was exonerated. Around the same time, another very senior leader of one of the alliance partners was also implicated in the exploitation of a minor girl. He too was protected by the government. This happened in Kerala. The bright young woman poet in Uttar Pradesh who named an important minister who had been sexually exploiting her was brutally murdered by him. Her sister and mother, who fought her battle for justice, were threatened and terrorised till the court intervened and sent him to jail. But other political parties also remained silent. In Haryana, when Gopal Kanda, a minister in the Bhupinder Singh Hooda government, was accused of sexually exploiting a young woman employed by him, who tragically committed suicide, why were the main opposition parties silent? There are many such examples.
Most Read 1Chandrayaan-3 mission: Dawn breaks on Moon, all eyes on lander, rover to wake up 2As Indo-Canadian relations sour, anxiety grips Indian students, residents who wish to settle in Canada 3Karan Johar says Sanjay Leela Bhansali did not call him after Rocky Aur Rani: 'He's never called me but…' 4Gadar 2 box office collection day 40: Hit by Shah Rukh Khan's Jawan onslaught, Sunny Deol movie ends BO run with Rs 45 lakh earning 5Shubh's tour in India cancelled: Why is the Canada-based singer facing the music?
It is very rarely that a girl caught in such a web can extricate herself and live to see her tormentors behind bars. With the entire might of the state against her, a girl fighting her own battle gets tired. She gets tired of being looked at disapprovingly, she gets tired of being gossiped about, she gets tired of being confined at home as though she has an infectious disease, she gets tired of the fear, of the indignity of unending court appearances. Once she is victimised, everything that happens is beyond her control except her own courage. How long will it be the shoulders of the victim that have to push the wheels of justice to make them move?
It is easy for the prime minister to refuse to meet a girl because among the accused is a minister in his own government. It is easy to call her names. But then it should also be known that there is zero tolerance not for the exploiters, but for victims who dare to break the conspiracy of silence. The Modi government, in its very first test on its approach to cases of sexual assault, has been found wanting. The struggle for justice for the victim is on.
Join it.
Also ReadWill reservation really help Indian women?Pratap Bhanu Mehta writes on new Parliament: India's age of ambitionValues Kota imparted: Anxiety and building a future on a butchered presentWith G20-IMEC plan, the global order shifts to Eurasia
The writer is a member of the CPM politburo and patron, AIDWA
express@expressindia.com