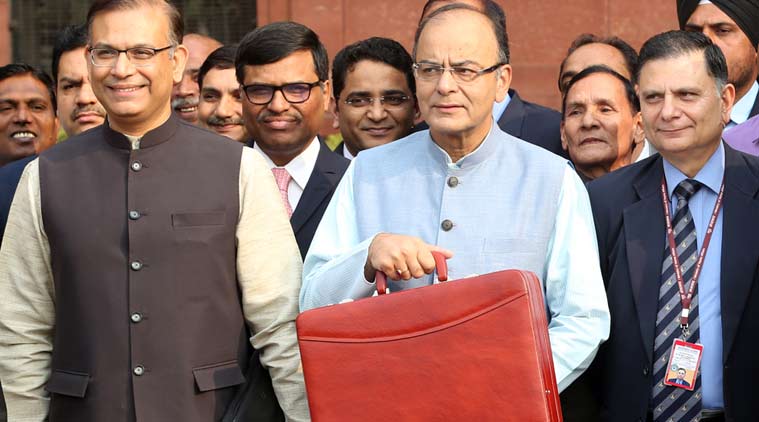 Finance minister Arun Jaitley.
Gamlina Soren, an elected panchayat member in Jharkhand, sounded upset. She had been told by a local BJP functionary that gas cylinders were going to be "gifted" to poor women by the Centre but that they must have a BPL card. "But most poor Adivasi women here don't have BPL cards," she said. I told her that the cylinder was not free but would be sold at less than market rates. "Is that a gift?" she asked. "At present, the subsidised cylinder here costs more than Rs 600; we don't have that kind of money to spend every month. They should bring down the price if they want to really save us from the chulha smoke." Gamlina's response is just one example of how distant this government is from the lives of the poor and how tokenistic its schemes are.
Budget speeches, notoriously, conceal more than they reveal. This year, political compulsions of forthcoming electoral battles forced the finance minister to adopt a camouflage technique, which seems to have been quite successful, going by the headlines: Pro-farmer, pro-poor, pro-women and even a left-of-centre budget.

A major claim is of a 128-per cent increase in allocations to the department of agriculture. Several analysts have pointed out that Rs 15,000 crore of the Rs 35,000 crore allocated is actually just a shift from the earlier head under the finance ministry to the department of agriculture for subsidy for crop insurance. The actual increase is around 25 per cent. Why stoop to such deception?
The government has hit farmers hard by a Rs 2,000 crore cut in fertiliser subsidy. It has refused to address the major problem of high input costs and low MSPs. On the contrary, by emphasising the importance of APMC reforms, it is signalling its commitment to handing over the agricultural market, including procurement, to the private sector. This is not pro-farmer and is at variance with the interests of the majority of India's farmers who have small landholdings.
The MGNREGA allocation of Rs 38,500 crore is not the highest ever, which was Rs 41,000 crore in 2010-11. At a time when India's rural poor were desperately looking for work, this government starved the act of funds, which led to an average of just 38 days of work created last year. A "new system" restricts advanced fund transfers to the states. The lack of funds has converted a demand-driven programme to one based on "quotas", besides resulting in a huge backlog of wages. The allocation is far below what is required.
The same is true for most social sector allocations, which are either stagnant in real terms or have decreased as a proportion of the GDP. There has been a savage cut of close to Rs 5,000 crore in food subsidy at a time when food prices are high. The ICDS has seen a cut of over Rs 1,000 crore compared to the revised estimates. There's nothing pro-poor about compromising with malnutrition.
Look at the callous approach to Dalits and tribals. Once again, the guideline to make allocations to the SCs and STs equivalent to their proportion in the population were violated. Instead of 25 per cent of total plan expenditure, the allocation was just 11 per cent, a shortfall of Rs 74,000 crore to the SC special component plan and the tribal sub-plan. A law is urgently required to make the allocation norms mandatory.
For the minorities, the "sabka saath" slogan translates into stagnant allocations. For women, the gender budget remains at just 4.5 per cent or so of total expenditure. The whole concept has been reduced to that of accounting, with no transparency or monitoring as to whether the actual expenditures directly benefit women, or how and where the money is spent. The biggest example of this is the Nirbhaya fund, for which there is no increase. But there is no record even of what happened to the Rs 653 crore given to the road transport ministry for a women's security scheme. So casual is the approach that money fromthis fund was used to pay for India's contribution to Unicef. There is no increase for pensions for widows, senior citizens and the disabled.
Instead of using the opportunity provided by a low current account deficit and availability of food stocks to increase capital expenditure and create jobs, the government stuck to the neoliberal framework of fiscal fundamentalism. As a proportion of the GDP, capex has actually declined. Nor have the benefits of low global oil prices been passed on to consumers.
Most Read 1Chandrayaan-3 mission: Dawn breaks on Moon, all eyes on lander, rover to wake up 2As Indo-Canadian relations sour, anxiety grips Indian students, residents who wish to settle in Canada 3Karan Johar says Sanjay Leela Bhansali did not call him after Rocky Aur Rani: 'He's never called me but…' 4Gadar 2 box office collection day 40: Hit by Shah Rukh Khan's Jawan onslaught, Sunny Deol movie ends BO run with Rs 45 lakh earning 5Shubh's tour in India cancelled: Why is the Canada-based singer facing the music?
The FM spoke of nine pillars. The only pillar that determined the fate of this budget was not mentioned by him. The pillar of corporate interests and India's wealthy. The budget papers reveal that in the last year, the revenue foregone in tax concessions was a high of Rs 6.11 lakh crore, an increase of 7 per cent. Of this, corporate tax concessions amounted to Rs 68,711 crore. Taken together with concessions on income tax, the generosity to the top 1 per cent amounted to Rs 1.28 lakh crore. But this is not all. Undisputed tax arrears (as opposed to those under litigation) add up to Rs 5.6 lakh crore, of which half is owed by corporates. The arrears mount up year after year, but governments don't act. The UPA did not.
Nor is it different with the Modi government. In fact, as far as black money is concerned, far from bringing it back, the Modi government is actually promising the guilty yet another amnesty.In contrast, the main thrust for revenue mobilisation has been on indirect taxes, including a new cess introduced in the name of the kisan, of 0.5 per cent on all services, which common people, including kisans, will have to pay. In further contrast is the attack on the savings of the working people through the proposal of levying a tax on 60 per cent of the amount withdrawn from the employees provident fund.
Also ReadWill reservation really help Indian women?Pratap Bhanu Mehta writes on new Parliament: India's age of ambitionValues Kota imparted: Anxiety and building a future on a butchered presentWith G20-IMEC plan, the global order shifts to Eurasia
The outrage and protest against this has now led to the government issuing contradictory explanations.Think of how much could have been done with the money the government refused to collect from the rich. Think of women like Gamlina, think of Rohith Vemula, and the consequences of such policies.