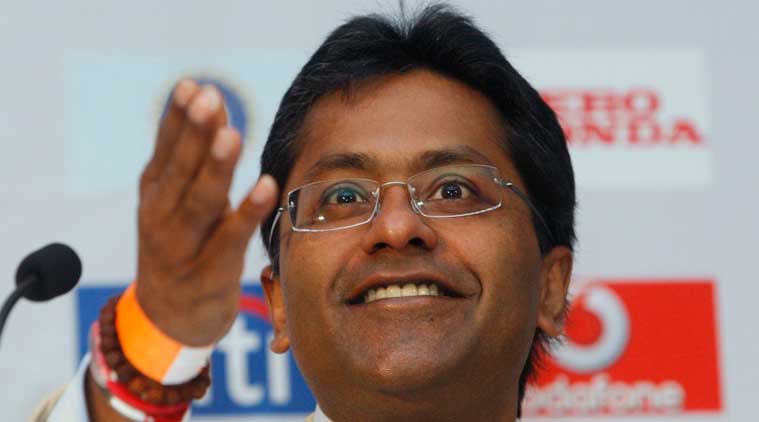 In January 2013, a single bench of the high court had upheld the cancellation of Lalit Modi's passport and he had appealed against it. His team had been led by Mukul Rohatgi and included Swaraj's daughter.
The BJP brand of the politics of crony capitalism has many ambassadors. Today, its faces are Sushma Swaraj and Vasundhara Raje, both guilty of gross impropriety in their dealings with an individual wanted for questioning for multiple alleged violations of Indian laws. Neither has any right to continue in office.
The Lalit Modi scandal has blown sky high all the tall claims of the Narendra Modi government about transparency, good governance and zero tolerance for corruption. Here is a man accused of money laundering and violations of tax laws in a position to blackmail top leaders of the government and the BJP and some in other parties too.

When Lalit Modi declared "war" on those against him, after The Sunday Times revelations, alarm bells rang in the homes and offices of many top politicians across parties, since Lalit Modi is in control of more information than they would like revealed. His first target, the Rajasthan chief minister, who reportedly fell out with him, has learnt this to her cost.
The links are through the murky dealings in the world of Indian cricket, a sport so loved by the Indian public, yet so dirtied by the greed of a bunch of businessmen in league with top politicians. Various cricket boards have been converted into cosy clubs with top politicians and businessmen functioning outside the ambit of regulation and in control of huge sums of money. Among such politicians was the then chief minister of Gujarat, Narendra Modi, and his Man Friday, present BJP chief Amit Shah. In 2009, Narendra Modi was elected president of the cash-rich Gujarat Cricket Association (GCA) and Shah was elected vice president. Narendra Modi resigned in May 2014 after he became prime minister and Shah was elected in his place.
During the IPL bids, there were reports about Narendra Modi-Lalit Modi discussions to allegedly promote the bid of businessman Gautam Adani for the Ahmedabad-based team. Adani was the main promoter of the GCA. The reports hit hard enough to warrant a reply from Shah. He had said the allegation that then IPL commissioner Lalit Modi had met Narendra Modi to work out the strategy for the success of the Ahmedabad team in the IPL bidding was "politically motivated and baseless". According to a story in The Hindu (April 16, 2010), Shah also refuted reports that "Lalit Modi had assisted the GCA and its main promoter and Ahmedabad-based businessman, Gautam Adani, with the bidding process for the Ahmedabad-based team… Shah also refuted Lalit Modi's reported statement that some members of the Rendezvous consortium (of Shashi Tharoor fame) had met Narendra Modi for transferring the team from Kochi to Ahmedabad. He agreed that some promoters did meet the chief minister". So both Narendra Modi and Shah have delved deep into "cricket politics", of which, at one time, Lalit Modi was the king.
The movement of these well-oiled wheels within wheels also explains the utterly shameful defence of the indefensible by the BJP in the Lalit Modi scandal. The wrongdoings of the Narendra Modi government are glaring. First, when the PM declared war on corruption and vowed to bring wrongdoers to justice, how did the case of Lalit Modi escape him? Did his government ever move for the extradition of Lalit Modi? Here is a man who, according to the finance minister, has been charged on 16 counts by the Enforcement Directorate (ED). Yet, there has been no attempt to bring him back. This failure, or deliberate omission, provides the framework for the actions of Swaraj, who went a step further and, disregarding all rules, reversed the 2010 decision to cancel his travel papers and gave the go-ahead to the UK without even consulting her own ministry officials or the finance ministry.
The story of "compassionate grounds" indicates the rot in the system. If there is a case for consideration, surely the external affairs ministry has its own system for dealing with it. Was any application made through normal channels about the urgency of his case that had been rejected and which, therefore, had to come before the minister?
In January 2013, a single bench of the high court had upheld the cancellation of Lalit Modi's passport and he had appealed against it. His team had been led by Mukul Rohatgi and included Swaraj's daughter. Her family members continued in Lalit Modi's legal defence. Here is a clear conflict of interest. Moreover, Swaraj acted before the division bench hearing Lalit Modi's appeal gave its judgment. This could also constitute contempt of court and subversion of the processes of justice. In August 2014, the division bench upheld Lalit Modi's appeal and restored his travel papers. By then, Rohatgi had become attorney general. There was no appeal made against the order.
Most Read 1Chandrayaan-3 mission: Dawn breaks on Moon, all eyes on lander, rover to wake up 2As Indo-Canadian relations sour, anxiety grips Indian students, residents who wish to settle in Canada 3Karan Johar says Sanjay Leela Bhansali did not call him after Rocky Aur Rani: 'He's never called me but…' 4Gadar 2 box office collection day 40: Hit by Shah Rukh Khan's Jawan onslaught, Sunny Deol movie ends BO run with Rs 45 lakh earning 5Shubh's tour in India cancelled: Why is the Canada-based singer facing the music?
Since it is the ED that was the main interested party, why did Arun Jaitley not step in then? If there were differences between the MEA and the ED, as is being put out by Jaitley in defence of his non-intervention, what is the mechanism to deal with it? The PM had scoffed at the UPA style of ministries working at loggerheads, but what happened in this case?
The judgment sets dangerous precedents for other wrongdoers, as it holds that crimes such as those Lalit Modi is accused of, like Fema violations, do not "fall foul of public order". Further, that the revocation of travel papers is "an impingement on rights of expression as it restricts travel to conferences, etc". Just on grounds of precedent, the ED should have fought to make an appeal.
Also ReadWill reservation really help Indian women?Pratap Bhanu Mehta writes on new Parliament: India's age of ambitionValues Kota imparted: Anxiety and building a future on a butchered presentWith G20-IMEC plan, the global order shifts to Eurasia
The inner war among BJP leaders is well known and described by a cricketer of old, Kirti Azad, in his tweet about the "asteen ka saap". But if Amit Shah comes out strongly in support of Swaraj today, if Jaitley talks of collective responsibility, if Narendra Modi maintains a deafening silence, it has less to do with internal equations and everything to do with the information bombs in Lalit Modi's possession, an unguided missile that could reach the highest. Imagine Lalit Modi crooning the popular Urdu couplet on some exotic island, "hum to doobe hain sanam, saath tumhe bhi le doobenge… (I have sunk, my love, but I will make sure you sink with me)". The Modi government's and the party's response has been "stick together or sink together". It is only public outrage that will force action.
The writer is a member of the CPM politburo.