In Srinagar, a family is hoping to miraculously set the clock back on their daughter who lost a year to drugs. The 19-year-old, a "brilliant student" whom her teachers fondly called "Doctor saab", is now taking another shot at her Class 12 examsAbout 50 km away in Baramulla, a 63-year-old father and his wife are anxious for their two sons who have just returned from a rehabilitation centre; their eldest 32-year-old died in February after a relapse into drugs.In Kupwara, further north, a 23-year-old, brought to the state-run Drug Deaddiction Centre by his brother, is terrified — three of his friends are now dead, each due to drug overdose.
In district after district in the Valley, as The Indian Express found travelling to Srinagar, Anantnag, Kupwara and Baramulla, such stories are playing out in homes, hospital wards and deaddiction centres. Jammu and Kashmir's drug pandemic which, as the first of this investigative series reported Friday, has seen a record seizure of heroin, an unprecedented number of FIRs and arrests and a more than 75% jump annually in the number of patients pouring into the largest drug OPD in Srinagar, has had a devastating human cost.
Read Part 1 Here | One addict walks into Srinagar OPD every 12 minutes: Valley's drug pandemic
Of young lives lost, broken homes and relationships, and crippled household finances. "We lost more than one generation of  young men to militancy and now drugs threatens a new generation. This is a crisis of not just Jammu and Kashmir but of the nation," said Dr Sara Khalid, Medical Officer at the Srinagar Drug Deaddiction Centre where she manages the OPD five days a week, seeing about 200 patients daily.

So sprawling is the challenge that since July 2021, after the second Covid wave, in addition to this DDC, as many as eight Addiction Treatment Facilities (ATF) have been set up under the aegis of AIIMS-managed National Drug Dependence Treatment Centre in coordination with the state health department.
Also Read | Drug menace bigger threat than militancy, we're going Punjab way: J&K DGP Dilbag Singh
These ATFs are up and running – and full – in Bandipora, Budgam, Kulgam, Shopian, Pulwama, Anantnag, Baramulla and SKIIMS Medical College in Srinagar. Two more ATFs are in the pipeline for Ganderbal and Kupwara.
'I will have to hand him to the police'
At his Baramulla home, as his family sits around a table, the 63-year-old father talks about the death of his 32-year-old son because of a drug overdose. He had picked up the habit, the father says, in 2017. That was also when he was detained by police and accused of being in touch with militants. "He was in their custody for over a month and when he came out, we found a change in his behaviour. We initially thought he was upset about the detention and that he would get better but that didn't happen," the father said.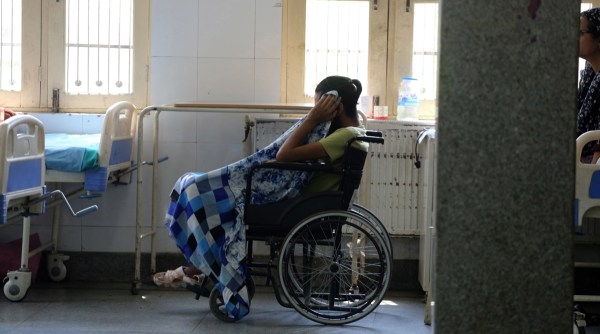 At the Drug De-addiction Centre at Srinagar's SMHS Hospital, the largest in the Valley. Shuaib Masoodi
The mother said their suspicion grew when they noticed that money often went missing from the house. "One day, I found some powdery stuff in his pants and alerted my husband. We immediately realised what was wrong. We took him to a doctor and he started his rehabilitation," she says.
Also Read | Three years after creation, anti-drugs task force in J&K secures first conviction
But once home, the 32-year-old relapsed into drugs. Worse, their younger sons, too, got hooked. "Our attention was entirely on our elder son and we didn't know what our younger sons were up to. They would often spend time with their elder brother and we thought that would do him good. When we realised that they too were on drugs, we lost all hope".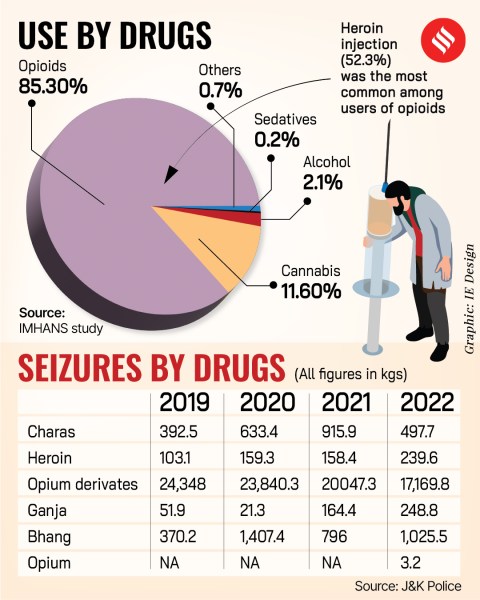 A comparative look at the number of new and returning patients at the De-addiction Centre in Srinagar between 2021-2023. (IE Graphics)
The family sold their house and moved to a rented accommodation in another district. "One morning, my elder son didn't come to the kitchen for breakfast," says his mother. "His room was locked from inside. We broke the door open and saw him kneeling on the floor in pain. He mumbled something about being sorry and collapsed."
It has been five months since the 32-year-old's death but the family's fight is far from over. "My younger sons are out of the rehabilitation centre and our entire time is spent looking after them," says the father.
Also Read | Smugglers now bringing drugs into Punjab through Jammu and Kashmir: Police official
At one such rehabilitation centre – inside the OPD of the ATF in Kupwara, a 23-year-old sits head down, chin to his chest, and tells his story of how he landed here.
He was part of a group of five studying for their Bachelor's degree at the Kupwara Degree College. They stuck to each other, tried their hand at new things – smoking first, cannabis next and, a year later, heroin. "Three of them are now dead," he said.
If Kashmir is sitting on a drug powder keg, Kupwara, which records the highest drug consumption levels, could be where the fuse is lit.
As a frontier district, in recent years, the terrain and its proximity to the Line of Control have turned the region into a route for smugglers to push in weapons and drugs from across the border, police said.
At the Kupwara centre, as the 23-year-old tells his story of addiction, his brother, 10 years older, fills in his pauses.
Counsellor Tabassum Sulaiman and Medical Superintendent Dr Mir Shafi hang on to their every word. On July 7, when the 23-year-old was brought to the Kupwara ATF, he was smoking cannabis rolled into cigarettes and chasing heroin as well.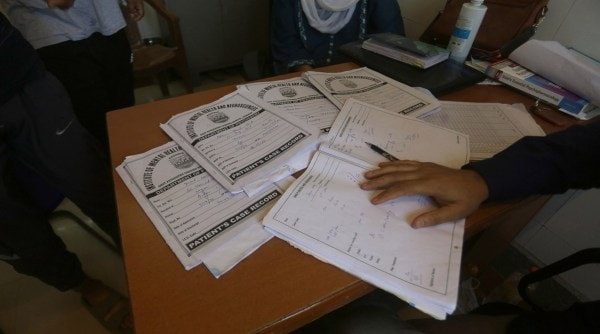 Drug De-addiction Centre at SMHS Hospital. (Express photo by Shuaib Masoodi)
Councillor Sulaiman asks him where he was able to procure the drugs from. "Everywhere," he replies.
After his graduation, while still looking for a job, he started helping out at the family-run bakery in their village. His elder brother, a government employee, is posted in South Kashmir. Two of his elder sisters are married, leaving him alone at home with his aging parents. "As I did drugs, I started taking money out of the shop," he tells the councillor.
It was the brother who first realised that something was amiss. "I noticed that money in the shop was disappearing. I would yell at him, even hit him, hoping that fear would deter him."
Sitting behind the 23-year-old, his brother says, "I can't take another day off to bring him to this centre. If he doesn't fix his ways, I will have to hand him over to the police."
Patients come pouring in
In September last year, when it was set up, the Kupwara ATF had five patients; until June this year, the facility has seen 220 cases. Yet, officials say the hospital number represents only a fraction of the problem. For one, users turn up at hospitals or deaddiction centres only when the crisis becomes unmanageable. And when they do seek help, it's usually at a centre far away from home, says counsellor Sulaiman. "There is still a lot of stigma attached to seeking help for an addiction. First, they do not want to admit it themselves and when they do, they do not want to tell their families. Also, the stigma forces them to seek help in places as far away from their home as possible," she adds.
At the Srinagar Drug Deaddiction Centre, another 23-year-old had travelled nearly 500 km to come all the way from his home in Ladakh.
A socio-demographic profile of users in the valley shows that 25 per cent are unemployed. There has also been a steady uptick in the arrest of drug peddlers over the years. (IE Graphics)
Sitting on one of the 15 beds in the first-floor ward of the hospital, he fidgets with a water bottle between his hands as he talks about how he landed up here – the second time this year.
He is now nearing the end of his two-week treatment at the Drug Deaddiction Centre in Srinagar, the first and the biggest such in the state. "It started with weed in college in Delhi. No one thought much of it," he says, talking about how found himself sinking into darker depths as he battled loneliness, addiction and anger before he finally decided to seek help.
After two bouts of tuberculosis, he dropped out of his second year in a Delhi college and returned home to Ladakh to recuperate. With most people his age away for studies or jobs, home was a lonely place. "My three siblings too are outside Ladakh. I missed being in college and I really had nothing to do at home." Until he ran into one of his friends who was selling heroin. In no time, he was "chasing" (inhaling) or "shooting" (taking the drug intravenously).
A gram of heroin that cost between Rs 3,000 and Rs 4000 in Kashmir cost over Rs 20,000 in Ladakh. "So some of us would pool in money and buy a gram and that became a way to spend the evening every now and then," he says, describing the beginning of his addiction.
Standing by his bedside, his sister, also a student, says that in the initial days of his addiction, he would be listless and barely stepped out of his room. "His eyes always looked bloodshot. My older brother would try to push him out of the house and call him names. Then he would get even more angry," she said.
The fights at home turned uglier, adds the 23-year-old. "He would call me an addict and I would be mad." As things started escalating, he reached out to a friend and boarded a bus to Srinagar to seek help.
Support systems frayed
Elsewhere in the city, the family of the 19-year-old, who is now preparing for her Class 12 exams after losing a year to drugs, says they noticed the "signs" – she would sleep in, sometimes waking up late afternoon, skip her meals, prefer the silence of her room and shunned relatives. The family initially thought the burden of exams and expectations were probably weighing on her, until one day, her friend alerted them that she often skipped school. "This friend told us that her behaviour had changed since she started spending time with a boy," says the girl's 24-year-old elder brother.
Soon, the mother, a government school teacher, "started looking for clues" in her daughter's room. That's when she came across two syringes, one new, the other discarded. But that didn't alert her. "I thought she must have been using these for her science practicals. I left them there in her room. But the minute my son heard about them, he knew what was wrong and confronted her. She broke down and confessed that she was on drugs. I was as if the earth had slipped beneath my feet. Both of us cried. She told us she wants to come out of the habit but couldn't."
The family wanted to take the 19-year-old to a drug de-addiction centre but didn't want to attract attention. "We were worried what our relatives, friends and neighbours would say about our daughter. So we rented a room in a private hospital for two weeks of rehab," says the father, a businessman.
Most Read 1Chandrayaan-3 mission: Dawn breaks on Moon, all eyes on lander, rover to wake up 2As Indo-Canadian relations sour, anxiety grips Indian students, residents who wish to settle in Canada 3Karan Johar says Sanjay Leela Bhansali did not call him after Rocky Aur Rani: 'He's never called me but…' 4Gadar 2 box office collection day 40: Hit by Shah Rukh Khan's Jawan onslaught, Sunny Deol movie ends BO run with Rs 45 lakh earning 5Shubh's tour in India cancelled: Why is the Canada-based singer facing the music?
Now, as the 19-year-old prepares for her Class 12 exams all over again, the family says doctors have asked them to stay vigilant. "We don't leave her alone. We have also asked her not to worry about her exam results. But for us, our life will never be same," says the mother.
At a centre in Anantnag, a 26-year-old patient has turned up unaccompanied at the deaddiction centre. Looking visibly agitated, he details his journey of addiction as the doctor on call listens intently. "I used to smoke with some friends outside a shop that I run. After some time, someone got some morphine and we shared the packet among ourselves. I did not think I would get addicted to it but after the first two times, I could not function till I took a hit," he said.
Also ReadIE100: The list of most powerful Indians in 2021FinCEN Files — On US radar: Dawood Ibrahim's financier, his laundering, f…Drug menace bigger threat than militancy, we're going Punjab way: J&K DGP…After 'downgrade' last year, MEA sent Speaker's office talk points on dem…
After nearly seven months of using heroin, things changed for the 26-year-old when a close friend overdosed. "I have pains all over my body right now but I just want to give this up. I want to get better," he pleaded with the doctor. "Please don't tell my family."
© The Indian Express (P) Ltd