Irreversible environmental damage by loggers and dubious auditing firms undercut an elaborate global system to fight forest destruction and climate change. Exposing this is the focus of "Deforestation Inc.", the latest investigation by the International Consortium of Investigative Journalists spread across 27 countries.
The India leg of the investigation, by The Indian Express, has found that the story of India's forests is not just about large-scale deforestation or illegal logging, it's also about the lack of official transparency on the status of the forest itself. And the growing tendency to make up for deforestation of natural forests with manmade plantations.

The Indian Express accessed and cross-checked a part of the geo-referenced forest cover data which the government, since the 1980s, has refused to share with the media.
These give a glimpse, for the first time, to what is categorised as forests in the official interpretation of satellite images: commercial plantations on encroached and cleared reserve forest land; tea gardens; betel nut clusters; village homesteads; roadside trees; urban housing areas; even VIP bungalows in the heart of the capital.
Also read | Lutyens' bungalows, RBI, encroachments are 'forests' in govt's forest cover map
Over the last 10 years, 1,611 square km of forests have been diverted for non-forest purposes, including for infrastructure and industrial projects, a little bigger than the size of New Delhi. That is about 0.21 per cent of India's total forest area of 7.75 lakh square km.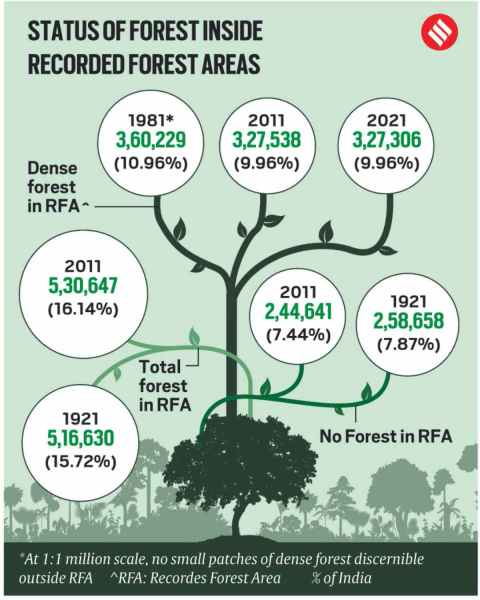 As an illustration, The Indian Express zoomed into a diamond mining project in Buxwaha, Madhya Pradesh, where an imaginative campaign run by locals and lawyers has been launched to save the felling of 2.1 lakh trees.
While the forests getting diverted are often of very high quality, an investigation into the compensatory afforestation programme shows that the locations provided for growing plantations usually have very low prospect of any meaningful forests growing.
Explained | The case for open, verifiable forest cover data
Then there is the certification system that reveals several attempts of greenwashing – branding something as sustainable when it is not.
Insiders admit forest certifications in India are available much easier than in the more developed countries. Another finding is the over-reliance on questionable sub-contractors for carrying out environmental audits of firms or processes.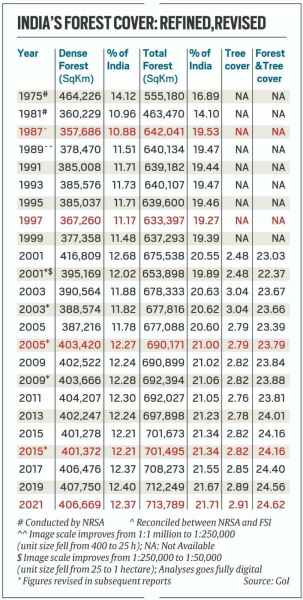 As part of the investigation, ICIJ and its media partners examined inspection data and court filings, concerning companies in at least 50 countries, including India. As many as 48 auditing firms were identified that had declared as "sustainable'' the functioning of forest-product companies that had been charged with a range of violations: logging in protected reserves; using fake permits and importing illegally harvested timber.
Most Read 1Asian Games 2023 Day 10 Live Updates: Lovlina Borgohain qualifies for gold medal match, Abhishek-Ojas set up all-Indian archery final; bronze from Canoe sprint and boxing 2Jawan box office collection day 26: Shah Rukh Khan's blockbuster refuses to slow down, nears Rs 1100 crore worldwide gross 3Navya Naveli Nanda makes her debut at Paris Fashion Week, Aishwarya Rai walks the same ramp. Watch 4After Tejasvi Surya asks Karnataka govt to reconsider carpooling 'ban', transport minister Reddy says apps need permission 5World Cup: Hasan Ali's father-in-law in Nuh, Haryana waits to see his grandchild for first time when India meet Pakistan at AhmedabadDon't miss | In chase for growth and carbon targets, questions swirl over forests on paper
A key finding of the global investigation: since 1998, more than 340 certified forest-product companies have been accused of environmental crimes either by environmental groups or government agencies. And 50 of these firms held their "sustainability" certificates at the time of their being fined or being convicted by a government agency.
The global investigation also throws light on the ineffective steps of several governments to stop the trade of conflict wood from authoritarian regimes such as Myanmar.
Also ReadDrug menace bigger threat than militancy, we're going Punjab way: J&K DGP…Full list: UNDEF grants to civil society organisations with affiliation t…Pandora Papers Part 15: For yacht, overseas real estate, UPL's Shroff bro…IE100: The list of most powerful Indians in 2021
India, which unlike the EU and US, has not banned the import of the much sought after teak from Myanmar is often cited as an example of a "leakage country" for the supply of the hardwood to countries where sanctions are in place. The Indian Express conducted a spot investigation into the role of such traders and examined the impact of active smuggling of teak from Myanmar along India's North-Eastern belt.