In what has been termed as a rare occurrence, a US woman gave birth to two pairs of identical twins within six months of each other, according to a press statement from University of Alabama at Birmingham. Such twins, known scientifically as 'MoMo', an abbreviation for monoamniotic-monochorionic, are some of the rarest types of twins, making up less than one percent of all births in the United States, noted the statement. It also stressed that such MoMo twin pregnancies have a high risk of fetal complications.
In this particular case, the mother Britney Alba, an elementary school teacher from Tuscaloosa, Alabama, US, found out she was expecting twins again about six months after giving birth to her first set of twins named Luka and Levi. Subsequently, Alba was admitted to the university's High-Risk Obstetrics Unit when she was 25 weeks pregnant. She stayed there for more than 50 days as a result of the complications. Considering the high risk of stillbirth associated with MoMo births, doctors stated that their aim was to deliver the twins via cesarean section, as per the country's standard, at 32 to 34 weeks.

The second pair of twins, Lydia and Lynlee Alba, were delivered by her on October 25, 2022.
"The team conducted ongoing prenatal care, including fetal monitoring several times a day to ensure the twins remained well. Given the rarity of her pregnancy, Alba was also visited by medical students, residents, and fellows," the hospital said in a statement.
Since the twins were born during the 32nd week, they received care in the newborn unit of the hospital for months before they were discharged on December 7, 2022.

"It was nerve-wracking to think about the journey ahead of me and being away from my boys for several weeks. But I knew I had a village at home and would be in great hands at UAB, which calmed my worries," Alba expressed.
What are MoMo pregnancies?
In a MoMo pregnancy, the twins are known to share the same placenta, amniotic sac and fluid. But they have different umbilical cords. "They share everything except umbilical cords, which can easily become entangled in a single sac. Unfortunately, there is a high rate of stillbirths associated with MoMo twins," said Rachel Sinkey, M.D., assistant professor in the UAB Marnix E. Heersink School of Medicine Department of Obstetrics and Gynecology.
Agreed Dr Shobha Gupta, medical director, gynecologist and IVF specialist, Mother's Lap IVF Centre New Delhi and Vrindavan and said that monoamniotic twins frequently experience tangling of their umbilical cords because of a shared amniotic environment.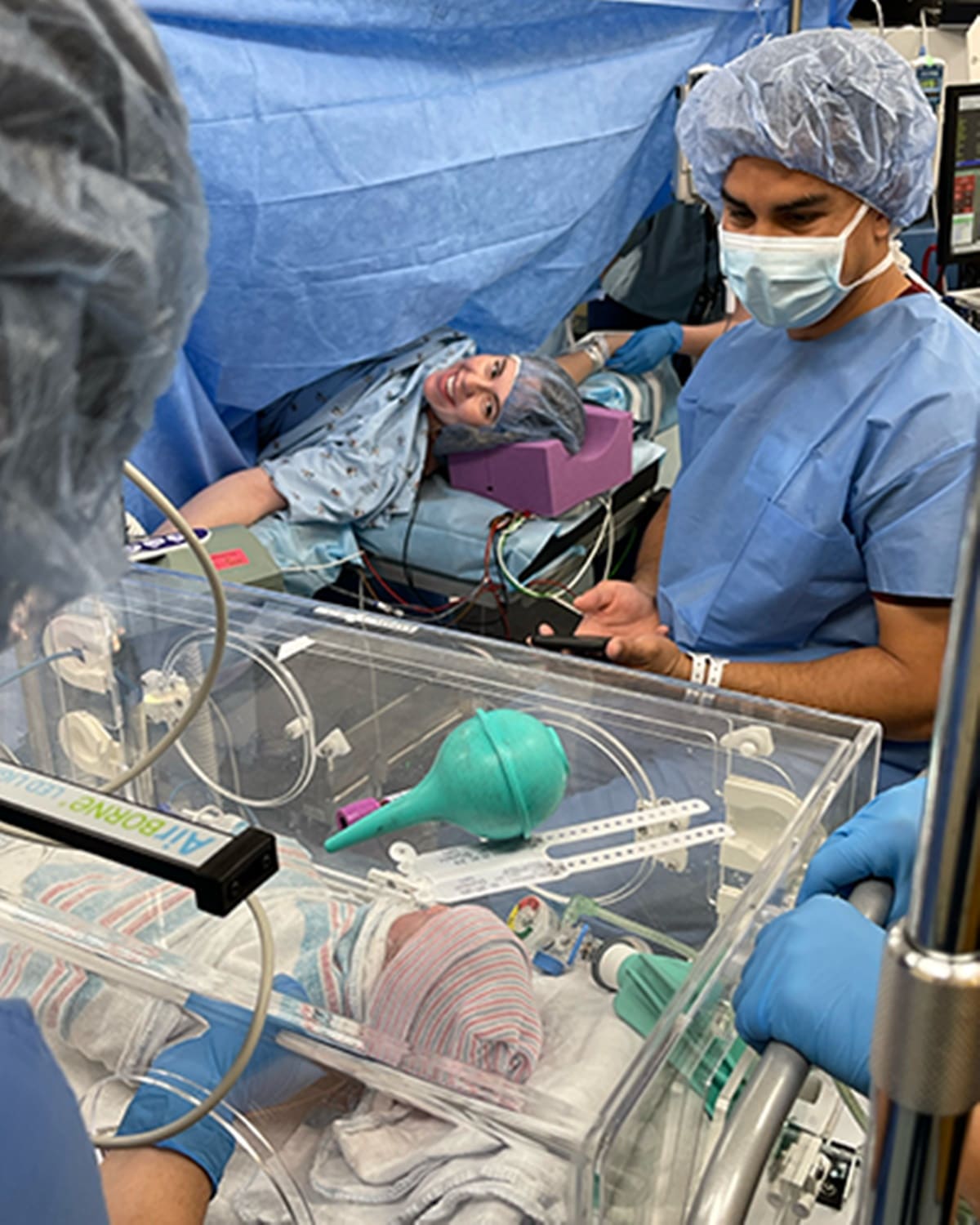 MoMo twins are rare (Source: uab.edu/news)
"In some cases, this entanglement can be so severe as to impair the twins' ability to receive blood, which can lead to the loss of one or both of the twins. It can be challenging to anticipate these events. As a result, these twins are carefully monitored during the entire pregnancy," Dr Gupta noted.
How does such a condition occur?
Most Read 1When ex-ISRO chief was told to 'get lost' by ISRO satellite centre 2Israel-Hamas War News Live Updates: Israel says drone killed militants who tried to infiltrate from Lebanon 3When Amitabh Bachchan shared what changed after Aishwarya Rai joined the Bachchan family: 'One daughter left…' 4Amitabh Bachchan calls Jaya Bachchan his worst critic: 'She walks out of my movie trial and then we have domestic problem at home' 5'Rajesh Khanna's dates were impossible to get': Sharmila Tagore says she could've been 'sued' for compromising 'Sapno Ki Rani' shoot
A mother gives birth to MoMo twins when a single fertilised ovum or egg leads to identical twins and these twins share the same placenta and amniotic sac. "MoMo twins are mainly identified by ultrasound in the early pregnancy months," said Dr Pratima Thamke, consultant obstetrician and gynaecologist, Motherhood Hospital, Kharghar.
As per the university, MoMo twins are some of the rarest types of twins, making up less than one per cent of all births in the United States. According to Dr Gupta, MoMo twins account for "fewer than 0.1 per cent of all pregnancies and one per cent of identical twins".
Also ReadIs eating kale and spinach raw really bad for you?What should your ideal weight be for your age and height?These morning drinks can help decrease bad cholesterol levels naturallyIs drinking too much coconut water unhealthy for you? Here's what experts…
📣 For more lifestyle news, follow us on Instagram | Twitter | Facebook and don't miss out on the latest updates!
© IE Online Media Services Pvt Ltd