Even after it came under global scrutiny, Mossack Fonseca, the controversial law firm exposed in the 2016 Panama Papers investigation as the key hub for illicit global money flows, outsourced its off-shore transactions to a network of companies linked to an Indian citizen based in Kerala, The Indian Express has learnt.
Led by the Enforcement Directorate (ED), investigating agencies, including the Financial Intelligence Unit (FIU) and the Income Tax (IT), have been tracking chartered accountant Mathew George who has allegedly been doing "third-party collections" for Mossack Fonseca and its clients under agreements signed just weeks after the global expose.

On April 22 last year, George's Kochi-based residence and office were searched by ED. Evidence on his computers, sources said, revealed the scale of his links with Mossack Fonseca.
Mossack Fonseca was forced to shut down in 2018 after the leak of its 11.5 million internal records investigated by a global consortium that included The Indian Express in India.
Officials said international financial and enforcement agencies will shortly be informed about the Kerala case since Mossack Fonseca's clients are located all over the world.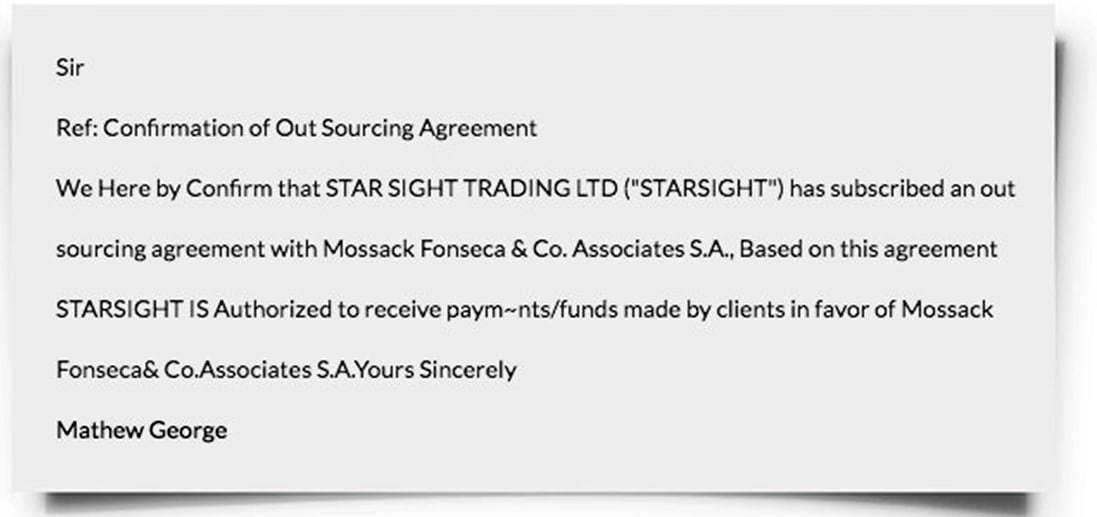 During the ED searches of George's premises, a master list of 599 clients of Mossack Fonseca was recovered with payments being made via bank accounts of one of four companies, all registered by George.
These companies are: Star Sight General Contracting LLC; Star Sight Trading Limited; Samag Resources Ltd (all in UAE); and M&A Resources Ltd (Hong Kong).
Incidentally, two years after the Pulitzer Prize-winning 2016 Panama Papers investigation, the International Consortium of Investigative Journalists (ICIJ) and its partners, including The Indian Express, published a 2018 sequel – The Panama Papers 2 — which flagged the panic inside the Mossack Fonseca headquarters.
Records investigated as part of the Panama Papers 2 link scores of offshore entities incorporated by the Panamanian law firm with companies run by George.
An investigation by The Indian Express reveals that as many as 489 records are linked to George, a large volume of which are copies of bank transactions with Mossack Fonseca clients.
Significantly, these records include the "out sourcing agreement" between George and Mossack Fonseca's representatives signed on July 6, 2016.
It states, "Based on this agreement Star Sight Trading is authorized to receive payments/ Funds made by clients in favor of MF (Mossack Fonseca) Treasurer Ltd…"
Also Read | Panama Papers: The Whistleblowers
Data also shows documents about the incorporation of Star Sight Trading, a few days later — on July 22,, 2016 — as an offshore company under the regulations of Ras Al Khaimah.
When asked about these links, George, speaking to The Indian Express from Kochi, said: "I am not denying my links with Mossack Fonseca and used to earn one percent commission for each inward and outward remittance. The business lasted for about a year. But Star Sight Trading is registered in the UAE and there is no probe in that country. So why should Indian agencies be involved?"
The list of 599 entities recovered by the ED, reviewed by The Indian Express, shows transactions with dozens of offshore companies or individuals in countries such as Isle of Man, Lebanon, Switzerland, Monaco, Luxembourg and USA. All these transactions are for the year 2017.
Most Read 1Chandrayaan-3 mission: Dawn breaks on Moon, all eyes on lander, rover to wake up 2As Indo-Canadian relations sour, anxiety grips Indian students, residents who wish to settle in Canada 3Karan Johar says Sanjay Leela Bhansali did not call him after Rocky Aur Rani: 'He's never called me but…' 4Gadar 2 box office collection day 40: Hit by Shah Rukh Khan's Jawan onslaught, Sunny Deol movie ends BO run with Rs 45 lakh earning 5Shubh's tour in India cancelled: Why is the Canada-based singer facing the music?Panama Papers aftermath | Inside the fall of Mossack Fonseca – panic, chaos, and the end
The investigation into George's network of companies has a wider dimension with the recovery of "investment custodial agreements" again using the bank accounts of Star Sight Trading in Abu Dhabi. According to the probe, these agreements were for "temporarily holding and further investments by routing of funds." George, however, denied that any such agreements were signed by him.
There is one agreement under the scanner with a US citizen for investing $200 million and another with a citizen of Venezuela for investing $3.36 million. An early analysis shows there is a list of 17 beneficial corporations which have had transactions with Star Sight Trading in locations such as Belize, El Salvador, Samoa, New York and Panama.
Also ReadIE100: The list of most powerful Indians in 2021FinCEN Files — On US radar: Dawood Ibrahim's financier, his laundering, f…Drug menace bigger threat than militancy, we're going Punjab way: J&K DGP…After 'downgrade' last year, MEA sent Speaker's office talk points on dem…
With citizens and entities from so many countries named in the recovered evidence, the ED is also likely to initiate a trans-national probe in the case.
© The Indian Express (P) Ltd