Over the last few decades, Barbie has been written off as obsolete, sexist, and lacking diversity. Mattel, the company that owns the rights to Barbie, has attempted to course correct on various occasions but no intervention has proved nearly as successful as Greta Gerwig's bold cinematic take. As she pioneers a new era for Barbie on the big screen, it is worth looking back at another woman who broke boundaries with the character – Ruth Handler, the inventor of the Barbie doll.
Who was Ruth Handler?
The youngest of 10 children, Handler was born in 1916 to Polish parents who immigrated to the US and settled in Denver, Colorado. In 1936, Ruth, a 19-year-old college student, went on vacation to Los Angeles and, on impulse, scooped up a job at Paramount Studios. Once in LA, she never looked back and eventually persuaded her high school sweetheart, Elliot Handler, to move there with her. Together, Ruth and Elliot founded the Mattel corporation in 1945 which would go on to dominate the children's toy market in the post-war years.

Inspired by her daughter's fascination with paper dolls that looked like adults, Handler launched Barbie to the American market in 1959. It was named after her daughter Barbara. The doll was an immediate success, and Mattel, already a dominant player, became the behemoth of children's toys.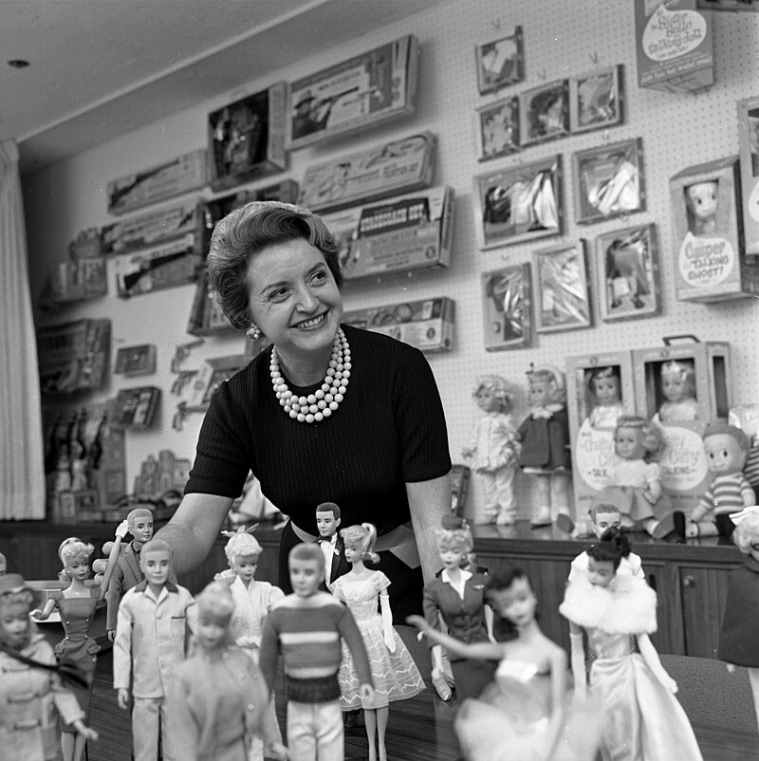 Ruth Handler with an assortment of Barbie and Mattel products. (Wikimedia Commons)
In 1978, Handler and several other former Mattel employees were indicted on charges of fraud and false reporting, to which she pleaded no contest. To some, it seemed like an inglorious farewell for a female business icon but by then, Handler had already embarked on a second career, starting a company that made prosthetic breasts for cancer survivors.
After developing a line of artificial breasts made from foam and silicon, Handler became a well-known advocate for early detection of breast cancer, at a time when the disease faced significant social stigma. A bold and provocative marketer, Handler was known to open her blouse during interviews, asking reporters to feel her breasts to determine which one was real. She ran the prosthesis company for over 15 years during which time she fitted thousands of women with artificial breasts, including the former First Lady, Betty Ford.
While talking about her two careers, Handler, who died in 2002, was known to say, "I've lived my life from breast to breast." A fitting sentence, considering that Barbie's early popularity and originality stemmed from her more adult-seeming body compared to other children's dolls at the time.
Conceptualisation of Barbie
When Handler realised that her daughter Barbara and her friends preferred to play with paper dolls resembling adults, she understood that the long-standing appeal of baby dolls was beginning to wane. In her memoir Dream Doll: The Ruth Handler Story (1994), she describes the ground-breaking moment. "They were using these dolls to project dreams of their own futures as adult women," she writes, "Wouldn't it be great if we could take that play pattern and three-dimensionalize it?"
Handler thought that creating a life-like doll would be exciting for children but her idea was shot down by her husband and other executives at Mattel because they thought the concept was too provocative. After years of trying to persuade them, Handler finally made her case after she stumbled upon the German doll Bild Lilli while on a trip to Switzerland. Bild Lilli was initially created as a cartoon for a Hamburg-based tabloid and was presented as a sensuous woman who got by in life by seducing wealthy men.
The cartoon became so popular that in 1953, the newspaper that owned it decided to market a three-dimensional version of the character as an adult novelty toy, aimed for bachelor parties and gag gifts. For Handler, however, Lilli was exactly what she was looking for as a model for Barbie, and she brought several of the dolls back to California to show Mattel designers what Barbie could potentially look like.
Handler reworked the design of the doll and began manufacturing it in Japan. In 1959 (Barbie's official birth year), the doll debuted at the New York Toy Fair to a tepid response. Wholesalers, primarily men, were aghast at the thought of marketing Barbie dolls to children, with their big breasts and enticing waistlines. So, Handler turned to a branding expert, Ernest Dichter, who surveyed people who bought Barbie dolls. Dichter found that while children loved the dolls, their mothers hated them. However, he also noticed one mother warming up towards Barbie when her daughter commented on how the doll was so well-groomed.
The first Barbie doll introduced on May 9, 1959. (Wikimedia Commons)
His advice to Handler was to promise mothers that Barbie would show their daughters how to become poised young ladies. Handler took his advice, advertising on Disney's Mickey Mouse Club that Barbie dolls symbolised what little girls could grow up to be. After the ad aired, Barbie sales skyrocketed, selling 350,000 dolls in the first year alone. From there, Handler expanded the Barbie range to include modes of transport, houses, companion dolls and clothing.
However, to many critics, Barbie was setting unrealistic standards for children, representing an ideal that they could never hope to replicate.
Barbie controversies
Feminists, including the National Organization for Women, criticised Barbie from the very beginning. Chief among their concerns was that Barbie's measurements were near impossible to achieve. One academic even calculated that the chances of having Barbie's figure was one in 100,000. Studies, including one in the journal Developmental Psychology from 2005, found that girls who played with Barbies expressed a greater preoccupation with being thin. These criticisms were further fuelled by Mattel itself, which, in 1965, introduced Slumber Party Barbie, which came with a diet book with only one instruction – "Don't Eat".
Additionally, although Barbie was initially seen as being progressive, content to be single and focused on her career, during the 1960s, her characterisation became regressive. According to Paul Mullins, an anthropology professor at Indiana University, for the first five years of her existence, Barbie was a feminist icon, a "single woman out in public working skilled, relatively educated jobs. She didn't have a man and she didn't need one."
Most Read 1Chandrayaan-3 mission: Dawn breaks on Moon, all eyes on lander, rover to wake up 2As Indo-Canadian relations sour, anxiety grips Indian students, residents who wish to settle in Canada 3Karan Johar says Sanjay Leela Bhansali did not call him after Rocky Aur Rani: 'He's never called me but…' 4Gadar 2 box office collection day 40: Hit by Shah Rukh Khan's Jawan onslaught, Sunny Deol movie ends BO run with Rs 45 lakh earning 5Shubh's tour in India cancelled: Why is the Canada-based singer facing the music?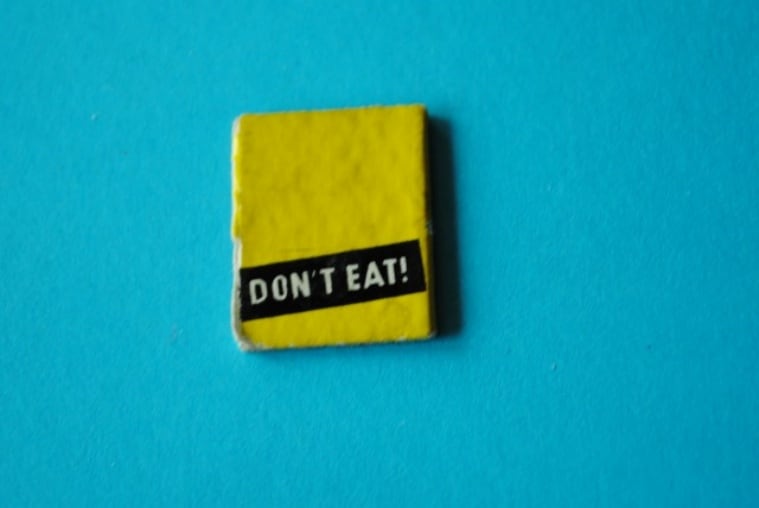 Back of the diet book with the instruction, 'Dont Eat'. (Wikimedia Commons)
However, in a study written for the Journal of Historical Anthropology in 1999, Mullins notes that with the implosion of the Vietnam War around 1968, Mattel decided to change course. He writes that "they were fearful of a politically charged real world and decided to make a fantasy world for Barbie where she just went to the sweet shop and fell back on very traditional gender roles". As a result, while Ken went on to have a varied number of careers, Barbie was often relegated to the sidelines, taking on roles such as candy striper (volunteer at a hospital), babysitter and makeup department worker.
As sales of Barbie declined, and criticism intensified, Mattel once again changed direction in the late 1970s, introducing Barbies that were doctors, astronauts and veterinarians. In 1981, Mattel even released its first Black Barbie, as part of its shift towards more diversity. The company saw a steep slump in sales in the 21st century as it faced competition from companies like Bratz and franchises like Disney's Frozen.
Also ReadThe many arguments for, and against, abortion rights How Lord Ganesha is celebrated outside IndiaKashmir when India got independence: Neither here nor thereHow Thakurs have dominated UP politics since Independence
In response, Mattel announced another rebranding of sorts, introducing Barbies of different heights and weights in 2016 and eventually expanding the collection to include 35 skin tones, 94 hairstyles, and dolls with disabilities. In 2019, according to Mattel, more than half the dolls it sold came from diverse backgrounds. As Handler had written in 1994, "'My whole philosophy of Barbie was that through the doll, the little girl could be anything she wanted to be. Barbie always represented the fact that a woman has choices".