A father says he is "relieved" that his son is dead.
"We couldn't take it anymore," said the 63-year-old, sitting in his dimly lit room in Baramulla. His 32-year-old son had made some progress after clocking several hours in the Drug De-addiction Centre at the SMHS Hospital, Srinagar, but had a relapse. Having lost him in February, the family's ordeal is far from over.

For, they are now tending to their two other sons, one is 21, the other 27, who have also fallen prey to drugs and are just out of a rehabilitation centre. The father's grocery store has shut shop — no one's guessing what happens next.
Across the Valley, a silent, devastating pandemic of drug addiction is wreaking havoc in families and stretching the public health system to its limits: it's clogging hospitals and clinics, filling up detention centres with mostly young men, piling up FIRs, taking seizure levels to a new record, leaving a trail of tragedy and loss in its wake, an investigation by The Indian Express has found.
Over two months, The Indian Express visited several addiction treatment centres, from Baramulla to Srinagar, Kupwara to Anantnag, talked to affected families, doctors, psychiatrists and counsellors, bureaucrats and police officers, to map the unprecedented scale of the problem. Jammu and Kashmir's top police officer, Director General of Police Dilbag Singh, put it bluntly: it's worse than militancy.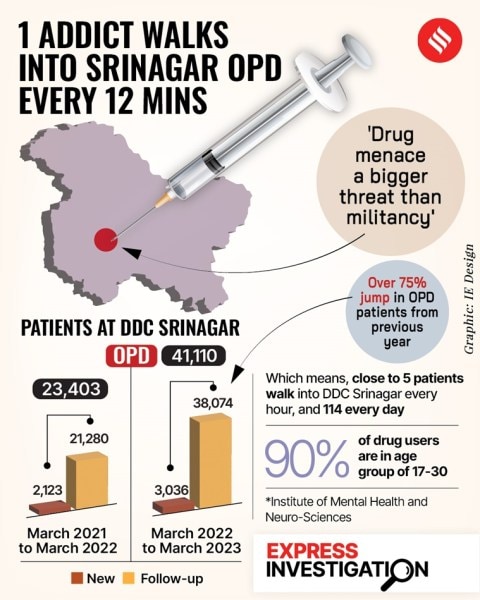 A comparative look at the number of new and returning patients at the De-addiction Centre in Srinagar between 2021-2023. (IE Graphics)
An investigation of official records reveals telling patterns:
* Over a year, the number of patients visiting OPDs in the Valley's largest District De-addiction Centre in SMHS Hospital, Srinagar, jumped 75% to 41,110 in the year-ending March 2023. In other words, one patient walked into the OPD every 12 minutes.
* In the last 18 months, eight of 10 districts in Kashmir Division got an Addiction Treatment Facility (ATF); of the remaining two districts, one (Kupwara) has a de-addiction centre and the other (Ganderbal) will have an ATF soon. Over this period, ATFs in five districts – Bandipora, Budgam, Shopian, Kulgam and Pulwama – have collectively treated 6,000 patients.
Also Read | Drug menace bigger threat than militancy, we're going Punjab way: J&K DGP Dilbag Singh
* Police records show that seizure of heroin has more than doubled to 240 kg in 2022 compared with 103 kg in 2019; three in four drug users in Kashmir consume heroin.
* In 2022, as many as 1,850 FIRs were filed by the police and 2,756 arrests made, both 60 per cent more than in 2019.
Also Read | Three years after creation, anti-drugs task force in J&K secures first conviction
* Drug usage is rampant among young males aged 15-30; the 2022-23 survey by the Institute of Mental Health and Neuro Sciences, Kashmir (Imhanks-K) in collaboration with J&K govt says 25% users are unemployed, but only 8% are illiterate; 15% are graduate, 14% intermediate, and 33% matric.
"The scale is alarming and grim particularly with young males being the predominant group taking to drugs. It is not just a problem, but an epidemic in our society," said Dr Yasir Rather, professor and in-charge of the Srinagar DDC, who led the survey team for Imhans-K.
Asked about the crisis and the way forward, Lieutenant Governor Manoj Sinha told The Indian Express: "We have immense focus on this issue … One, the supply chain for drugs should be demolished. Second is to increase awareness, and third to not treat the victim like a criminal and provide opportunities for rehabilitation. There are more arrests to target their networks, more cases, and we have also acted against those who may be in government. This will continue."
The task is cut out.
The Imhans-K survey's revelations are startling: during 2022-23, substance abuse in the Valley was as high as 2.87 per cent (of the population) and that of opioid dependence 2.23 per cent (of the population). Just four years ago, opioid prevalence in the whole of J&K (not just Kashmir) was just 1.5 per cent as per a 2019 Central government report on 'Magnitude of Substance Use in India'.
This was significantly lower than Punjab 2.8 per cent, Haryana 2.5 per cent, Delhi 2.3 per cent, and Himachal Pradesh 1.7 per cent – all states of similar size. "The drug problem in Kashmir has crossed a lot of alarming benchmarks," Dr Rather said.
Also Read | Smugglers now bringing drugs into Punjab through Jammu and Kashmir: Police official
Stigma to geography: range of factors
Experts point to a range of factors behind this: from lack of recreation in society to fewer jobs and financial stress; life in a conflict zone and its attendant uncertainties, boredom of lockdown during Covid-19 and, of course, the easy accessibility of heroin.
The Imhans-K survey – the first such that covered all 10 districts of Kashmir spearheaded by Rather with a team of 30 field supervisors and five project managers – showed that in all 10 districts of Kashmir put together, 67,468 individuals were seen with a "pattern of dependence on psychoactive substances" between March 2022 and March 2023.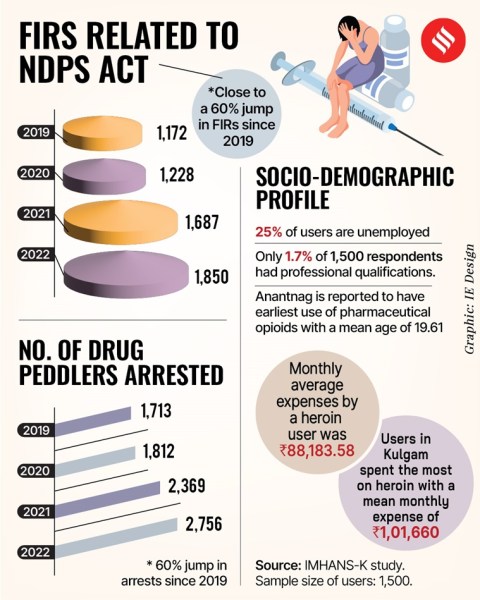 A socio-demographic profile of users in the valley shows that 25 per cent are unemployed. There has also been a steady uptick in the arrest of drug peddlers over the years. (IE Graphics)
What has perturbed psychiatrists and doctors in the Valley is that more than 90 per cent of all users are young men – with a mean age of about 28 years. Of the total prevalence, 52,404 (or 77.67 per cent) individuals consumed heroin.
If heroin is the most consumed drug, it is also the most expensive – average monthly spending by a user is a staggering Rs 88,183, according to the Imhans-K survey.
"The use of illicit drugs, heroin in particular, is increasing with every passing day. The cases of deaths due to overdoses are also increasing," said Dr Rather, head of the Drug De-addiction Centre (DDC) at SMHS Hospital, Srinagar.
A Deputy Commissioner of a district in J&K, who did not wish to be named, said, "There are an increasing number of bereavement posts on Facebook about young men in the 25-35-year age bracket dying of cardiac arrest. I know these are mostly cases of drug overdose. There is a stigma attached to it, and no family wants to speak much about it."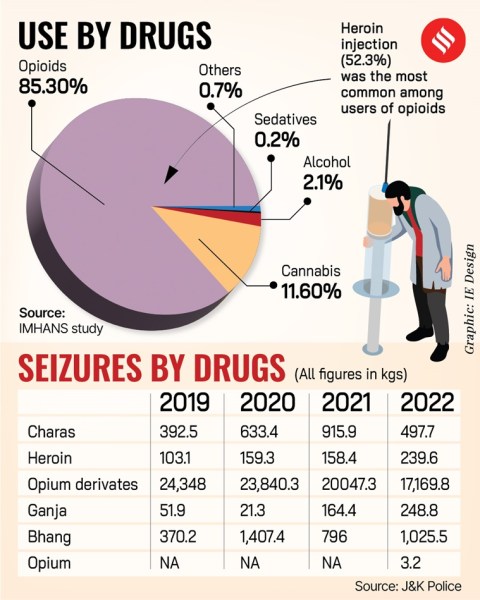 Heroin injection was found to be the most common among users of opioids, an IMHANS study found. (IE Graphics)
He points out that the DDC in SMHS Hospital, Srinagar, has a disproportionately large number of drug addicts visiting the OPD because those from other districts fear being recognised if they visit the ATF or the DDC in their home district hospitals.
According to Dr Rather, Kashmir is geographically located near the Golden Crescent and hence there is easy availability of heroin (Golden Crescent refers to illicit opium production areas in Iran, Afghanistan and Pakistan).
DGP Singh concurs and points out that heroin comes from across the Line of Control, and also poses a new problem of narco-terrorism. Moreover, since alcohol consumption is less in the Valley (predominant population is Muslim) due to the religious stigma associated with it, youth is using heroin as a coping and recreational mechanism.
"There was also an increase in consumption of heroin through injection compared with other modes of heroin use as it requires less quantity for the same effect," Dr Rather said.
Another reason is social. "Conflict brings uncertainties, trauma, financial stressors, lack of recreational facilities in society… somewhere, the conflict scenario in Kashmir has a role to play in this growing menace," said Dr Rather.
Shifts in drug use
Dr Sajid Wani, consultant at DDC Srinagar, said that over the last approximately eight years, use of opioids has become more prevalent with drugs "freely available in all parts of the Valley".
Cannabis was the preferred drug between 1984 and 2000, then a shift to the abuse of pharmaceuticals – painkillers such as tapentadol and tramadol, among others. "These were cases where prescriptions were handed out for pain management, but patients ended up developing dependency on those," Dr Wani said.
While dependency on pharmaceuticals prevailed in the Valley for about a decade, doctors and officials noted another switch around 2010: this time to opioids and hard drugs. "While painkillers cost Rs 450-500, heroin cost the user Rs 3,000-4,000 a gram. Around 2011 and 2012, the availability of heroin increased in the Valley, but we didn't have too many people seeking help – about two or three a day until about 2015," Dr Wani said.
The drugs recovered by the J&K Police – as it steps up efforts to clamp down on the availability of drugs since 2019 – also point to a fightback from the administration.
The main drugs in the market include heroin, cannabis, ganja, opium and buprenorphine (which is available through addiction treatment facilities). "It gets misused and is available in the black market," said a police source, adding, "Medicinal opiates like Tapentadol, other Tramadol preparations, and synthetic drugs have also started making inroads to Kashmir."
While in 2019, 392 kg of charas was seized across J&K, this increased to 497 kg in 2022. Recovery of heroin has more than doubled from 103 kg in 2019 to 239 kg last year. From about 51 kg of ganja recovered in 2019, the J&K Police last year seized over 248 kg of ganja, 1,025 kg of bhang and a huge quantity of prescription drugs.
One glimmer: increase in reporting
By 2019, the patients started coming in by the thousands a year to the point, when between March 2022 and March 2023, the DDC in SMHS Hospital in Srinagar saw over 38,000 follow-up patients and over 3,000 new patients.
The previous financial year, over 21,000 follow-up patients and 2,000 new patients had turned up at the DDC. Wani said nearly 75 per cent of the patients at the DDC are users of injected heroin, with many diagnosed with Hepatitis B, C and, and in some cases HIV.
He says the five doctors at the DDC see patients of all ages – "between 15 and 50, sometimes even older. However, adolescents remain the most vulnerable group".
Doctors say the increased number at the DDC also reflect greater awareness about drug addiction over the last two years. With drug de-addiction centres having come up in 8 of Kashmir's 10 districts, the stigma around addiction and seeking treatment has reduced to an extent. "Patients have slowly started coming in. Out of 100, about 60 are responding well to substitution therapy; with the others, of course, there is a chance of relapse."
Most Read 1Chandrayaan-3 mission: Dawn breaks on Moon, all eyes on lander, rover to wake up 2As Indo-Canadian relations sour, anxiety grips Indian students, residents who wish to settle in Canada 3Karan Johar says Sanjay Leela Bhansali did not call him after Rocky Aur Rani: 'He's never called me but…' 4Gadar 2 box office collection day 40: Hit by Shah Rukh Khan's Jawan onslaught, Sunny Deol movie ends BO run with Rs 45 lakh earning 5Shubh's tour in India cancelled: Why is the Canada-based singer facing the music?
Dr Fazle-e-Roub, another consultant at the Srinagar DDC, said until 2016, there was one doctor for patients struggling with substance abuse and no separate OPD. "Now there are five doctors and remarkable support from the administration," he said. Other than Ganderbal and Kupwara, all other districts in Kashmir have such centres, called Addiction Treatment Facilities or ATF, with OPD facilities. "In one day, we see about 250 patients," he said.
At one of the hospital beds at the Srinagar DDC, the mother of a 40-year-old patient said she has been bringing her son for treatment because she trusts that one day, he will kick his habit.
Also ReadIE100: The list of most powerful Indians in 2021FinCEN Files — On US radar: Dawood Ibrahim's financier, his laundering, f…Drug menace bigger threat than militancy, we're going Punjab way: J&K DGP…After 'downgrade' last year, MEA sent Speaker's office talk points on dem…
Her son drives a public transport vehicle between different districts in North Kashmir. Many of his driver friends are addicted to drugs, she says. "His father does not come with us to the hospital, but I will never stop trying," she said.
This is the third time he has relapsed.
(With inputs from Bashaarat Masood)
© The Indian Express (P) Ltd