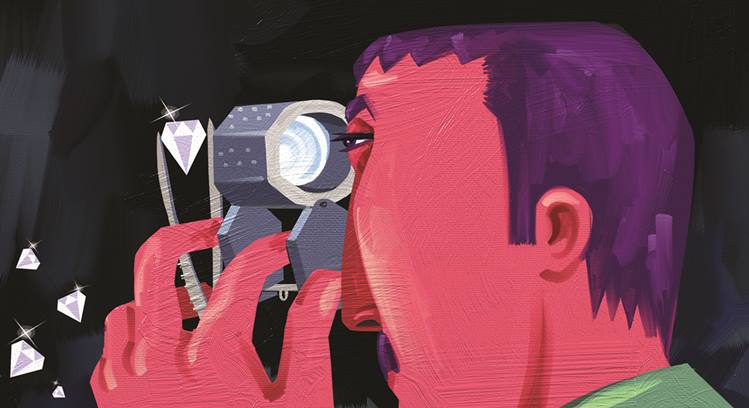 Illustration: C R Sasikumar
Indian diamond merchants whose names figured in previous lists of accounts in Liechtenstein, British Virgin Islands and HSBC Geneva — all three were investigated and first reported by The Indian Express — have surfaced again in the Panama Papers.
In the Mossack Fonseca files, there are at least 24 offshore companies linked to the Rosy Blue conglomerate and these are shown to have been registered in the tax havens of British Virgin Islands, Seychelles, Anguilla and Mauritius.

Also read | Panama Papers: BJP assures 'stringent action'
Among the first diamond cutters and polishers to migrate and establish themselves as manufacturers and exporters in the Belgian city of Antwerp, the Rosy Blue clan is now acknowledged as one of the largest diamond traders worldwide.
WATCH| Panama Papers: How Mossack Fonseca Helped Stash Away Billions Of Dollars
According to the documents, one of the companies, Prime Line Middle East Inc, was liquidated in December 2014. Most companies were registered by Harshad Ramniklal Mehta, with a capital of $50,000 each, between 2004 and 2008. Rosy Blue is listed as "client" of most companies.

Also read | Ministry of Finance response to Panama Papers leak
From the documents, a clear pattern emerges: one company is listed as the principal shareholder of another. For example, Urizen Shipping Limited and Union Care Investments Ltd — the second is listed as a shareholder of the first. Another company, Blossom Agro Limited, is shown as shareholder of Union Care Investments Ltd, and Fourth Dimension Investment Holding company is the shareholder of Urizen Shipping Limited.
Read More
Panama Papers: 424 names in probe, 49 are by Enforcement DirectoratePanama Papers: 424 under probe, India gets data on 165 cases with links to offshore firmsPanama papers: SC to hear plea seeking court monitored CBI investigationPanama Papers: Lahore HC rejects plea seeking PM Nawaz Sharif's removalPanama Papers: 415 Indians under scanner as probe widens
The files mention Amic Mining Management Holdings Limited, set up in 2004 in the British Virgin Islands for undertaking prospecting/exploration of diamond mining in Luanda in Angola. The agreement for the project was between a South African firm and Rosy Blue FZE (another offshore company with this name exists in the Mossack Fonseca files and is among the 24 companies mentioned).
The shareholders of Amic Mining are six other Rosy Blue companies, including Rosy Blue FZE. Dilip Mehta, one of the brothers at the helm of Rosy Blue, is among the directors.
Watch | Panama Papers: Big Names In The Global List
In March 2012, internal emails of Mossack Fonseca record objections on two of the directors of Amic Mining Management Holdings Limited. The first: a set of negative media reports on Dilip Mehta, how he was under investigation in India  for alleged money laundering and how members of the Rosy Blue family had been named in the Liechtenstein list of account holders.
The second objection, according to the documents, was on Amic Mining shareholder and Antwerp resident Mozes Victor Konig who had been placed on an Interpol "wanted" list. Subsequent emails show that to stop Mossack Fonseca from resigning as the registered agent of the company, Konig is first removed as a shareholder and later Amic Mining Management Holdings Limited is liquidated.
The emails also reveal the anxiety within Mossack Fonseca. For instance, in the case of negative media reports cited in the case of Dilip Mehta, an official of Mossack Fonseca writes, "please advise what is the next step, should we approach the professional client we are dealing with, they are pretty much big company and we know them for quite a bit of time…"
Also read | Arun Jaitley responds to Indian Express story, says 'such adventurism extremely costly'
Another email records: "the client is a well known company in the UAE, in fact they are the largest diamond company in the world, at the same time they are pretty much big company and we dont want to lose them…"
Documents on the 24 companies show that Harshad Ramniklal Mehta is associated with the largest number of these offshore entities and his son, Rihen Mehta, is added as director in some of them. While an address in the UAE is given for Harshad Ramniklal Mehta in the documents, his passport has his Malabar Hill, Mumbai address.
Another company linked to Rosy Blue is Skytrack Investments Limited, registered in Anguilla. It has been put in a  Mossack Fonseca shortlist of "companies with risky activities". A noting states that the company holds commercial/industrial/residential real estate in UAE and may invest in fixed income securities, both onshore and offshore, and may also invest equity in manufacturing companies.
Chetan Mehta of the Belgium-based Gembel family — his names figured in the HSBC Geneva list — also pops up in the Panama Papers. He is the son of Prabodh Kirtilal Mehta whose father Kirtilal founded Mumbai's Lilavati Hospital and the Gembel Group.
The documents link Chetan Mehta to Pearly International Inc and Tornbell Management, both registered in 2000. In March 2012, Mossack Fonseca is informed that the client wants to wind up the companies. These are struck off the records in 2014.
The Mossack Fonseca documents highlight the offshore network of these diamond traders who have also figured in other black money trails. In the very first "black money" list, which surfaced in India in 2008 after a former employee of the LGT Bank in Liechtenstein handed over a list of 1,400 account holders to German tax authorities, 26 were Indian names and were handed over to Indian authorities.
Leaving aside NRIs, prosecution proceedings were launched against 18 account holders whose balances totalling Rs 39.6 crore had been put away in trusts in the bank between 2002 and 2004. The Indian Express published the list first in June 2011.
Also read |10 members of KP Singh's DLF family, three BVI firms
The 18 names were finally submitted to the Supreme Court in 2014 after prosecutions had been launched. Among the 18 names was Harshad Ramniklal Mehta who was described in the Liechtenstein data as Chairman of Rosy Blue FZE and a 12 per cent owner of the terminated IPL team Kochi Tuskers. His assessed (undeclared) income was shown as Rs 5.36 crore and penalty imposed Rs 3.07 lakh.
Another member of the clan, Arun Ramniklal Mehta, co-founder of Rosy Blue, was shown to have an identical undeclared income. They were shown as having deposited the money in the LGT Bank in two trusts: the Dianese Stiflung Trust and the Dryade Stiflung Trust.
Watch | Explained: What Do The Panama Papers Reveal
Six members of the Rosy Blue family also figured in the HSBC Geneva list with a collective bank deposit (for the year 2006-2007) of $53.63 million (Rs 332.50 crore). The HSBC list has family members of Harshad Ramniklal Mehta, Dilip Mehta and Russell Mehta. They are shown in the HSBC documents as beneficial owners of White Cedar Investment and Rosy Blue FZE. Harshad Ramniklal Mehta's wife, Naina, and his son, Rihen, are among holders of the HSBC Geneva accounts.
Most Read 1Kiran Kumar says his 'B and C-grade films' paid for dream house: 'Pillars alone cost Rs 44 lakh' 2India vs Pakistan: When Javed Miandad hosted Kiran More for dinner that ended 3 am and Manoj Prabhakar learnt reverse swing from Sarfraz Nawaz at a party 3Sonakshi Sinha says Salman Khan started laughing when he heard her first salary was Rs 3000: 'He said buy me a gift' 4'Alia Bhatt threatened to block my number if…': Jaideep Ahlawat says working on Meghna Gulzar's Raazi gave him nightmares 5Colonel facing probe for pilfering diesel accuses Army of ordering new inquiry after he revealed his defence
Also read | Indians in #PanamaPapers list: Aishwarya Rai, Amitabh Bachchan, KP Singh, Iqbal Mirchi, Adani elder brother
Members of the Gembel family, mostly based in Belgium, also figured in the HSBC list. Four of them collectively have a 2006-2007 balance of $6.8 million (Rs 42.16 crore) with four companies registered by them. The account holders are brothers Prabodh Kirtilal Mehta and Rashmi Kirtilal Mehta and their sons, Chetan Mehta and Bhavin Mehta.
Also ReadVeil lifts: Big-ticket defaulters at home have millions stashed abroadIE100: The list of most powerful Indians in 2021Since 2014, 4-fold jump in ED cases against politicians; 95% are from Opp…#PanamaPapersIndia Part 2: Politician, industrialist, jeweller
Harshad Ramniklal Mehta did not respond to calls or queries sent on email. Chetan Mehta said he has been an NRI and has been living in Belgium. "I am an NRI. Besides, these companies have closed down several years ago," he said.