Eyes are one of the first features that people tend to notice in others. They don't just help us see things around us but also help us make sense of the world we live in. As one of the important sensory organs, it is fascinating to delve more into how all of us have a particular eye colour and why some of us have blue ones.
According to trivia, all babies are born with blue eyes. Is that true?

As part of our Know Your Body series, we decided to learn more about this piece of information.
According to 100 weird facts about the human body compiled by Christina Laun, babies are always born with blue eyes. It further suggests the colour of your eyes depends on the genes you get from your parents, but at birth, most babies appear to have blue eyes.
"The reason behind this is the pigment melanin. The melanin in a newborn's eyes often needs time after birth to be fully deposited or to be darkened by exposure to ultraviolet light, later revealing the baby's true eye colour," said Laun's analysis.
Intrigued by this, we decided to ask our in-house experts.
While it is a common belief that babies are always born with blue eyes, the reality is more nuanced, stressed Dr Khushali Lalcheta, Consultant Physician, HCG Hospital, Rajkot. Dr Lalcheta said the colour of a baby's eyes at birth can vary, and a combination of genetic factors and melanin production indeed influences it.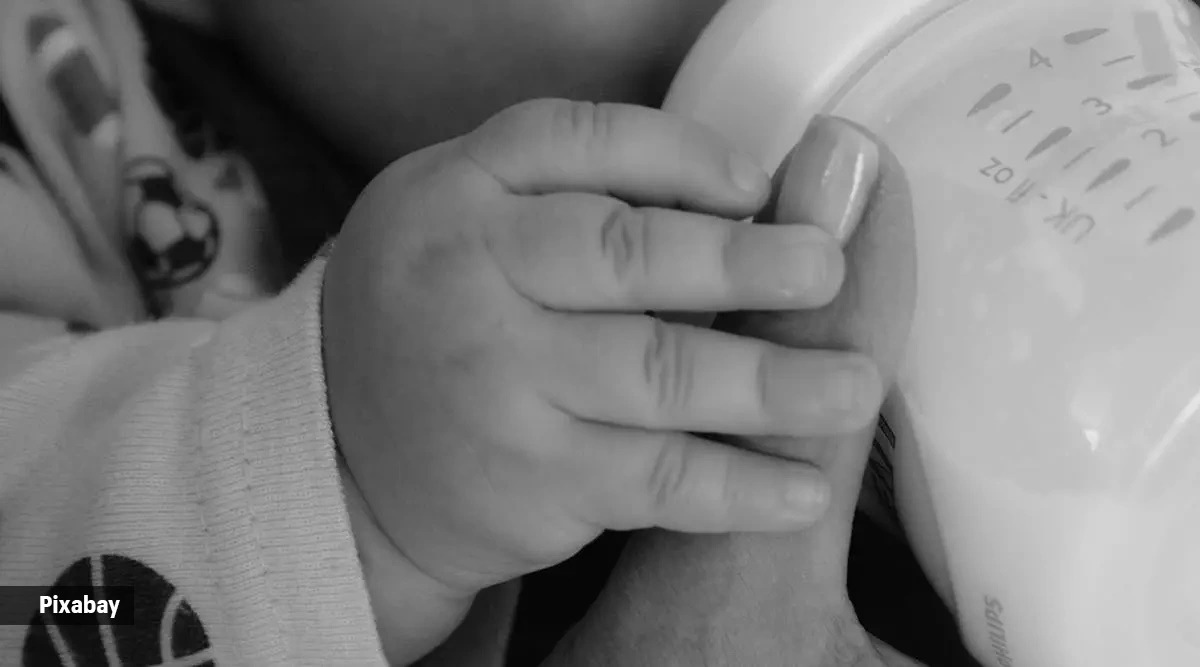 Find out more about newborns and their eye colour (Source: Pixabay)
"At birth, a baby's irises may appear blue due to the scattering of light by the transparent layers of the iris. This occurs because melanin, the pigment responsible for eye colour, is not fully developed at that stage. Over time, as melanin production increases, the eyes may gradually transform in colour," noted Dr Lalcheta.
"Genetics plays a significant role in determining eye colour. The genes inherited from parents determine the type and amount of melanin produced in the iris. While blue eyes are more commonly associated with individuals of lighter skin tones, it's important to note that eye colour is a complex trait influenced by multiple genetic variations. Even parents with blue eyes can have a child with brown eyes if certain genetic combinations are present," she added.
Saying it is a myth that all babies are born with blue eyes, Dr Teena M Mendonca, Consultant, Paediatric Ophthalmology, KMC Hospital, Mangalore, said the colour of one's eye is determined by that of their iris, which is pigmented due to melanin.
Most Read 1Chandrayaan-3 mission: Dawn breaks on Moon, all eyes on lander, rover to wake up 2As Indo-Canadian relations sour, anxiety grips Indian students, residents who wish to settle in Canada 3Karan Johar says Sanjay Leela Bhansali did not call him after Rocky Aur Rani: 'He's never called me but…' 4Gadar 2 box office collection day 40: Hit by Shah Rukh Khan's Jawan onslaught, Sunny Deol movie ends BO run with Rs 45 lakh earning 5Shubh's tour in India cancelled: Why is the Canada-based singer facing the music?
"Children born with light coloured iris due to very little pigment have light blue/greenish eye colour. However, the iris colour may change as the child grows over a few years because of more pigment production by melanocytes," added Dr Mendonca.
"Some babies have slight bluish sclera due to the presence of thin sclera at birth. This appearance is normal, and it is not suggestive of any disease. However, the yellowish appearance of the sclera in the neonatal period suggests jaundice, and may need appropriate care."
Also ReadWhat happens to the body if you eat yoghurt every day?What happens to the body if you eat dried fruits every day?What happens to the body when you give up milk for a month?Peeled vs unpeeled apple: Which is better for your health?
📣 For more lifestyle news, follow us on Instagram | Twitter | Facebook and don't miss out on the latest updates!
© IE Online Media Services Pvt Ltd