The golden spice 'saffron' is one of the most expensive spices as it can take 75,000 saffron blossoms to produce a single pound of saffron spice. It is rich in flavour and is used both in sweet and savoury dishes to enhance its taste. However, saffron also comes with incredible health benefits, one of them being a natural antidepressant.
"There have been a number of studies examining the potential antidepressant effects of saffron. Some of these have found that saffron supplementation can improve symptoms in people with mild to moderate depression, often to a similar degree as conventional antidepressant medications," Pratiksha Kadam, Consultant, Dietitian, Kokilaben Dhirubhai Ambani Hospital Navi Mumbai told indianexpress.com.

Why is saffron a natural antidepressant?
Saffron contains bioactive compounds, including crocin, safranal and picrocrocin, which are believed to contribute to its antidepressant effects. These compounds have been shown to modulate certain neurotransmitters in the brain, such as serotonin and dopamine, which play crucial roles in regulating mood.
"A meta-analysis published in the Journal of Integrative Medicine in 2020 examined 21 clinical trials involving over 1,500 participants and concluded that saffron supplementation had a significant antidepressant effect compared to a placebo. The studies reported improvements in depressive symptoms, including reductions in anxiety and sleep disturbances," N Lakshmi, Senior Dietician, Kamineni Hospitals, Hyderabad told indianexpress.com.
Health benefits of saffron
In addition to its potential antidepressant properties, saffron has also been studied for its antioxidant, anti-inflammatory and cognitive-enhancing effects. Below are various health benefits of saffron as shared by Dr Eileen Canday, HOD, Nutrition and Dietetics, Sir H N Reliance Foundation Hospital, Mumbai.
1. Powerful antioxidant: Saffron contains an impressive variety of plant compounds. These act as antioxidants — molecules that protect your cells against free radicals and oxidative stress. Safranal, found in saffron, gives it a distinct taste and aroma. Research shows that it may help improve your mood, memory and learning ability, as well as protect your brain cells against oxidative stress.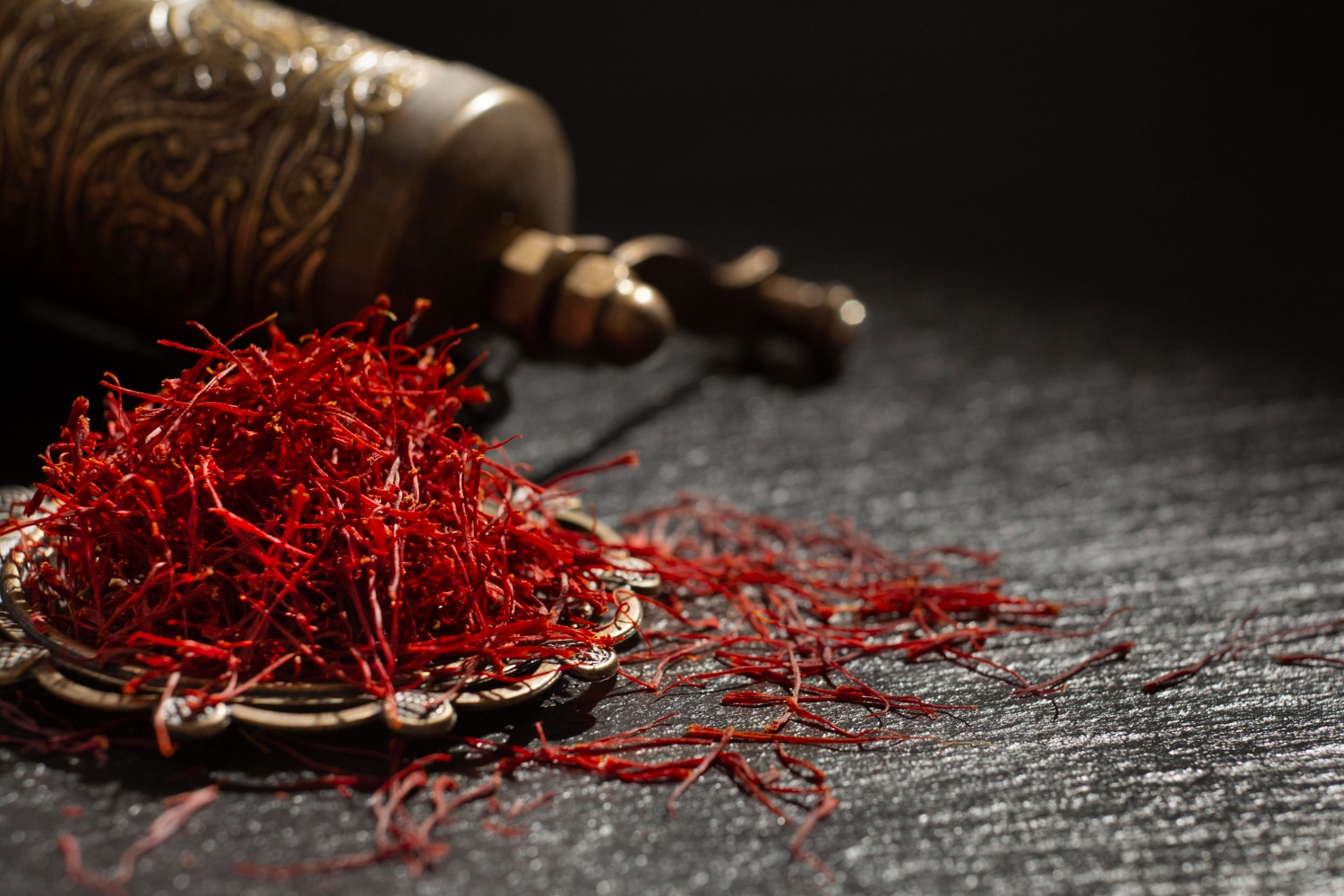 Both eating and smelling saffron appears to help treat PMS symptoms, such as irritability, headaches, cravings, pain, and anxiety and may help lower levels of the stress hormone cortisol. (Pic source: Freepik)
2. May improve mood and help in depressive symptoms: The sunshine spice is how people refer to saffron. According to studies, the crocus plant's safranal and crocin chemicals may have antidepressant benefits through maintaining stable levels of dopamine, norepinephrine and serotonin.
3. Reduce PMS symptoms: Both eating and smelling saffron appears to help treat PMS symptoms, such as irritability, headaches, cravings, pain, and anxiety and may help lower levels of the stress hormone cortisol.4. Act as an aphrodisiac: Aphrodisiacs are substances or foods that help increase libido. Saffron may have aphrodisiac effects, especially in those using antidepressants, according to studies.
Things to keep in mind
It is worth noting that saffron should not be considered a standalone solution for depression or other mental health conditions. "It is best utilised as part of a holistic approach that includes a balanced diet, regular exercise, adequate sleep, stress management techniques, and professional support when needed," explained N Lakshmi.
Most Read 1Chandrayaan-3 mission: Dawn breaks on Moon, all eyes on lander, rover to wake up 2As Indo-Canadian relations sour, anxiety grips Indian students, residents who wish to settle in Canada 3Karan Johar says Sanjay Leela Bhansali did not call him after Rocky Aur Rani: 'He's never called me but…' 4Gadar 2 box office collection day 40: Hit by Shah Rukh Khan's Jawan onslaught, Sunny Deol movie ends BO run with Rs 45 lakh earning 5Shubh's tour in India cancelled: Why is the Canada-based singer facing the music?
When using saffron, remember that a little goes a long way. This spice is very potent, and using too much can overpower the flavour of your food. It's also quite expensive, so using it sparingly can help you get the most out of each purchase.
ALSO READ | Experts on whether it is possible to 'overcome depression without medication'
"High doses of saffron can be toxic, so it's important to stick to culinary amounts when adding it to your food. If you're considering taking saffron as a supplement, be sure to talk to your healthcare provider first," concluded Kadam.
Also ReadWhat happens to the body if you eat yoghurt every day?What happens to the body if you eat dried fruits every day?What happens to the body when you give up milk for a month?Peeled vs unpeeled apple: Which is better for your health?
📣 For more lifestyle news, follow us on Instagram | Twitter | Facebook and don't miss out on the latest updates!
© IE Online Media Services Pvt Ltd