'At Home in Delhi' is a five-part series exploring Delhi beyond its monumental architecture, taking a close look at the everyday structures and features that make the city unique. Beginning with the age-old havelis, the series will move on to Art Deco homes, DDA housing, industrial housing, and lastly we come to modern housing.
If one were to describe a home in eighteenth-century Delhi, the answer would perhaps be this: A haveli (mansion) with an aangan (courtyard), elaborate door frame, and intricately carved balconies. After Independence, these age-old havelis made way for DDA flats to accommodate Delhi's growing middle class.

Now, these havelis or colonial bungalows, single-floor family homes, and DDA flats of the 1950s and 60s have made way for what is popularly called "builder floors" and multi-storey buildings in much of Delhi and the National Capital Region (NCR).
"The idea that several generations will live in the same house is a thing of the past. People want infrastructural upgrades every few months. The lifespan of a house is 10 years maximum", says Harish Kumar, a builder in south Delhi's Malviya Nagar.
At Home in Delhi I | The rise and decline of the havelis
New Delhi is among the most densely populated cities in the world and there is both excitement and concern about the current pace, planning and style of residential buildings in the national capital. A monotonous "global" style of building now dominates new construction in major cities of the world, including Delhi, often making them look homogenous. The result is a loss of sense of place and belonging, transforming a city into a mere space and not a place of belonging.
Planning changes
A report published in 2015 by the Delhi Urban Environment and Infrastructure Improvement Project (DUEIIP), a collaboration between the Planning Department of the GNCTD and the Ministry of Environment and Forest, said that only 23.7 per cent of the national capital's population lived in planned colonies.
Manas Murthy, a doctoral candidate in Architecture at the University of Oregon, in his 2023 paper analyses three historic planning regimes in Delhi — colonial regime, post-independent, and post-liberalisation. He argues that a "tradition" has emerged where a rationalist planning model is followed, abandoned quickly when these regimes fail to control informal growth and replaced by a newer model (which fails once again). Each of these regimes has then given birth to newer forms of built structures and neighbourhoods. The current housing typology results from the post-liberalisation forces that led to both vertical and horizontal densification (Floor area ratio or FAR) in planned colonies.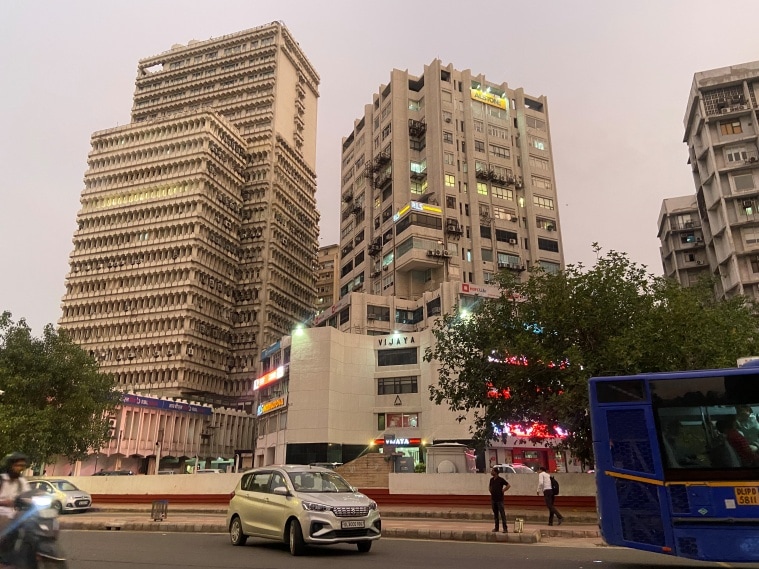 The current housing typology results from the post-liberalisation forces that led to both vertical and horizontal densification (Floor area ratio or FAR) in planned colonies. (Ekta Chauhan)
With a surge in commercial activities and land prices and an increase in the use of personal vehicles, single-family homes gave way to builder floors which functioned as multi-unit apartment complexes. The 'builder floor' residential typology is a result of a 2011 order by the Municipal Corporation of Delhi (MCD) mandating the inclusion of a floor dedicated to parking in all proposals for the redevelopment of individual residential plots.
The construction of such houses also depends on building materials in demand. As Kumar points out, "We have to make standard houses that sell fast. For example, the trend these days is grey or black outer walls. If the customer wants that, I have to make it. Pehle sab apni family ka comfort dekhte hai, phir social issues. Woh sarkar ka kaam hai (Everyone first wants to ensure their family's comfort. Social issues are for the government to take care of)."
Also from the series | Delhi's every 'just another old building' could be an Art Deco gem
Murthy argues that by the 1970s, experts were already talking about the issues related to urban planning and mobility in a city like Delhi. This was followed by the official policies embracing the transit-oriented development or TOD model of urban development that focuses on making public transport readily available to commuters and addressing the city's parking crisis by creating incentives for the use of public transport. The first major TOD-based settlement is planned in Kadkardooma and is expected to be launched in 2024.
However, failure to keep up with the principles of TOD is already visible in projects such as the East Kidwai Nagar project (built by the National Buildings Construction Corporation), which underestimated traffic generation and has added to the area's congestion. A major problem with such projects remains that they are located in the core of the city populated by high-income groups who are unlikely to use public transport instead of being on the periphery where improved connectivity may serve the mobility needs of the masses. On the other hand, the low-income areas and the peripheries continue to be neglected and continue living in unauthorised colonies, jhuggi jhopri clusters and urban villages characterised by haphazard buildings and chaotic utilisation of space to maximise living area.
Environmental impact
Riya (32), who works in an IT firm and grew up in her ancestral haveli in Kamla Nagar talks about the differences between her old home and her new, third-floor apartment in the same area. "I agree that summers were milder in the 90s. Still, even when the temperature did reach 40 degrees, we could comfortably live with a fan or a cooler. But now we are using ACs as early as February, sometimes when the temperature is still around 30 degrees. The main reason is these huge glass windows that heat up quickly and then make the house feel like an oven," she says.
Homeowners, builders, and environmental scientists continue to be divided on the use of glass for the construction of homes. Glass doors and windows create a sense of open space, allow natural light to travel through your room, and keep dust and insects outside. However, this design element comes at a cost. A study by IIT-Delhi found that energy use increases with the increase in glazed area, irrespective of glass type, climate or orientation of the building. This is because glass traps heat. This works in countries with a cold climate, but in a tropical nation like India, it increases the energy bill.
Do not miss | How DDA built the middle class dream and shaped modern Delhi
"Glass facades is a synonym to modern, developing cities all over the world and is used most extensively post Industrial Revolution, especially in commercial buildings because of ease of availability and installation, being lightweight, to achieve optimum daylight and vision," says Kakoli Bhattacharya, Principal Architect, flYingseeds Design Studio, adding that "most designs of commercial structures are adorned with highly reflective glass to deflect the sun, but this creates a 'hotspot effect' in the surrounding, resulting in more heated pavements and parking lots". The worst effects of climate change and related heatwaves, as a result, are then transferred to the most marginalised citizens, such as construction workers and the homeless.
A study by IIT-Delhi found that energy use increases with the increase in glazed area, irrespective of glass type, climate or orientation of the building. (Ekta Chauhan)
For a city like Delhi which receives 2,856 hours of sunlight annually, there is, therefore, a need to design buildings that are climatically responsive and optimise dependence on active (natural) energy.
Effects on well-being
A shift towards modern housing, particularly the increase in high-rise apartments and gated communities in Delhi and other Indian cities, has also contributed to feelings of isolation and a loss of community. These housing structures often prioritise privacy and individual living spaces over communal areas, limiting opportunities for social interaction and fostering feelings of loneliness.
It can also be argued that rapid urbanisation and the associated changes in housing structures are happening in the context of a broader societal shift in India, with traditional joint family structures giving way to nuclear families. Amrita (29) who lives with her husband in a gated society in Gurgaon, explains, "Families have traditionally provided an emotional and social support system. Traditional neighbourhoods like chowks also facilitate meeting your neighbours over evening walks or festivals. Back at home (in Madhya Pradesh), we could look over our boundary wall and talk to our neighbours. Here we have to travel at least 30 minutes by car to meet our friends in cafes". She points out how even though she loves her three-bedroom apartment, there is a feeling of "being trapped in a matchbox-like building" that can get to you at times.
A 2017 article in the BBC explained how "urban living can change brain biology in some people". A 2013 study conducted by Colin Ellard, Director of the Urban Realities Laboratory at the University of Waterloo, on the psychological impact of design and cities, says that people's moods and mental health are impacted by building facades. When the research participants walked through New York wearing medical devices (bracelets) that monitor skin conductance (a marker of physiological arousal), it was observed that if the façade is complex and interesting, it positively affects people; negatively, if it is simple and monotonous. Another study says that people find street scenes with architectural variations more mentally engaging and stimulating, thus making a case for "psychologically sustainable urban residential environments".
Also read | Living in the peripheries: The ignored industrial housing of Delhi
Another concern associated with rapid urbanisation is the loss of urban green spaces. Though Delhi's tree cover has increased over the years (from 129 sq km in 2019 to 147 sq km in 2021), there are concerns that there has been a significant reduction of tree cover in the city's core. Researchers now argue that the "visual complexity of natural environments acts as a kind of mental balm" and cities with equitable access to green spaces perform well on health parameters.
City of belonging
Architect Michael Fry in his paper Globalization and Placeless Architecture argues that "technological advances such as electric lighting and air conditioning, as well as the physical ability to flatten a site (as opposed to engaging with its natural topography), have had an enormous effect on the spread of placeless aesthetic championed by the pioneers of the Modernist movement."
Most Read 1Chandrayaan-3 mission: Dawn breaks on Moon, all eyes on lander, rover to wake up 2As Indo-Canadian relations sour, anxiety grips Indian students, residents who wish to settle in Canada 3Karan Johar says Sanjay Leela Bhansali did not call him after Rocky Aur Rani: 'He's never called me but…' 4Gadar 2 box office collection day 40: Hit by Shah Rukh Khan's Jawan onslaught, Sunny Deol movie ends BO run with Rs 45 lakh earning 5Shubh's tour in India cancelled: Why is the Canada-based singer facing the music?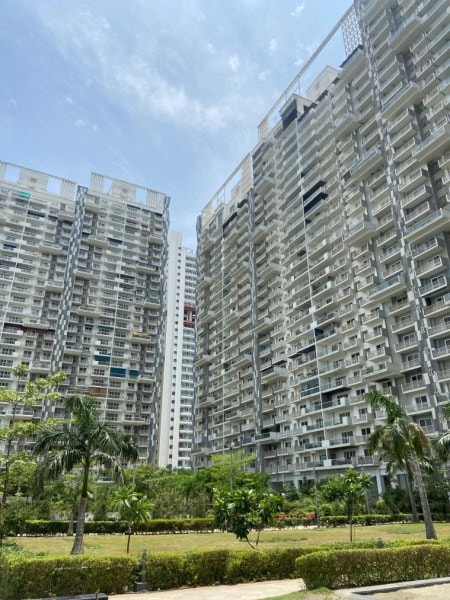 A shift towards modern housing, particularly the increase in high-rise apartments and gated communities in Delhi and other Indian cities, has also contributed to feelings of isolation and a loss of community. (Ekta Chauhan)
For Delhi, it is then truly ironic that "dictates of modernism" cannot provide it with architectural and urban planning solutions that can incorporate the social, cultural and environmental needs of the city. A major impact of liberalisation on the city was the real estate boom and the resultant commodification of houses. Architecture then becomes a matter of "quantity and numbers the amount of area covered, the number of rooms enclosed".
The problem with the current "global" style, then, is that it is a style devoid of any connection to a particular location. This style could belong anywhere and yet belongs nowhere, employing materials that fail to capture or reflect the local life and landscape. The changes in the houses of 21st century Delhi were accurately predicted by the Swiss-French architect Le Corbusier almost a century ago: "A house will no longer be this solidly built thing which sets out to defy time and decay … it will be a tool as the motor car is becoming a tool."
Also ReadThe many arguments for, and against, abortion rights How Lord Ganesha is celebrated outside IndiaKashmir when India got independence: Neither here nor thereHow Thakurs have dominated UP politics since Independence
Further readings
1. Fry, Michael. Globalisation and 'Placeless' Architecture.2. Sabikhi, Ranjit. A Sense of Space, The Crisis of Urban Design in India. Collins India. 20193. Chakravarty Surajit & Negi Rohit , Space, Planning and Everyday Contestations in Delhi, Springer New Delhi, 2016