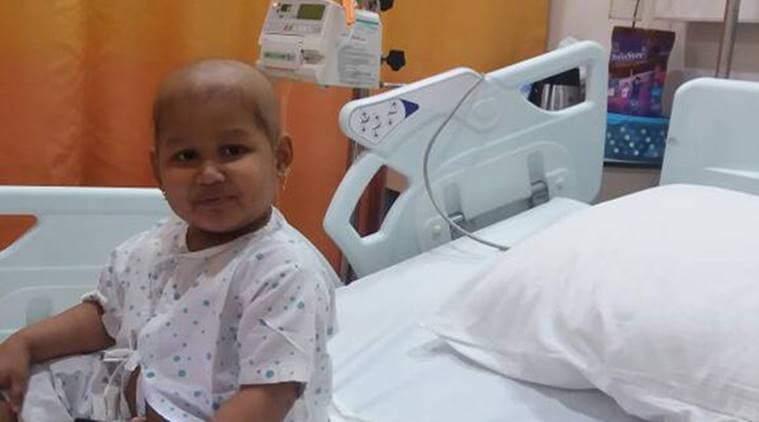 Please help us pay for her BMT by logging on to Ketto.org.
Every evening when Aadya watches children in the neighborhood play, my heart breaks. My daughter too was once an energetic presence rushing about. I know that Aadya longs to join them.
It started after Aadya's second birthday. She got high fever and rashes all over. The local doctor called it skin allergy and prescribed medicines. The fever persisted, and we sought another medical opinion.

The diagnosis was devastating. B – Cell Acute Lymphoblastic Leukaemia – a cancer that affects the immune system. Our only hope now lies in the contributions of caring strangers through ketto.org.
B – Cell Acute Lymphoblastic Leukaemia. Big sounding medical terms that we knew nothing about, but by the look on the doctor's face, clearly it was serious.
Acute lymphoblastic leukemia affects, breaks down the body's ability to fight diseases. The cancer starts in the bone marrow, where new blood cells grow. These cells grow very fast and the bone marrow's capacity to make normal cells is reduced.
The doctor said Aadya needed treatment immediately, or else the cancer would spread. From March to December 2016, she was under the care of Dr. Shweta Bansal at the Sir H.N.Reliance Foundation Hospital and Research Centre in Mumbai. Ten months is a long time for a grown person. To watch our only child suffer through so many blood tests and chemotherapy treatments was very painful and difficult.
After ten months, the treatment ended and we were full of hope that Aadya would begin to recover. Then just four months later, in April 2017, we got the terrible news that the leukemia had relapsed. Since then, Aadya has been visiting the hospital for chemotherapy and tests, every 15-30 days.
Today Aadya is three years old and it hurts us to see her childhood being taken away. She barely eats, feels tired and weak all the time, and gets bruised easily. Even the slightest exposure to infection can be dangerous so we mostly keep her at home. She has missed many days of school and plays indoors. Any exposure to dust is dangerous so we have to make sure that her clothes, food, and toys are kept dust-free at all times.
Aadya's hope is a Bone Marrow Transplant, which costs a staggering Rs 25 lakh. We have started a fundraising page with ketto.org, counting on people's sense of humanity to help us with this life-saving surgery.
So far we have spent Rs 15 lakh on Aadya's chemotherapy treatments, medications, and hospital visits. I am a housewife and my husband earns Rs 25,000 working as a back office employee. We are completely dependent on his salary and had to raise the money for the treatment by taking loans, borrowing from family members and friends and through insurance. All that we have managed to raise until now has been used up in the treatment.
A Bone Marrow Transplant surgery will replace Aadya's damaged bone marrow with healthy bone marrow stem cells, enabling her to lead a normal, healthy life. Her father is a matching and willing donor but we need to put together Rs 25 lakh in the next one month. We have no means of raising that kind of money.
For Aadya to survive, that operation has to be done in one month's time. For over a year now, Aadya has been fighting a tough, long battle. Now there is hope that this operation will finally end her nightmare and lead to that one final miracle when we can take our baby home.
Most Read 1Chandrayaan-3 mission: Dawn breaks on Moon, all eyes on lander, rover to wake up 2As Indo-Canadian relations sour, anxiety grips Indian students, residents who wish to settle in Canada 3Karan Johar says Sanjay Leela Bhansali did not call him after Rocky Aur Rani: 'He's never called me but…' 4Gadar 2 box office collection day 40: Hit by Shah Rukh Khan's Jawan onslaught, Sunny Deol movie ends BO run with Rs 45 lakh earning 5Shubh's tour in India cancelled: Why is the Canada-based singer facing the music?
We have started a fundraising page with Ketto.org in Aadya's name, in the hope that people will come forward and help us raise the funds for this surgery.
Please help us pay for her BMT by logging on to Ketto.org.
Help us to bring Aadya home.
Also ReadSponsored: 15 Awesome Things to Do in Kuala LumpurNeed money urgently? A personal loan for emergency can helpLivspace Reviews: A One-Stop Shop for Home Interior NeedsWhat happens to the body if you eat yoghurt every day?
No Indian Express journalists were involved in producing this article. This article has been produced by social sustainable crowd funding site Ketto.