The signs that emitted from Manchester City's season opener was so powerful that there would be neither shock nor shudder, if they were to stack a fourth straight title by the end of the season. But the club, shimmering in success, shall no longer be judged on the number of titles, or the points they would accumulate or the domination that they would continue to wield, or the records that wink at them.
The talks of a treble repeat, or a quadruple of septa would all rage in the backdrop, but essentially it would be about how this iteration of Manchester City would be, of their shape and form, of their layers and sublayers, of the new Pep Guardiola experiment, of the new streak of revolution, of how City would continue defining the game, almost shaping the game in the manager's ideals. He is not so much of a tinkerer as he is an alchemist, a pure football romantic not deluded by a single vision, rather an exploder of ideas and possibilities.

The real thrill of watching City is not merely about them crushing their opponents or racking up points and silverwares, but the journey itself. That is a hallmark of Guardiola's teams, beneath their outrageous success is the triumph of an idea or an ideal, a thought or a tactic. There is something profound at play, so much so that accumulating trophies is not a mechanical process but the byproduct of an expression, of a method, or a philosophy. Often, he is accused of excessive tweaking and shuffling, but it has assured that there is something novel about every successful team of his. Not for his teams, the tedium or repetition. Instead, he renews, repurposes and retools his sides, as though the repetitiveness of tried, tested and proven formula angers him.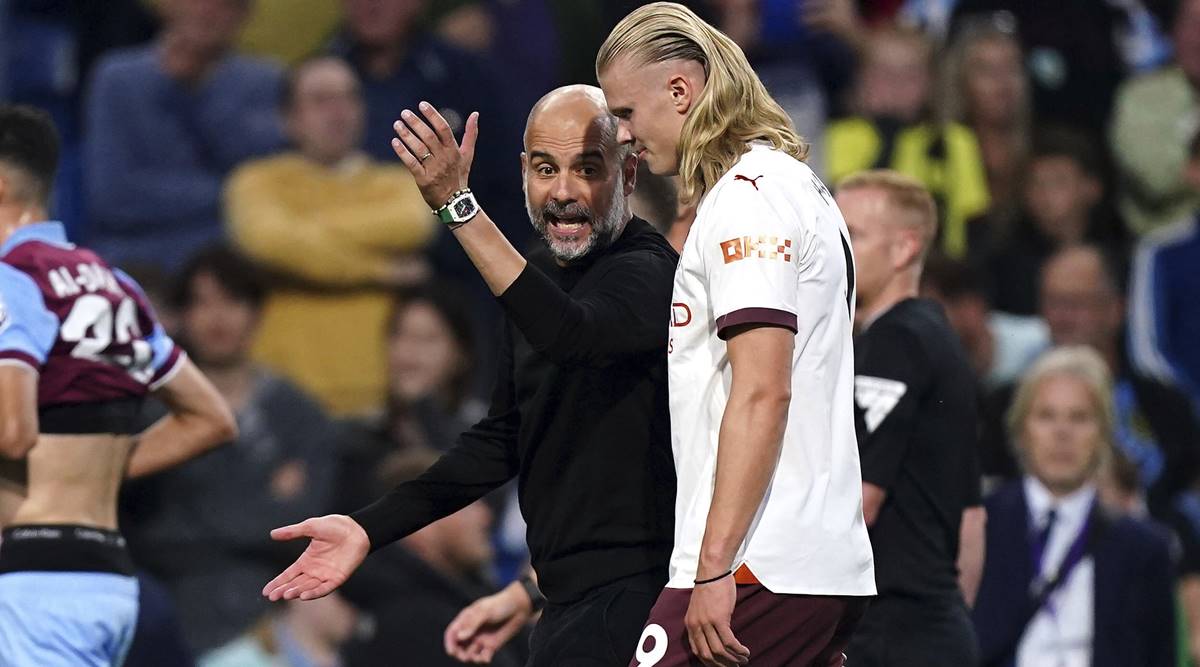 Manchester City manager Pep Guardiola speaks to player Erling Haaland at half time. (AP)
In his seven years at this club, he has won the league five times, but at least in three different seasons he has embraced fundamentally different methods, sometimes a total overhaul of his usual patterns, sometimes even antithetical in its essence, sometimes resorting to anti-Pep strategies. Change is not just the only constant in his club, it is the guiding principle. As if there have been eras within eras. This is true for every successful and long-lasting manager. Both Sir Alex Ferguson and Arsene Wenger had resorted to different systems, both as a reaction to players shipping in and out, but also to continuously reinvent themselves in pursuit of consummate success. But even the two great managers—you could safely bracket Guardiola among them—have not overhauled systems and succeeded as emphatically and efficiently as the Spaniard, and in so short a duration.
The first batch of his winners was perhaps the most thrilling of all the avatars. They were slick and fast, an orchestra of nimble feet and buzzing wit. Leroy Sane and Raheem Sterling whipped up pace on the wings; Sergio Aguero guzzled up goals as the lone target-man, not the out and out striker, but not the false nine either. Behind the front-three, lurked David Silva and Kevin de Bruyne the creative brains, pivoted by the then-imperious Fernandinho. His full-backs were the thrusting, full-throttles ones, all speed and power.
As is often the case, the manager and coaches shake-up a system not only because it has become stale and predictable, but also because they don't have the right men for it, be it injury, loss of form or departure. In 2020, Silva brought the curtains down on a splendid career; Aguero was mostly on the treatment table. So he reverted to his type, the false nine was back in vogue. This was Guardiola's tribute to his Barcelona days. The blinding pace on the flanks gave away to midfield control. Short passes and tap-in goals were the predominant features as cutback goals of the previous iteration were rarely spotted. The full-backs were more technical and enterprising, as Joao Cancelo and Kyle Walker were in this period. The midfield turned narrow, which the fleet-footed midfielders threaded with geometrical precision. The build-up was frustratingly patient.
With a subtle tweak here, a tuning-up, City claimed back-to-back league titles. Even then, throughout a season, he would tinker with both men and formations. Interchanging roles is a hallmark of all his sides. So even if Gabriel Jesus is available, he would deploy Bernardo Silva as false nine, or even De Bruyne at times. It could only originate from a deep understanding of the game, but also devilish courage.
Most Read 1As Indo-Canadian relations sour, anxiety grips Indian students, residents who wish to settle in Canada 2Jawan box office collection day 13: Shah Rukh Khan film to pass Rs 900 crore globally, just days away from overtaking Pathaan 3Farida Jalal recalls the time when Amitabh Bachchan-Jaya Bachchan were dating: 'They would pick me up at night, we would go for long drives' 4Gadar 2 box office collection day 40: Hit by Shah Rukh Khan's Jawan onslaught, Sunny Deol movie ends BO run with Rs 45 lakh earning 5Vicky Kaushal on 'privileged' Bollywood actors pretending to be middle class: 'It's a very tiring process'
At the start of last season, he rung in changes again. He had brought a near-classical centre forward. To harness the best out of Erling Haaland, changes were inevitable. It began from the back. His resorted to the more conventional full backs like Manuel Akanji and Nathan Ake, athletic and robust. The usually enterprising Kyle Walker too was not darting upfront as he was in the previous season. At the same time, John Stones, the centre back, would assume an advanced role, a deep-lying playmaker type. He was granted the license to rampage upfront too. They were not always fussed about possession—in the 3-1 thrashing of Arsenal, they enjoyed only 36 per cent possession.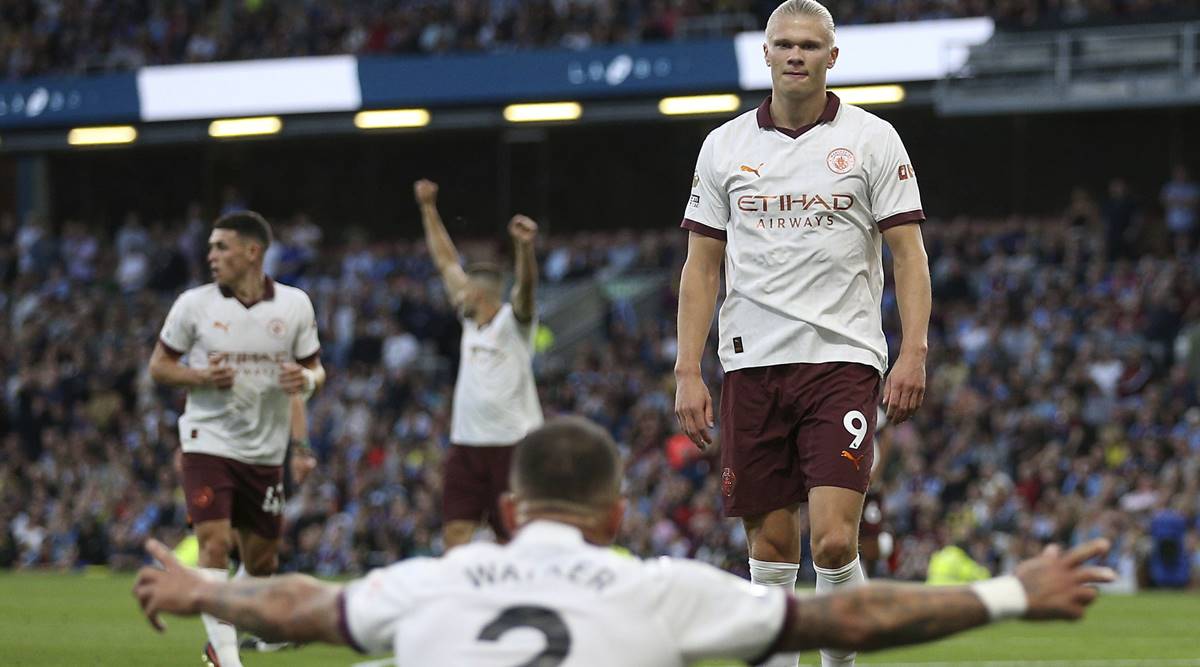 Manchester City's Erling Haaland with teammates after scoring a goal. (AP)
The routes to the goalmouth were more direct, and there were more goals through counterattacks, though that does not necessarily imply that they were a counter attacking side. There was an explosiveness about them, blessed as they were with fast runners, those that raise the speed in seconds. Like Haaland, Julian Alvarez, Jack Grealish and De Bruyne.
Also ReadAsian Games: Tired legs catch up with Stimac's boys as India thrashed 5-1…Watch: Lazio goalkeeper scores astonishing 95th minute goal to stun Atlet…Ronaldinho may visit Kolkata before Durga Puja, says the man who brought …'When Lionel Messi played with Argentina he alone was the boss but in PSG…
The framework could be more or less the same this year, except that they have lost Ilkay Gundagon, a midfield floater in the last few seasons, and Mahrez. Amplifying their woes, they would be without De Bruyne for a few weeks. How Guardiola retunes his team to the new challenges would be a fascinating narrative of this season. And one that would define this season too. Therein lies the beauty of this City team too—-it's the same club that is winning the titles, but not the same team, the same manager guiding them but guiding them through different paths but often to the same destination.
© IE Online Media Services Pvt Ltd