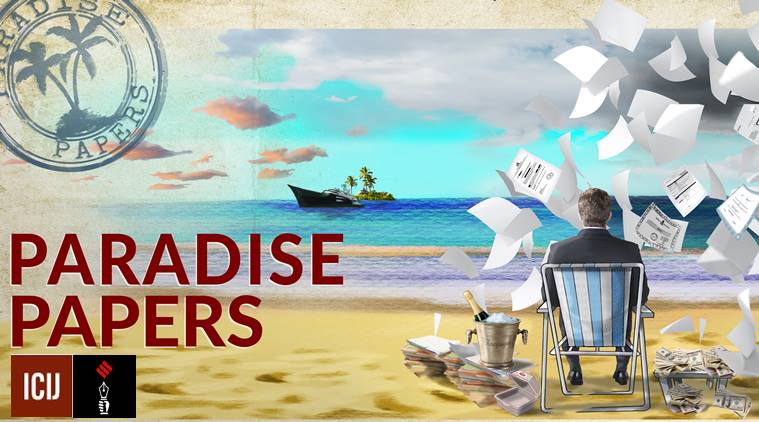 This cache of 13.4 million documents named "Paradise Papers" tumbled out 18 months after Panama Papers.
By Ritu Sarin , Jay Mazoomdaar , Sandeep Singh, Shyamlal Yadav, P Vaidyanathan Iyer
Two days before the Government observes "Anti-Black Money Day" to mark the first anniversary of demonetisation, comes the largest ever leak of financial data. Of two firms Bermuda's Appleby and Singapore's Asiaciti with 19 tax havens across the world which help the global rich and powerful, including from India, to move their money abroad.

This cache of 13.4 million documents named "Paradise Papers" tumbled out 18 months after Panama Papers: both sets of data were obtained by German newspaper Süddeutsche Zeitung and were investigated by the International Consortium of Investigative Journalists (ICIJ) working in partnership with 96 news organisations.
In India, The Indian Express, just as it did with the Panama Papers, investigated these records for over 10 months to come up with the India findings which will be published in a series of over 40 investigative reports that begins tonight.
A bulk of the records investigated are from Bermuda law firm Appleby. Although not a tax advisor, this 119-year-old company is a leading member of the global network of lawyers, accountants, bankers and other operatives who set up offshore companies and manage bank accounts for clients to do one or a combination of the following: avoid or evade taxes; manage real estate assets; open escrow accounts; purchase airplanes and yachts paying low tax rates; or, simply, use offshore vehicles to move millions across the globe.
EXPLAINED: Why the Paradise Papers matter
Shining the light
Setting up offshore entities for corporate restructuring or expansion in a rapidly globalising world may not be illegal but it raises a crucial issue: how firms such as Appleby help MNCs exploit loopholes in law to avoid legitimate taxes in their country. That's why Paradise Papers open the door for regulatory bodies to investigate and ascertain the legitimacy of these offshore transactions.
SEE PHOTOS | Paradise Papers: Here are the Indians on the list
Among the 180 countries represented in the data, India ranks 19th in terms of the number of names. In all, there are 714 Indians in the tally. Interestingly, it's an Indian company, Sun Group, founded by Nand Lal Khemka, that figures as Appleby's second-largest client internationally, with as many as 118 different offshore entities.
Among Appleby's Indian clients are several prominent corporates and companies which subsequently came under the scrutiny of investigating agencies like the Central Bureau of Investigation (CBI) and the Enforcement Directorate (ED).
Indian names in records
These include firms in the Sun-TV-Aircel-Maxis case; Essar-Loop 2G case; SNC-Lavalin in which Kerala Chief Minister Pinarayi Vijayan was named, then cleared; the Rajasthan ambulance scam which has recently been routed to the CBI and which names a company called Ziquista Healthcare (Sachin Pilot and Karti Chidambaram were early Honorary/Independent Directors of the firm respectively); and fresh financial links in a CBI case against YSR Congress Chief YS Jagan Mohan Reddy.
In the case of one set of companies implicated in the 2G spectrum allocation case, for instance, even the top secret Letters Rogatory sent by the CBI reach Appleby. Besides corporates, the data reveals details of individuals as well: Amitabh Bachchan's shareholding in a Bermuda company acquired before the 2004 Liberalised Remittance Scheme kicked in; corporate lobbyist Niira Radia and film star Sanjay Dutt's wife who figures under her former name Dilnashin. Minister of State for Civil Aviation Jayant Sinha's name figures in the records because of his past association with the Omidyar Network. Records of offshore companies linked to BJP Rajya Sabha MP and founder of Security and Intelligence Services (SIS) R K Sinha appear in the Malta list.
At a time when the CBI is making an all-out effort to extradite liquor baron and aviation czar Vijay Mallya, Appleby's documents show how millions of dollars worth of loans taken by offshore companies of United Spirits Limited India were waived by Diageo (the company which finally acquired USL).
Then there are thousands of documents on the GMR Group, raided last year by the Income Tax Department, which uncover an alleged attempt of tax avoidance via a network of 28 offshore entities set up by Appleby. Other prominent Indian corporates which figure in the Appleby database include Jindal Steel, Apollo Tyres, Havells, Hindujas, Emaar MGF, Videocon, the Hiranandani Group and D S Construction.
Global links
On the global front, the investigation exposes a Russian firm's investments in Twitter and Facebook, ties between Russia and US President Donald Trump's billionaire commerce secretary Wilbur Ross; secret dealings of Canadian Prime Minister Justin Trudeau's chief fundraiser and offshore interests of the Queen of England and more than 120 politicians, including former Pakistan Prime Minister Shaukat Aziz.
Most Read 1Chandrayaan-3 mission: Dawn breaks on Moon, all eyes on lander, rover to wake up 2As Indo-Canadian relations sour, anxiety grips Indian students, residents who wish to settle in Canada 3Karan Johar says Sanjay Leela Bhansali did not call him after Rocky Aur Rani: 'He's never called me but…' 4Gadar 2 box office collection day 40: Hit by Shah Rukh Khan's Jawan onslaught, Sunny Deol movie ends BO run with Rs 45 lakh earning 5Shubh's tour in India cancelled: Why is the Canada-based singer facing the music?
There are also confidential details of offshore traces of spy planes purchased by the United Arab Emirates and a Barbados explosives company of a Canadian engineer who tried to build a "super gun" for Iraqi dictator Saddam Hussein and investment of millions of dollars in medical and consumer loan companies by Queen Elizabeth II.
The Paradise Papers is the fourth collaborative investigation into offshore and banking assets done by The Indian Express with the ICIJ.
Also ReadParliament Special Session Live Updates: PM Modi thanks MPs across party …Exercise caution in Canada, 'politically condoned' hate crimes there: IndiaKhalistan separatist's killing: US, Australia lend support to Canada call…Modi has invited Biden as Republic Day guest: US envoy
The first collaboration was done in April 2013 ("offshore leaks") in which 612 Indians were named as having incorporated companies in British Virgin islands. This was followed by "Swiss Leaks", which was data leaked from the HSBC's branch in Geneva and included 1,195 Indian account holders. The "Panama Papers" came next in April 2016 and the global investigation was awarded the Pulitzer Prize for explanatory journalism.
Click here for full coverage on Paradise Papers
© IE Online Media Services Pvt Ltd