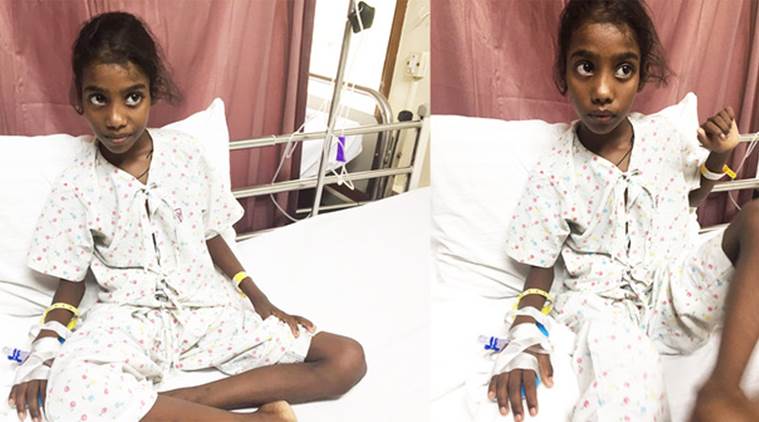 Sashi, 9-year-old has GBS, Guillain-Barré syndrome.
As I look at the number '23' scribbled on the hospital bed, I remember Shashi gesturing and making a cake with one hand with a knife in the other, enthusiastically showing a cake being cut. She was pointing out that her bed number matches her birthdate: September 23. Why is my 9-year-old gesturing? Since the last 20 odd days, there has been a deafening silence in my world because my most talkative daughter hasn't been able to say a word. Because every time she tries to talk, she ends up crying in pain.
I'm Lakshmi, helpless mother of a daughter who requires support to pay over Rs. 10,00,000 in the next 15 days, so she can become the healthy and mischievous girl that she is.

I live with my family in a small house in Mumbai with my husband, 3 daughters and 1 son. Shashikala is the youngest and the naughtiest daughter. My husband is a garbage cleaner who makes Rs. 5000 every month. This amount that barely manages to provide three healthy meals to a family of six is now also being used to support my daughter's medical treatment in Nanavati hospital.
One unfortunate night, when Shashi was studying for her upcoming History exam, I saw her looking very worried. When I asked her what was wrong, she said she wasn't feeling good and that her legs were aching a lot. She was running a temperature. Unlike my other children, Shashi is always prepared before her exams and History is her favourite subject so I knew she wasn't just stressed about her exam. We took her to our local doctor. What I thought would be a regular checkup, ended with him asking us to get her admitted to the hospital. We rushed to the nearest Baba Hospital.
That night was the closest I have ever been to hell. Her fever shot up overnight. My daughter refused to open her eyes and she was struggling to breathe. When we tried to make her sit up, she was falling flat on her face. I thought I was losing her. Her father and I decided to shift her to Nanavati Hospital immediately. As soon as we reached there, they put some machines on my daughter's body and put a tube through her nose. That sight was very painful but it looked like it was helping her. Dr. Avinash Walawalkar explained that my daughter has GBS, Guillain-Barré syndrome. GBS is a disorder in which the body's immune system attacks part of the peripheral nervous system causing weakness, breathlessness and total paralysis at times. To cure it, Shashi would need to undergo a surgery worth Rs. 9,65,000. I was dumbfounded. Where was I going to get the money to save my daughter?
Just the preliminary tests and medicines have cost us Rs. 1,50,000 already. Before the main treatment even begins, we've already exhausted all our sources – our income and loans from well-wishers. How are we going to pay for the hospital and the machines attached to her body, keeping her alive? My last hope is receiving donations from kind people who read my story and help me keep Shashi alive.
Seeing her open her eyes felt relieving. As soon as she opened her eyes, she scanned the room for a familiar face. On seeing me, she tried to talk several times. When she realised she couldn't talk, she gestured and wrote in the air with her fingers. I realised she was asking about her exams. She's worried that she'll be left behind while all her friends go to the next semester. I assured her that I had spoken to her teacher so she has nothing to worry about, but the truth is I haven't had the time to go speak to her school about our situation. But I cannot possibly tell her that, of the ten things she talks about, eight are about her exams.
Most Read 1Chandrayaan-3 mission: Dawn breaks on Moon, all eyes on lander, rover to wake up 2As Indo-Canadian relations sour, anxiety grips Indian students, residents who wish to settle in Canada 3Karan Johar says Sanjay Leela Bhansali did not call him after Rocky Aur Rani: 'He's never called me but…' 4Gadar 2 box office collection day 40: Hit by Shah Rukh Khan's Jawan onslaught, Sunny Deol movie ends BO run with Rs 45 lakh earning 5Shubh's tour in India cancelled: Why is the Canada-based singer facing the music?
Shashi hates the tube coming from her nose. What breaks my heart is her silence, she can't even protest because of the pain she experiences when she tries to talk. She just cries pointing at the tube in her nose. She just wants to get rid of them. How can a 9-year-old who loves talking stay sane without uttering a word for 20 long days? We mostly talk to her by guessing what she's trying to say. We've kept a small notebook and a pen beside her bed for when we fail to understand her actions. Seeing your daughter struggling to talk when she's experiencing so much pain has been extremely difficult. I miss her voice. I miss her running around the house, annoying her elder siblings. Her siblings have been wanting to see their baby sister but how can I take them to the hospital when her father and I find it difficult to see her like this?
The doctors have said that she will have to be kept in the hospital for at least 15 days more. While that means I'll get to see my daughter better, it also means more money for the ventilator, ICU stay, hospitalisation charges and medicines. We cannot afford any of these without help. Please help me save my daughter by donating to our fundraiser on Ketto.
Also ReadSponsored: 15 Awesome Things to Do in Kuala LumpurNeed money urgently? A personal loan for emergency can helpLivspace Reviews: A One-Stop Shop for Home Interior NeedsWhat happens to the body if you eat yoghurt every day?
No Indian Express journalists were involved in producing this article. The article has been produced by social sustainable crowd funding site Ketto.