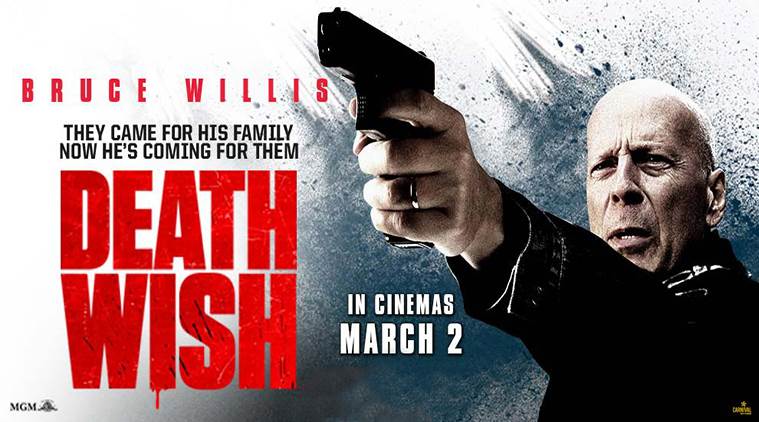 Most Read 1Chandrayaan-3 mission: Dawn breaks on Moon, all eyes on lander, rover to wake up 2As Indo-Canadian relations sour, anxiety grips Indian students, residents who wish to settle in Canada 3Karan Johar says Sanjay Leela Bhansali did not call him after Rocky Aur Rani: 'He's never called me but…' 4Gadar 2 box office collection day 40: Hit by Shah Rukh Khan's Jawan onslaught, Sunny Deol movie ends BO run with Rs 45 lakh earning 5Shubh's tour in India cancelled: Why is the Canada-based singer facing the music?

The trailer of the remake of the 1974 action thriller 'Death Wish' has released worldwide today! The Bruce Willis starrer will be released in India by Carnival Motion Pictures and will be out on the same day as its worldwide release on 2nd March.
The 2:21 minutes trailer gives us a glimpse of the power-packed action in the film. The film is a remake of 1974 action thriller of the same name. Directed by Eli Roth, Death Wish stars Bruce Willis in the classic vigilante role of Paul Kersey, a father, who when his wife is murdered and his daughter sexually assaulted, becomes a vigilante killer nicknamed "The Grim Reaper." Eli Roth is famous for directing horror and thriller movies like Hostel, Knock Knock, and Cabin Fever.
Also ReadHere's why you should binge-watch Damaged, India's first show about a fem…Enjoy uninterrupted and unmatched entertainment with ZEE5 and Jio FiberKaran Johar says Sanjay Leela Bhansali did not call him after Rocky Aur R…Jawan box office collection day 13: Shah Rukh Khan film to pass Rs 900 cr…
Along with Willis, the vigilante action film also stars Vincent D'Onofrio, Elisabeth Shue, Dean Norris and Mike Epps. Produced by MGM Studio and presented by Carnival Motion Pictures, Death Wish releases in India on 2nd March in English, Hindi, and Tamil on the same day as its worldwide release.
© IE Online Media Services Pvt Ltd